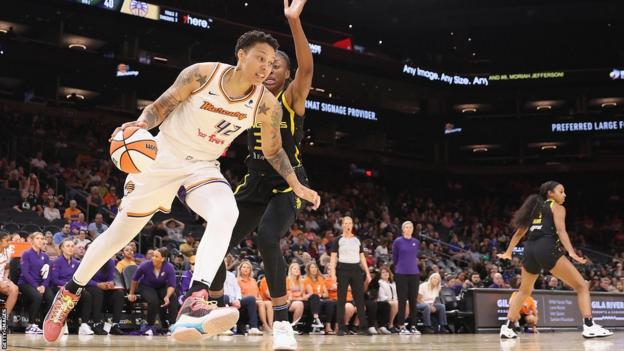 American Brittney Griner played for the first time since leaving prison in Russia in a pre-season match for Phoenix Mercury on Friday.
She was roared onto the court and played for 17 minutes, scoring with a two-point shot in the first minute.
"I didn't think I would be sitting here," she said afterwards.
"I didn't think I would be playing basketball this quickly."
In total, Griner, the two-time Olympic champion and one of the world's best and most high-profile female basketballers, scored 10 points with three rebounds in the 90-71 loss to Los Angeles Sparks.
It was her first match for Mercury since 2021.
"I didn't know how it was going to go, getting back into it," she said. "I'm grateful to be here, that's for sure.
"It feels good, you definitely feel appreciated. But I can't wait for the day where it's kind of like just basketball."
Griner, who had been playing in the Russian Premier League, was arrested at a Moscow airport in February 2022 for possessing cannabis oil. She pleaded guilty to the charges, was sentenced to nine years in prison and and sent to a penal colony.
In all, she spent 10 months in Russian custody before the US government – under pressure from activists, politicians and those close to Griner – struck a deal with Russia to release her in exchange for notorious Russian arms dealer Viktor Bout.
She has since campaigned for other American prisoners to be released and vowed to return for the Mercury this season.
They begin their regular season on the road in Los Angeles against the Sparks on 19 May.