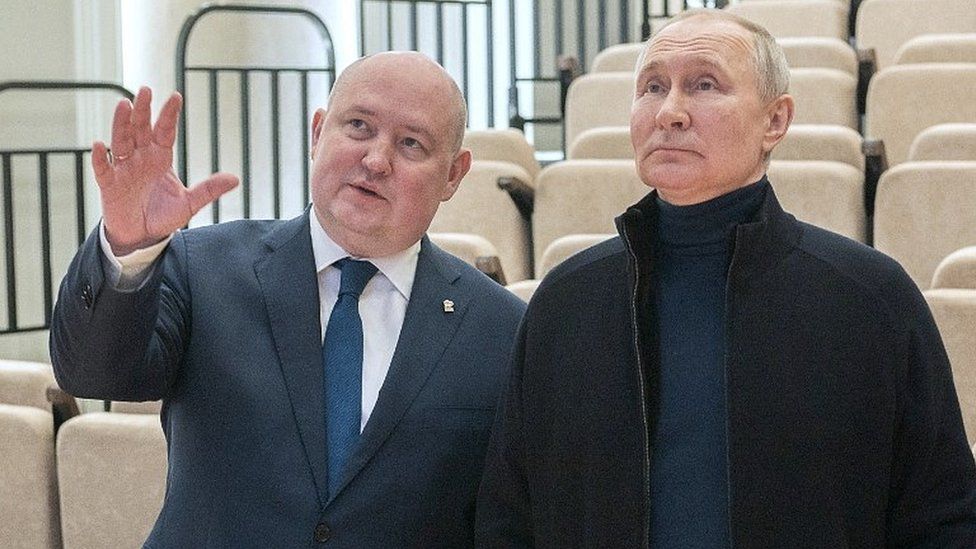 Russian state media report that President Vladimir Putin has paid a surprise visit to Mariupol, a Ukrainian port city captured by Russian forces after they pounded much of it to ruins.
An official video shows Mr Putin driving a car through streets at night, then visiting a concert hall. The BBC has not verified the location.
It would be Mr Putin's first visit to a newly-occupied Ukrainian territory.
Tass news agency says he went there by helicopter and met some local people.
In the video, a Russian official is heard explaining to Mr Putin how the city is being rebuilt.
Reports of the visit come a year after Moscow launched an airstrike on a Mariupol theatre where hundreds of civilians were sheltering. The building collapsed, and at least 300 are believed to have died there.
Ukraine and human rights groups say the attack amounted to a war crime.
The International Criminal Court said on Friday it had issued a warrant for the arrest of Mr Putin over alleged war crimes involving the illegal deportation of Ukrainian children to Russia. It means he could now be arrested if he sets foot in any of the court's 123 member states.
On Saturday Mr Putin made an unannounced visit to Crimea, to mark the ninth anniversary of Russia's annexation of the territory from Ukraine.
He visited a new Russian arts school, a children's summer camp and future cultural projects, such as the New Russia museum and museum of Christianity, Russian state media reported.
The Kyiv authorities have vowed to liberate all Russian-occupied territories, including Crimea, which was annexed by Russia in 2014.
Mr Putin is also reported to have met top Russian military commanders in Rostov-on-Don, a Russian city just east of Mariupol, during his visit.