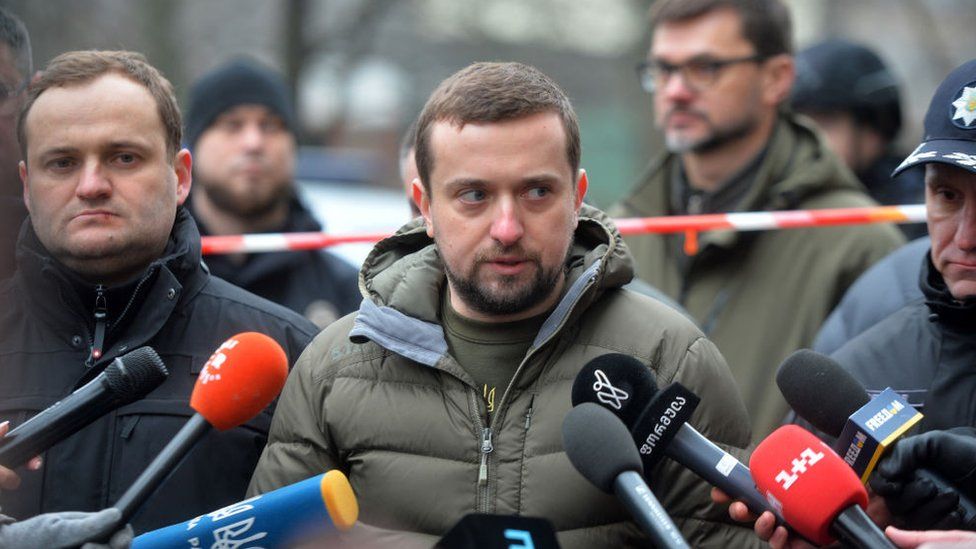 Several senior Ukrainian officials have resigned amid a shake-up of personnel across President Volodymyr Zelensky's government.
A key presidential adviser, the deputy defence minister and deputy prosecutor general left their posts on Tuesday.
Mr Zelensky has signalled more top officials may be on the way out, as he hopes to clamp down on corruption.
One of the officials – Kyrylo Tymoshenko – was implicated in scandals over his use of expensive cars.
Mr Zelensky was responding to a "key public demand" that justice should apply to everyone, said top adviser Mykhailo Podolyak.
The corruption crackdown follows reports in Ukrainian media that the country's defence ministry paid inflated prices with a relatively unknown firm for food supplies. Meanwhile, another minister was arrested on bribery charges on Monday.
Mr Zelensky has already banned top government officials from leaving the country unless on official state business.
The first to resign on Tuesday was Mr Tymoshenko, the president's deputy head of office, who oversaw regional policy and had earlier worked on Mr Zelensky's election campaign.
Since Russia launched its invasion of Ukraine last February he has become a frequent spokesperson for the government. In a Telegram post, he thanked Mr Zelensky for "the opportunity to do good deeds every day and every minute".
Deputy Defence Minister Vyacheslav Shopalov has also resigned, following reports that he oversaw the controversial deal for the military's food supplies. The department called this a "technical mistake" and claimed no money had changed hands.
The defence minister himself – Oleksii Reznikov – has been under scrutiny for the same reason.
And Deputy Prosecutor General Oleskiy Symonenko was removed from his post "according to his own wish", his office said.
Ukraine has a history of corruption and in 2021 Transparency International has ranked the country at 122 out of 180 countries in its ranking of corrupt states.
A crackdown is one of the EU's key demands if the country is to advance its application to join the bloc.
In an address on Sunday, Mr Zelensky promised there would be "no return to what used to be in the past, to the way various people close to state institutions" used to live.
His comments followed the arrest of Ukraine's deputy infrastructure minister Vasyl Lozinskyi on Saturday on suspicion of accepting a bribe worth over $350,000 (£285,000) over the supply of electricity generators. He has denied the charges.
David Arakhamia, the head of Mr Zelensky's Servant of the People party, has pledged that corrupt officials could face jail time.
"Officials at all levels have been constantly warned through official and unofficial channels: focus on the war, help the victims, reduce bureaucracy and stop doing dubious business. Many of them have actually listened, but some, unfortunately, did not," he said in a Telegram statement.
"If it doesn't work in a civilized way, it will be done according to the laws of wartime. This applies both to recent purchases of generators and to fresh scandals in the ministry of defence."
A report by Ukrainian newspaper Ukrainska Pravda suggests the heads of four regional administrations – Sumy, Dnipro, Zaporizhzhia and Kherson – may be the next to go after Mr Tymoshenko, due to their links to the resigned presidential aide.
While there have been anti-corruption reforms in recent years, the stakes are high for Kyiv – which is receiving billions of dollars worth of financial aid from Western allies.