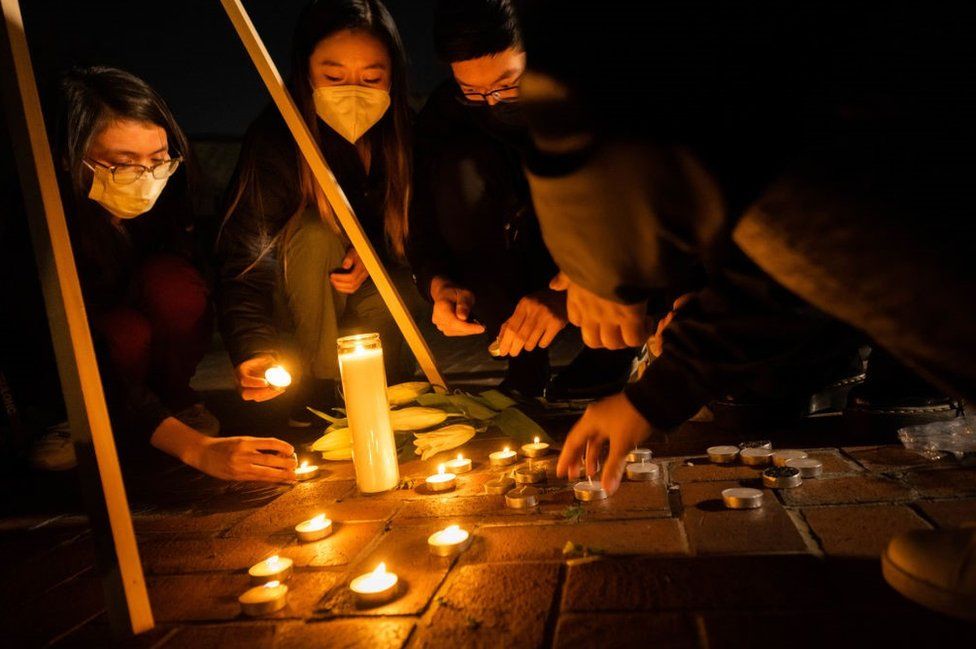 The city of Monterey Park, California, had planned to gather in celebration this week. Instead, they joined together in mourning as the community held a vigil for 11 people murdered at a local dance hall just two days before.
Residents and leaders of the city's Asian-American community organised a candlelight memorial outside the city hall on Monday evening to honour the victims, holding a powerful three-minute moment of silence and reciting prayers from a range of faiths.
"Our joyous Lunar New Year celebration was turned utterly upside down into tragedy and fear," said Representative Judy Chu. "We must support one another and work our way through this."
On 21 January, a gunman entered the Star Dance Studio and opened fire. Though the shooting had occurred late on Saturday night, Monday brought fresh waves of grief for Monterey Park. That afternoon, authorities announced another person had succumbed to their injuries, bringing the death toll to 11.
Names of the victims have slowly trickled out through officials or media reports, with each announcement unleashing fresh trauma.
Authorities have so far revealed that My Nhan, 65, Lilan Li, 63, Xiujuan Yu, 57, and Valentino Alvero, 68, died in the shooting. Two other victims, Ming Wei Ma, and Nancy Liu, 63, were identified by family members.
The only suspect, 72-year-old Huu Can Tran, dead of a self-inflicted gunshot wound after a widely-televised search of the region.
His motive remains unknown but more about him emerged at a police press conference on Monday when it was disclosed that he recently went to police to make allegations against his family.
Police in Hemet, the California town where Tran lived, said he twice came in person this month to the police station to make claims of theft, fraud and poisoning going back 10 to 20 years.
While the city still lacked many key answers behind the tragedy, Monterey Park has become the latest epicentre of America's ongoing debate over gun violence.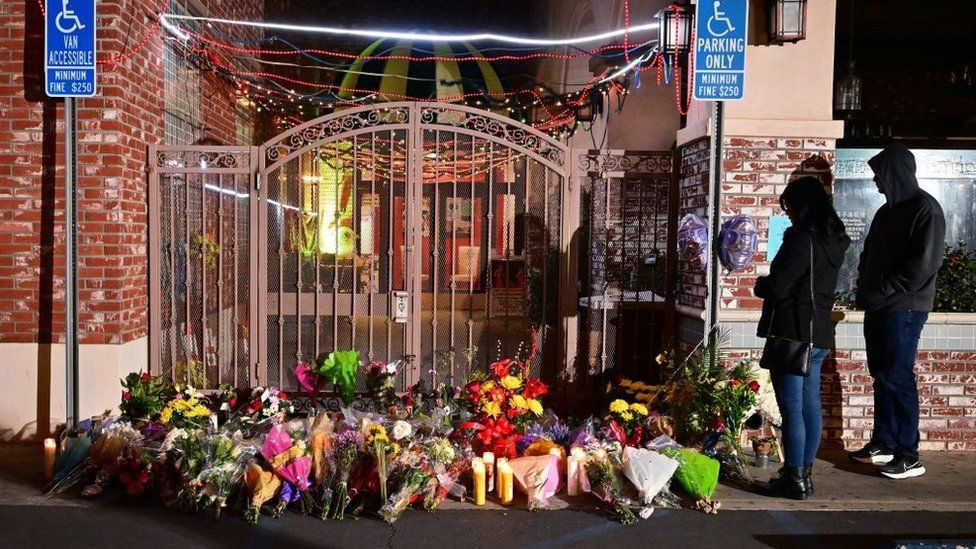 By mid-afternoon on Monday, it became clear Monterey Park was not the only California city suffering from the aftermath of a shooting. Nearly 300 miles north, in the town of Half Moon Bay, a gunman killed seven people. Local radio stations, broadcasting California news at the top of the hour, led with back-to-back shootings.
"Can we do something to make sure these nutty people don't get guns?" said Qiang Bjornbak, a lawyer who came to a community centre on Monday to assist with volunteer efforts. "These nutty people cannot go to these places and hurt people. That's what I'm concerned about."
"That person had a way to get a gun, and the tragedy happened," she said.
Suzy Liu, an employee at a local Chinese herb shop, had forbidden her children to play outside until police apprehended the suspect.
"I'm afraid. It was scary. We will take the children to the playground in the future to make up for it," she told BBC News.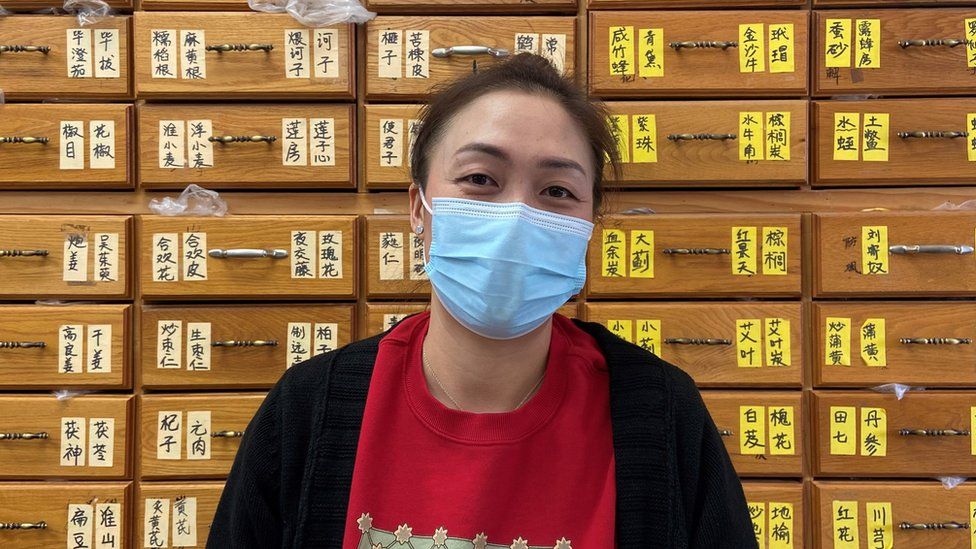 The attack struck at the core of the city's Asian-American population and particularly its vibrant community of amateur dancers who gather at venues like Star Dance Studios to take lessons and cut loose.
Outside the entrance of Star Dance Studio, mourners from the neighbourhood and wider region came to lay flowers and say a brief prayer.
The dance halls were "part of the community, so that's why it's very sad," said Ms Bjornbak, who had attended Star Dance Studios a handful of times and praised their instructors. "It's more than entertainment, it's your hobby."
One of the victims, studio manager Ming Wei Ma, was a close friend, she said.
"He was a very, very talented person. He was good at organising the dancing events, the singing events, the New Year's gala," she said.
Immediately after the shooting, the gunman had fled to a second dance hall, Lai Lai Ballroom and Studio. There, 26-year-old employee Brandon Tsay disarmed him, in what community leaders have hailed as a heroic act.
On Monday, three roommates, Diana Yee, 37, Victor Tham, 43, and Kevin Vong, 30, arrived at Lai Lai Ballroom and Studio with a bouquet of flowers, intent on paying their respects at each location impacted by the shooting.
"I am a dancer and I know that how much I love the beauty of life and grace and joy that comes from dancing," Ms Yee told the BBC. "And Mr Tran was a dancer and that light got lost, somehow along the way."
The nature of the shooting had prompted deep reflection from Ms Yee and others in the community, as they struggled to make sense of how a man could turn on his neighbours in such a merciless way.
At the vigil, one of the pastors said he would include the suspected gunman in his prayers.
"It's a conversation about how do we sit with our most painful feelings?" Ms Yee said. "How do we take care of each other's feelings, and embrace? That is the hardest work."
"This is a time where you sit together with the community," she said, "to find where the love is again."