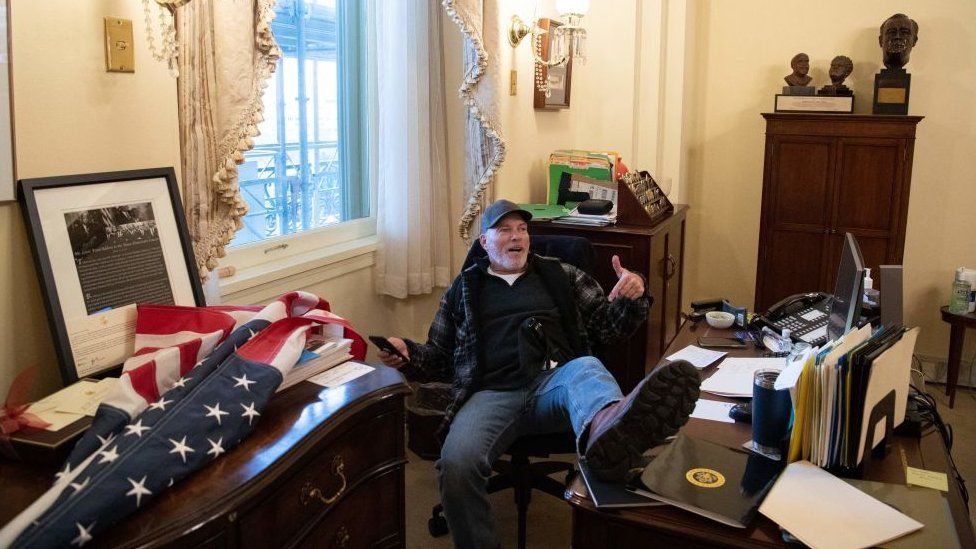 A Capitol Hill rioter who posed with his feet on US Democrat Nancy Pelosi's desk during the attack on Congress has been found guilty of all charges.
Richard "Bigo" Barnett was among the crowd of Trump supporters who stormed the building in attempt to overturn the 2020 presidential election result.
He posed for cameras after breaking into Mrs Pelosi's office and boasted of swiping an envelope before leaving.
He was armed with a stun gun and could have harmed Mrs Pelosi, officials say.
A jury in Washington DC deliberated for less than three hours before convicting Barnett of all eight charges against him.
His crimes include obstruction of an official proceeding, entering and remaining in a restricted building or grounds with a deadly weapon, and theft of government property.
Prosecutors argued that Barnett, 62, came to Washington DC from his home in Arkansas – over 1,000 miles away (1,600km) – prepared for violence.
"We can only imagine what would have happened if (Pelosi) had been there at the time," federal prosecutor Alison Prout argued, according to the Associated Press.
Mrs Pelosi, who was Speaker of the House of Representatives at the time, was forced to flee the chamber floor with other lawmakers as protesters stormed the building.
Barnett, a former firefighter, chose to testify in his own defence during the trial. He argued that he was caught up "in the moment" and was "going with the flow", according to the Associated Press.
Barnett wrote a note on Mrs Pelosi's desk using a sexist slur, and used a bullhorn to brag to the crowd that "I took Nancy Pelosi's office" after police forced him out of the building.
After the verdict was read on Monday, Barnett said he did not get a fair trial because the jury was not made up of his "peers".
His lawyer, Joe McBride, said he would appeal.
"Washington DC, is not a state. He's not surrounded by people of Arkansas, where he came from," said Mr McBride, referring to the city's status as a district rather than one of the 50 US states.
The judge allowed him to remain free until his sentencing hearing on 3 May. He is facing decades in federal prison.
The Barnett trial has been one of the most high-profile to stem from the 6 January 2021 attack on Congress. More than 940 people have been charged with federal crimes related to the breach and nearly 500 have pleaded guilty so far.
A jury on Monday also convicted four members of the far-right Oath Keepers group of seditious conspiracy for their role in the 2021 attack. The conviction is a rare one tied to a Civil War-era law that prohibits plots to overthrow or conspire against the state.
Two other Oath Keepers members, including the group's founder Stewart Rhodes, were also convicted on seditious conspiracy in November after a separate trial. Prosecutors said Rhodes acted as a "battlefield general" during the attacks, and plotted to use violence to stop the certification of the 2020 US presidential election.
Those convicted of seditious conspiracy face up to 20 years in prison.