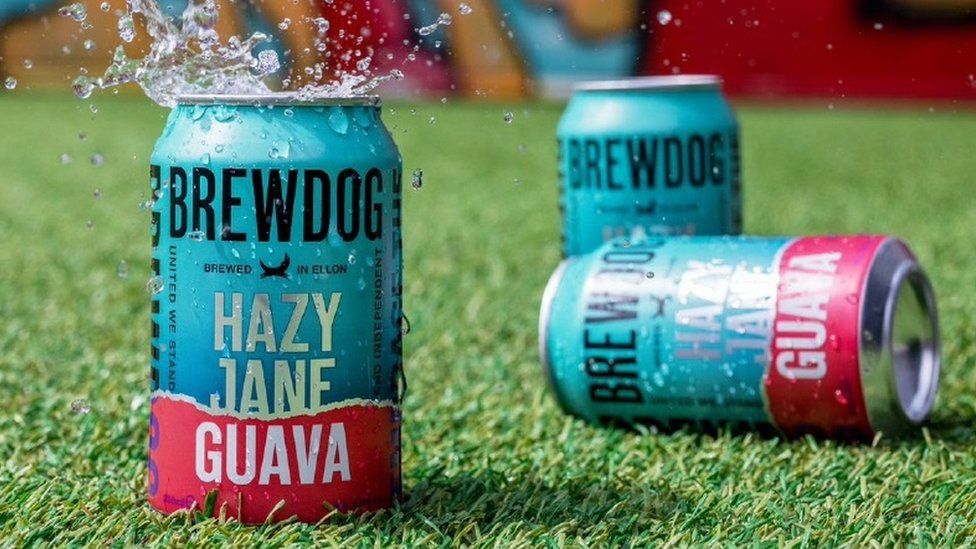 A BrewDog advert has been banned for suggesting its fruit-flavoured beers counted as "one of your five-a-day".
The brewer said the email was "tongue-in-cheek" but the advertising watchdog said it risked misleading consumers.
BrewDog's adverts often court controversy, but some campaigns have backfired.
Last month it was heavily criticised for launching an "anti-sponsorship" World Cup campaign while continuing to show matches at its bars.
Government guidelines recommend people eat five portions of fruit and vegetables a day to remain healthy, however this does not include alcoholic drinks, even if they have a high fruit content.
The Advertising Standards Authority (ASA) said that many consumers would not have known that for sure when BrewDog sent them a marketing email in July with the five-a-day claim in the subject line.
BrewDog argued that the email was only sent to existing customers who had opted in to email alerts and would have been aware of its playful marketing style.
But the regulator said the advert cannot appear again in its current form and warned BrewDog not to repeat the claim.
A BrewDog spokesman said: "We respect the Advertising Standards Authority's decision and are happy to confirm that beer is not a fruit or a vegetable. We hope that sorts it out".
This is not BrewDog's first run-in with the ASA.
Last year, the Scottish brewer offered shoppers the chance to find a gold can worth £15,000 hidden in cases sold from its online store.
But some winners complained to the ASA after they discovered the cans were not solid gold, but were gold-plated instead.
The regulator banned the adverts with BrewDog boss James Watt admitting the firm had got the campaign "wrong".
Last month, the brand also faced a backlash after it said it would screen World Cup games at its bars while also running a marketing campaign criticising Qatar's human rights record.
The pub and brewery chain promised that profits made from sales of one lager during the tournament would go to "causes fighting human rights abuses".
But critics on Twitter accused it of a "PR stunt", arguing it would still profit from all the other beers sold. Responding at the time, BrewDog said the campaign had "struck a nerve" and raised awareness of human rights abuses in Qatar.
The last few years have been stormy for the brewer, which built a loyal following for its independent craft beers before becoming a mainstream hit on supermarket shelves.
Last summer it faced a flood of allegations about its "toxic" workplace culture, which led to an independent review of the organisation.
Mr Watt apologised to former staff and said their complaints would help make him a better chief executive.
In June this year fresh claims about his conduct emerged in the US, with former staff accusing him of inappropriate behaviour.
Lawyers for Mr Watt said the allegations were false and he denied behaving inappropriately.