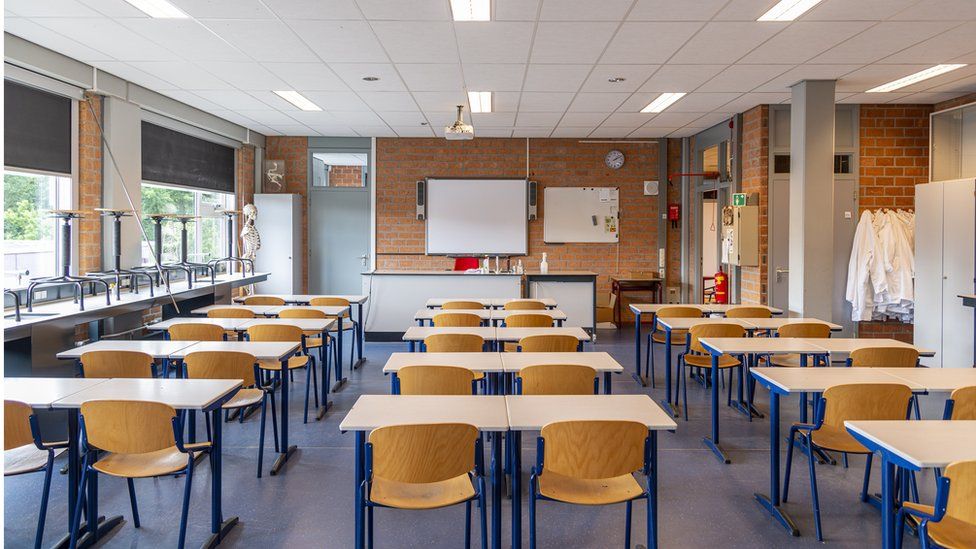 Scotland's first national schools strike since the 1980s will begin later with a one-day walkout by teachers.
Pupils at nearly every primary and secondary school and many council nurseries will be affected by the industrial action over pay.
A revised pay offer on Tuesday was rejected as "insulting" by unions.
But Education Secretary Shirley-Anne Somerville said their demands for a 10% pay rise were "unaffordable".
A new pay offer from employer Cosla – which would have seen rises of up to 6.85% for the lowest paid – was fair, Ms Somerville said.
The Scottish school strikes – by members of the Educational Institute of Scotland (EIS) and the Association of Head Teachers and Deputes Scotland (AHDS) – come amid industrial action across the UK on Thursday.
During the last national strike by teachers in Scotland in the mid-1980s, it was rare for schools to close completely.
Students could still attend lessons with teachers who were members of other unions.
The EIS now represents about 80% of the country's teachers and its actions will close almost all primary, secondary and additional support needs schools. Only a handful of primary schools in Orkney and Shetland will remain open.
Many early years learning centres and nurseries are also affected.
Teachers will be on picket lines outside schools in the morning and at rallies in Aberdeen, Dundee, Glasgow and Inverness, and outside the Scottish Parliament in Edinburgh during the afternoon.
And it said primary teachers planned to strike on 10 January and secondary teachers the following day, with further industrial action in February.
The Scottish Secondary Teachers Association and NASUWT plan to strike on 7 and 8 December, leading to closures of some schools and disrupted timetables in others.


Today is the day neither the Scottish government nor the EIS union hoped they would never see.
This is the first national teachers' strike in Scotland since the long, bitter dispute of the mid-1980s.
The EIS and the other unions hope more strikes can be avoided and that today will be a one off.
But finding the money to give the unions a 10% pay rise would mean some very hard choices for councils and the Scottish government.
The educational impact of a one-day strike will be very limited in itself.
But it comes as schools continue to recover from the impact of the pandemic. The loss of any teaching time can never be a good thing.
It also means that attention which should be on raising attainment or helping pupils who lost out during the pandemic will instead be focused on balancing out the impact of disruption.

EIS general secretary Andrea Bradley said they had been "forced into this strike" after months of talks with Cosla, the councils' umbrella body, and the Scottish government.
"They have offered a series of sub-standard offers that fall far below the rate of inflation and far short of the justifiable expectations of Scotland's hard-working teaching professionals," she said.
Teachers had reacted with "great anger" to the latest offer from Cosla, Ms Bradley added.
"Their much self-lauded 'generous and progressive' offer is actually worth, on average, an extra 71p per week to Scotland's teachers compared to the previously rejected offer. For most teachers, there is no improvement at all, as 80% of teachers are still being offered 5%."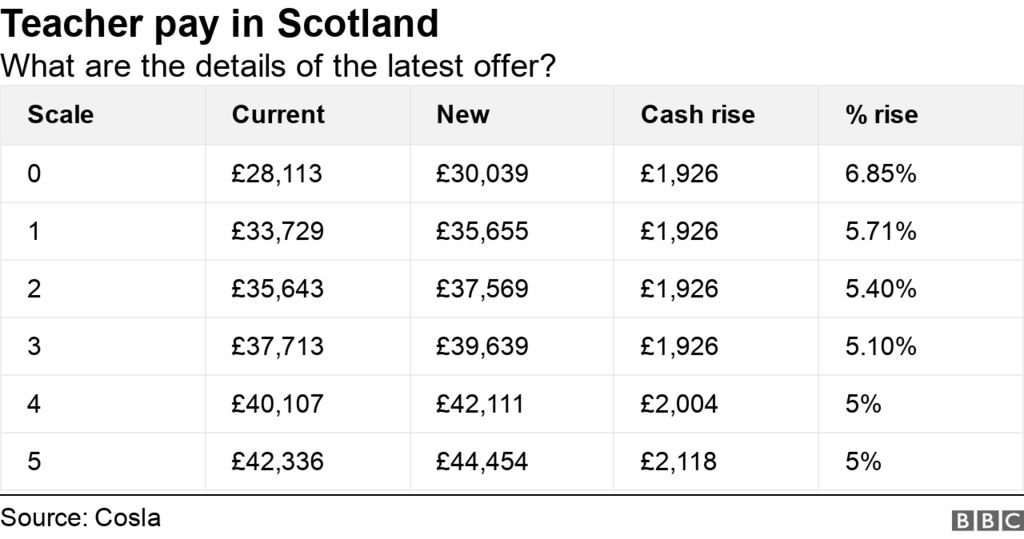 Parents' representatives said strikes could present problems for families.
Leanne McGuire, from Glasgow City Parent's Group, said school closures would be particularly difficult for single working parents, those without a support network and children with additional support needs.
"Those pupils really thrive on routine and when that routine is broken then it can cause them a lot of distress, which then in turn causes a lot of stress for parents," she said.
Ms Somerville said she was "very disappointed" that strike action would disrupt children and their families.
"We have a fixed budget that is already fully utilised for this year, so to do anything that would increase the resolution that we have on this would mean that money would have to come from elsewhere."
In a separate dispute, staff at 17 Scottish universities are expected to walk out on Thursday and Friday and on 30 November.
About 8,000 workers in Scotland are expected to join a UK-wide strike over pay, working conditions and pensions.
The University and College Union (UCU) said the impact would vary between institutions, but they expected some tutorials and lectures to be cancelled.