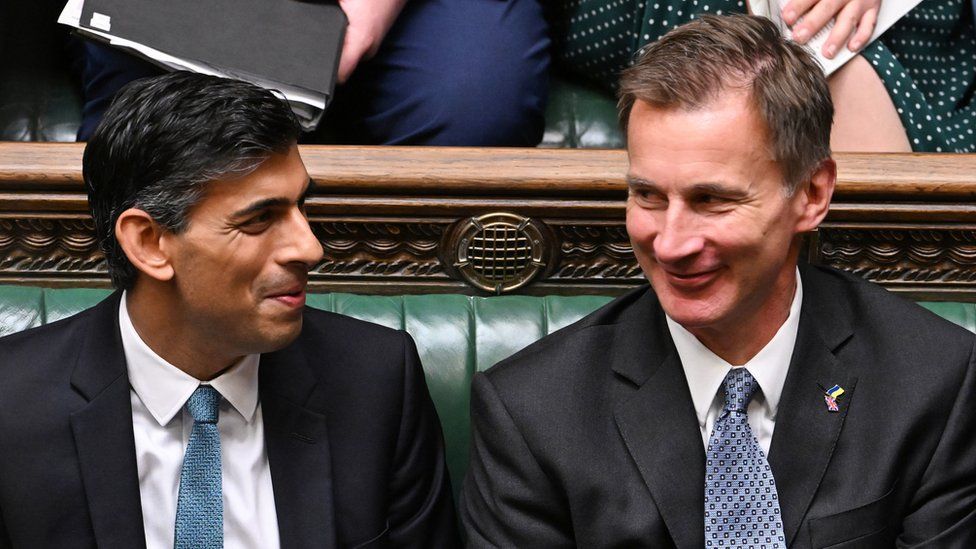 Jeremy Hunt says tax rises and spending cuts in the Autumn Statement are required to grip inflation and repair the public finances.
It's a contrast to both the Covid-era spending injections under Boris Johnson, and the now-reversed tax-cutting approach of Liz Truss.
Now the message is: taxes are going up, and public spending squeezes are coming.
From where I sat in the House of Commons watching the chancellor unfold his plans, Conservative MPs were pretty muted, but generally supportive.
The plans seem unlikely to rip the Tory party apart in the way September's mini-budget did.
But there are some flashpoints ahead.
With some personal tax thresholds frozen, millions of individuals are set to pay more tax.
That's something which is concerning some Tory MPs, particularly those on the right of the party who previously advocated tax cuts.
Former business secretary Jacob Rees-Mogg has told the BBC he was particularly concerned about tax rises during a recession.
Fellow Tory MP Esther McVey has said putting taxes up was the "last thing" a Tory government should be doing.
Votes on tax changes and Budgets are usually seen as a de facto "vote of confidence" – or test of loyalty – in the government itself. So, we shouldn't overegg the impact some of this unease may have on the government's plans.
It's unlikely many, if any, Tory MPs would vote against the government's plans as they could risk losing their place in the parliamentary party as a result.
But some may become more vocal about this.
With cuts to tax-free allowances on things like dividends from shares too, one Tory MP told the BBC they were "really disturbed" that "prudent people who have saved and put money to one side will face additional taxes on their savings and investments".
There may not be heaps of sympathy among the general public for more top earners having to pay the top rate of tax.
Labour is trying to draw clear dividing lines between themselves and the Tories on tax too – arguing they would scrap non-dom tax status and not lift the bankers' bonuses cap, or exempt private schools from VAT.
Conservative think tank Bright Blue also argues the government "missed an opportunity" to move more tax from work and on to wealth by taxing profits from selling assets, inheritance and non-dom individuals more.
Some Tory MPs, including Bob Blackman MP, have expressed concern this could make local elections tricky for the party.
Others in the party have raised concerns that it could be another blow for households struggling with rising prices and taxes.
Tory MP Jonathan Gullis said he was "sure many local authorities will see this as the government passing the buck".
"It is a very blunt way to try and raise money for councils across the country, and I fear it won't actually plug the gaps many of them face. "Councils in areas like Stoke-on-Trent are simply going to need more help from government."
One former cabinet minister who served under Liz Truss told us they were concerned about the impact these plans would have on the "squeezed middle".
This is largely because there will be further targeting of cost of living and energy support towards the most vulnerable.
The government argue this is the approach that is "compassionate" but responsible.
But the former minister says there are some MPs concerned that some people who do not qualify for extra support because they are a pensioner, on benefits or disabled may still feel a squeeze from rising taxes – and energy bills from April – while prices are still very high.
One issue bubbling for the Conservatives is on housing.
Labour are hammering the line "Tory mortgage premium" to reference how interest rates have gone up following Liz Truss and Kwasi Kwarteng's mini-budget.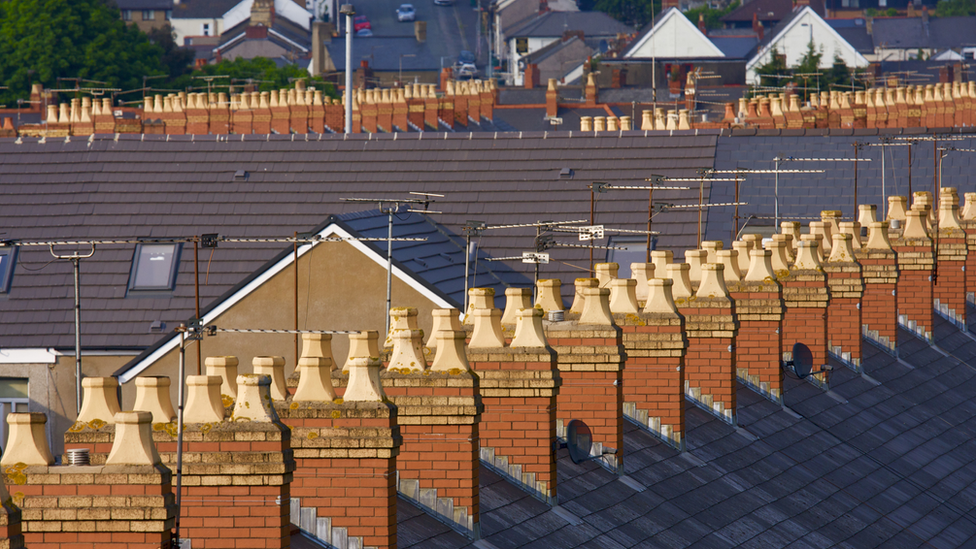 But one other political issue for the Tories could be the forecast for house prices to fall significantly.
While this may be welcomed by those looking to buy a home, homeowners with lots of their cash and savings tied up in their house in Tory heartland areas may not be so positive.
The Chancellor has announced extra money for schools, the NHS and social care in England for the next two years.
But spending on public services in England will rise more slowly than planned – with some departments facing cuts after the next election.
It's not clear yet which departments may be hit the hardest, but ministers will certainly be keen to make sure theirs aren't bearing the biggest brunt nearer the time. The planned increase to defence spending has already been delayed, and the international aid budget that was cut during Covid will also not go back to 0.7% of national income.
When it was first cut, there was quite a significant Tory MP rebellion. One of the most prominent rebels, Andrew Mitchell, is now a foreign office minister.
Politically one of the biggest challenges for the Tories just now is their slumping position in the polls: will the government's message of "sound money" be enough to get voters to trust them again?
Short of any unforeseen events, the economic blame game will define the next election campaign.
Mr Hunt has conceded that people's disposable incomes are set to fall to record levels.
But he's accused his critics of being detached from reality when they argue this was the Tory government's making.
He argues the opposition cannot claim economic problems are not to do with Covid or the war in Ukraine, but it's much harder for the government to deny that some economic problems – such as high interest rates on people's mortgages – are not in part caused by political decisions that spooked economic markets.