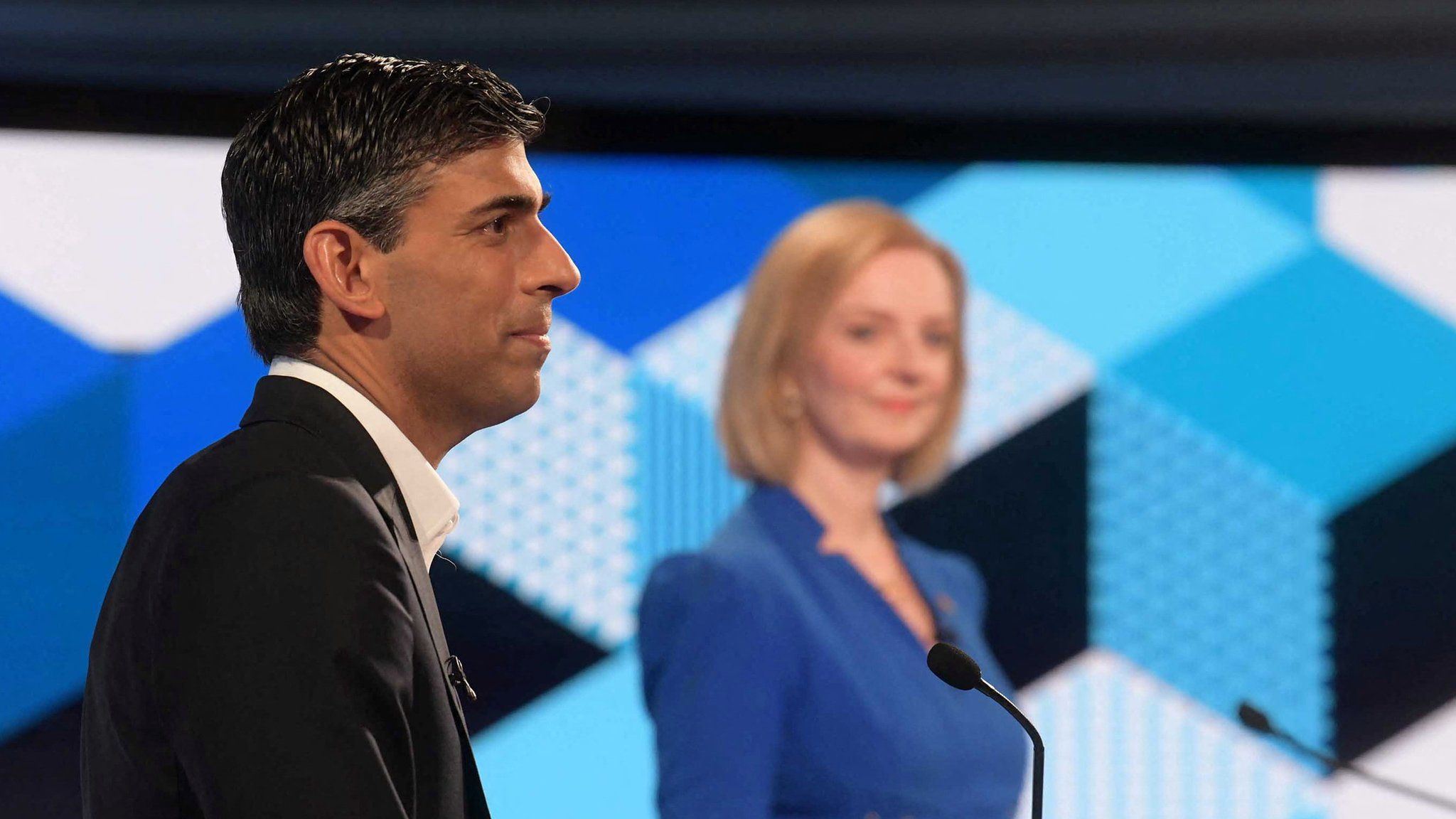 Liz Truss and Rishi Sunak have been urged to specify what further help they would offer to households struggling with energy bills if they became PM.
Labour have accused the Tory leadership candidates of having "almost nothing to say" about the huge spike in energy costs.
Typical household energy bills are set to hit £3,549 a year from October.
Ms Truss and Mr Sunak have signalled they would offer more help, but details must wait until they have taken office.
Outgoing prime minister Boris Johnson has insisted his successor would be announcing "extra cash" to help people with rising bills, once they moved into Downing Street next month.
He said he accepted things would be "tough for people," and high energy costs worsened by the war in Ukraine would persist over the winter.
Chancellor Nadhim Zahawi said everyone would have to review their energy use at this "difficult time," but options for further help were being drawn up.
Writing in the Daily Mail on Friday, Ms Truss promised to take "decisive action on entering No 10, to provide immediate support" to households this winter.
The foreign secretary, who polls suggest is the favourite in the leadership race, has so far promised to help households by reversing April's National Insurance rise and temporarily cutting energy levies on fuel bills.
However, she said it would not be right to set out further details of her plan "before I have even won the leadership contest".
Mr Sunak has proposed spending billions of pounds on further payments to pensioners and the low-paid over winter, arguing tax cuts would not help them enough – but has not set out details. He also wants to cut VAT on fuel bills.
Speaking to reporters, the former chancellor said he would make announcements on further help "as soon as I can, on becoming prime minister".
Earlier in the contest, he said he would have more to say "as soon as we know how much bills will go up by".
Also speaking to journalists, Labour leader Sir Keir Starmer said the government was "missing in action", adding this was "unforgivable in a cost of living crisis".
Earlier, the party's shadow chancellor Rachel Reeves said the candidates to replace Mr Johnson had had "almost nothing to say" about what should be done.
The Tory leadership rivals have both rejected Labour's plan to spend £29bn to freeze prices over the winter. Mr Sunak has said further spending should be targeted at the poorest, while Ms Truss has described the plan as a "sticking plaster".
But Sir Keir defended the party's proposals, saying the scale of the price rises would cause worry for "millions of households", affecting more than just the "hardest up".
On Friday, the UK's energy regulator Ofgem said the cap on domestic energy prices would rise again from the start of October, taking a typical bill to £3,549 a year.
Under a package set out in May by Mr Sunak when he was chancellor, all households are due to get a £400 bills discount this autumn, with further payments available to pensioners and the low-paid.
However, huge increased in predicted costs since then have led to calls for further support.
The Liberal Democrats have also called for a price cap freeze, and accused the leadership contenders of offering no plan "as millions suffer".
SNP economic spokeswoman Alison Thewliss said the government "must come out of hiding" to deliver "the help households urgently need now".
Her party has also called for a price cap freeze, with leader Nicola Sturgeon also saying renationalising energy companies should be "on the table" to tackle the crisis.
Ofgem's chief executive Jonathan Brearley said the rising price of energy – largely driven by a spike in gas prices linked to the war in Ukraine – would be "devastating for many families".
He said the new prime minister – who will take office on 6 September after the Conservative Party elects a new leader – will "need to act urgently and decisively to address this".
Chancellor Mr Zahawi said he was working up options for the next prime minister, and that "more help is on its way" for households.
He said his preference was for any further support to be targeted at the most needy households, as it would give the UK "more leeway to face down" Russian president Vladimir Putin.
Asked whether people should be cutting back how much energy they used, he replied: "The reality is that we should all look at our energy consumption."
He added that Europe was facing a "difficult time" with energy, due to the war in Ukraine, and "this thing is not going away".