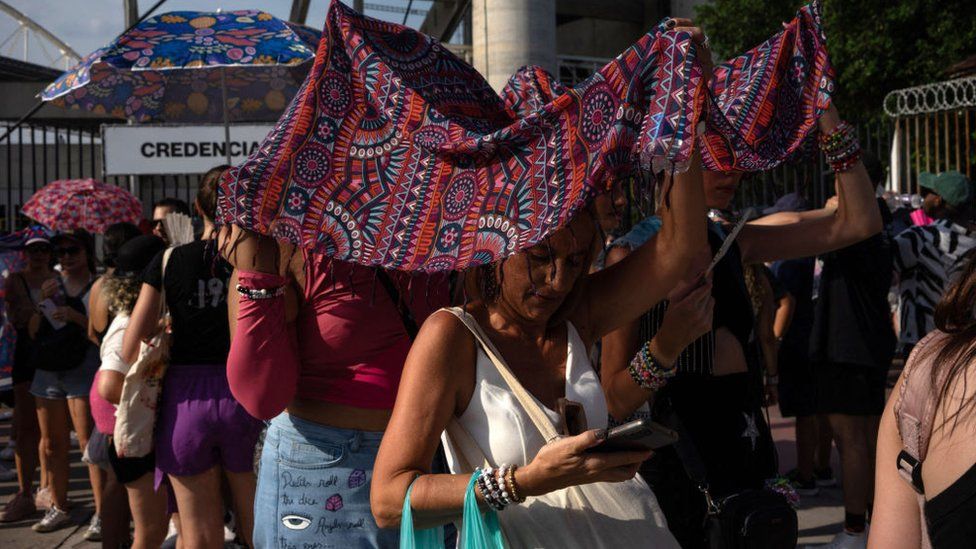 Brazil has recorded its hottest ever temperature – 44.8C (112.6F) – as parts of the country endure a stifling heatwave.
The record was hit on Sunday in the town of Araçuaí, in Brazil's south-eastern state of Minas Gerais.
The unprecedented weather has been attributed to the El Niño phenomenon and climate change.
Forecasters say some of the heat is likely to ease this week.
According to the National Institute of Meteorology (Inmet), only three state capitals will see temperatures approaching 40C, CNN Brasil reported.
The government agency said Araçuaí's high of 44.8C had beaten the country's previous record of 44.7C, measured in 2005.
The heat has seen red alerts issued across the country, a month before the beginning of summer in the southern hemisphere. Brazil's energy consumption has soared to record levels as people try to keep themselves cool.
The high temperatures led to Taylor Swift cancelling one of her concerts in Rio de Janeiro after a fan fell ill and died before a show on Friday.
According to the organisers, 23-year-old Ana Clara Benevides Machado had sought help at the stadium after feeling unwell. She was transferred to hospital but died one hour later.
Extreme weather is becoming more frequent and more intense in many places around the world because of climate change.
Meanwhile, the Earth is currently in an El Niño weather phase, during which time global temperatures typically increase.