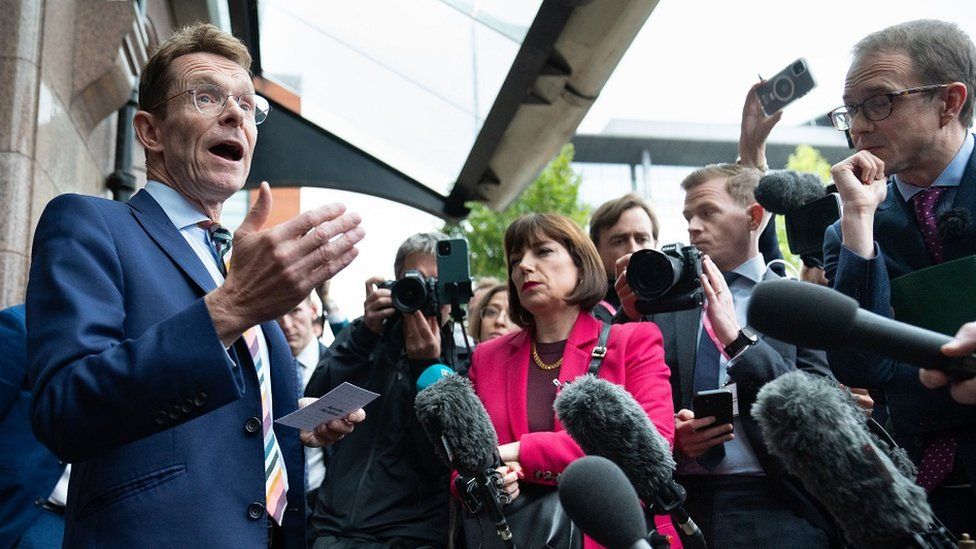 West Midlands Tory mayor Andy Street has said Rishi Sunak would be "cancelling the future" if he "gives up" on the Manchester leg of HS2.
It comes amid speculation that the prime minister is about to announce the axing of the high speed rail line.
Downing Street has insisted "no final decisions have been taken".
But Mr Street made an impassioned plea to the PM to "stay the course" or risk damaging the UK's international reputation "as a place to invest".
Reports a decision had been taken have been circulating at the Conservative party conference in Manchester.
At an impromptu press conference, Mr Street warned the PM: "You will be turning your back on an opportunity to level up – a once-in-a-generation opportunity."
He said he had been working on a new funding model for the project with more private sector involvement.
"We all know the costs are escalating well beyond the budget and indeed he is right to try to get a grip of this situation – I fully accept that.
"But gripping this situation means re-examining it, it does not mean giving up, admitting defeat you could say, or even, you could say, cancelling the future."
Asked about Mr Street's intervention, Conservative Party chairman Greg Hands told the BBC ministers were still looking at the evidence.
"We're looking at the value for money cases," he added.
The prime minster and his chancellor Jeremy Hunt have spent the past few days declining to answer questions about the future of HS2.
Mr Hunt did not mention the project in his keynote speech to conference earlier, focusing instead on announcing a freeze in civil service expansion, a rise in the living wage and tougher sanctions for benefits claimants.
Labour's shadow transport secretary Louise Haigh said: "This fiasco shows the Conservatives are too divided and too distracted to take this country forward.
"After weeks of chaos and indecision on the biggest infrastructure project in the country, Rishi Sunak's relaunch is now coming off the rails."
The Labour mayor of Manchester Andy Burnham, who was speaking at a fringe meeting at the Tory conference, described reports of the project being axed as "profoundly depressing".
"This will be remembered as the conference when they pulled the plug on us.
"What gives them the right to treat people here in Greater Manchester and the north of England as second-class citizens?"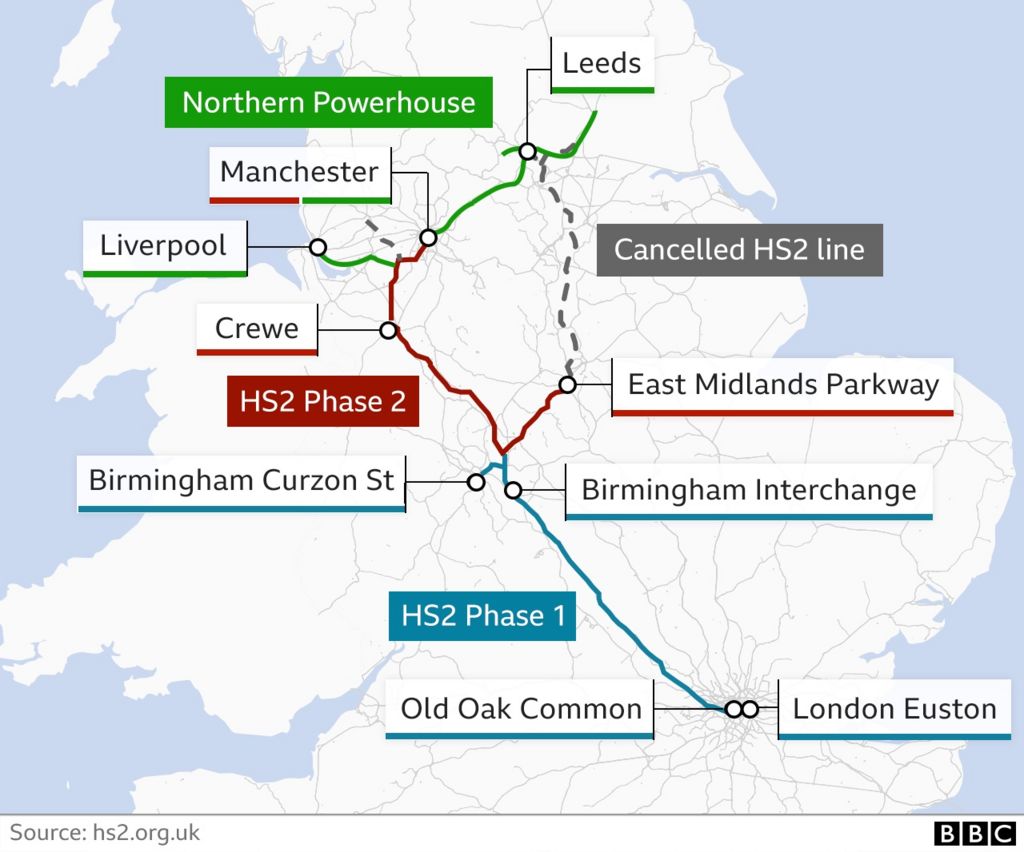 Former prime ministers Boris Johnson, Theresa May and David Cameron have all issued warnings against scaling the high-speed line back.
The line aims to cut journey times, creating more space on the rail network and more jobs outside London. But HS2 has faced delays, spiralling costs and cuts.
The first estimate in 2010 was for about £33bn; and the government's most recent official estimate about £71bn.
A long-time critic of HS2, Buckingham MP Greg Smith, said it had caused "abject human misery" in his constituency, and that a remaining line that went from not quite central London to not quite central Birmingham would be an "offense".
Another Tory MP, Chris Loder, a former supporter of HS2, said the case for the line had not been made to the rest of the country, and something had gone "very wrong".
Conservative Tees Valley mayor Ben Houchen told a conference fringe event that the "indecision" on HS2 was causing a "distraction" as he urged ministers to commit to Northern Powerhouse Rail.
Speculation about the future of HS2 started a few weeks ago, with a long-lens photo of a briefing document being carried into Downing Street.
While HS2 is clearly set for big changes, the internal government process for rubber-stamping those changes is messy and is beginning to spill out into the public view, dominating the Tories' annual party conference.