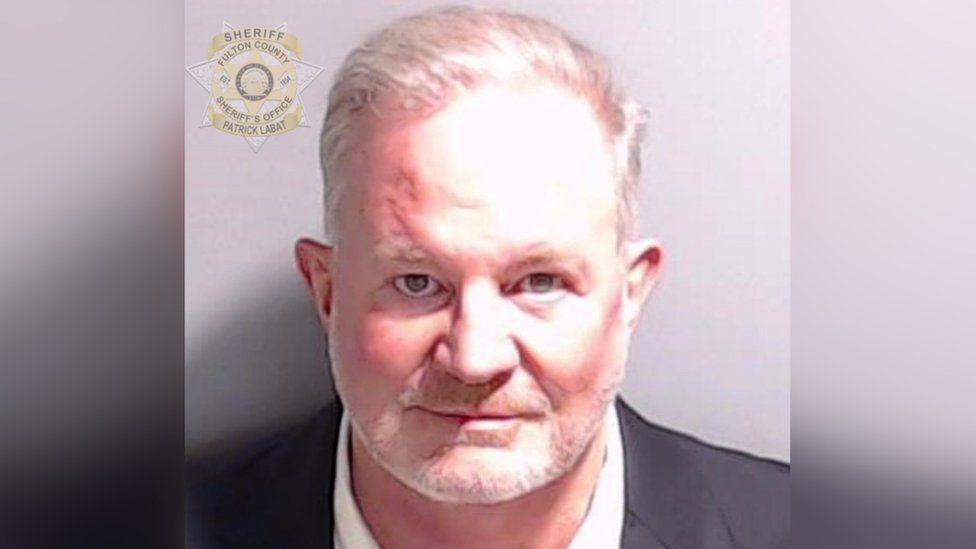 One of 18 co-defendants of former President Donald Trump has pleaded guilty to five charges in the Georgia election interference case.
Bail bondsman Scott Hall has struck a plea deal with prosecutors that requires him to testify against others.
The former Republican poll watcher is accused of trying to gain access to sensitive election equipment in Coffee County, Georgia.
The arrangement marks the first plea deal in the case.
During a hearing before Fulton Superior Court Judge Scott McAfee on Friday, Hall, 59, pleaded guilty to five counts of conspiracy to commit intentional interference with the performance of election duties.
As part of the deal, Hall will get five years probation. He will also have to pay a $5,000 (£4,000) fine, testify against other defendants in the case, complete 200 hours of community service and write a letter of apology to Georgia voters. He is also banned from future election administration-related activities.
Hall is accused of travelling to Coffee County in south-eastern Georgia to try to illegally breach voting equipment to look for evidence of a rigged election. His co-defendant and former Trump lawyer Sydney Powell is also accused of participating in the breach.
Mr Trump is facing 13 charges in Georgia for his efforts to overturn his election loss in the state to Joe Biden in 2020. He and his co-defendants face racketeering charges for participating in what prosecutors say was a wide-ranging scheme to meddle with Georgia's election results.
Mr Trump and all other remaining defendants have pleaded not guilty.
The former president has claimed Fulton County District Attorney Fani Willis is carrying out a politically motivated investigation against him.
He faces four other criminal investigations, including federal charges over his attempts to overturn 2020 election results.
Prosecutors are readying for at least two trials with 18 defendants in the Georgia case, including one that is set to begin on 23 October with Ms Powell and Kenneth Chesebro, the alleged creator of a fake elector scheme.