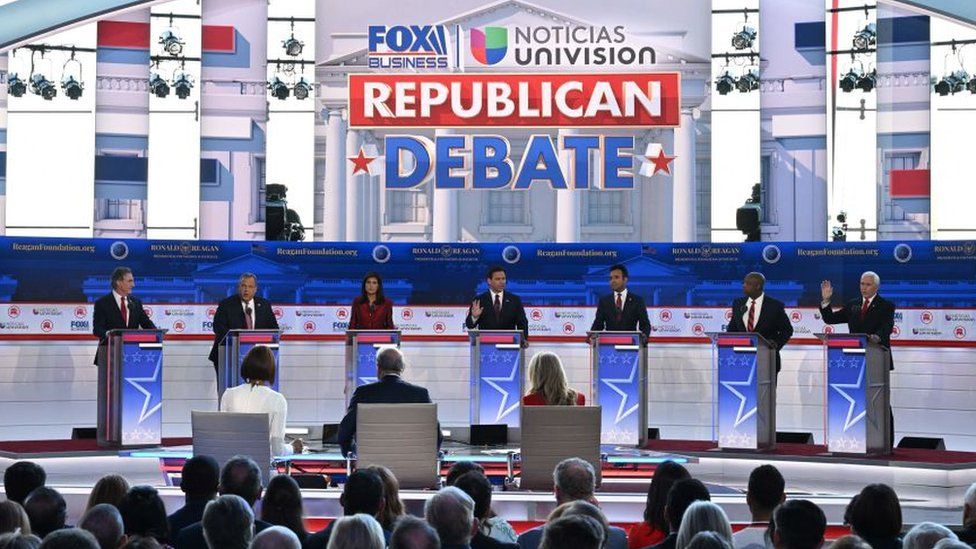 Republican candidates for president took their ascendant rival Vivek Ramaswamy to task at the party's second 2024 presidential debate.
Former UN Ambassador Nikki Haley said listening to Mr Ramaswamy made her "a little bit dumber" every time, while others interrupted his answers.
But frontrunner Donald Trump also faced attacks for being "missing in action".
He skipped the debate, instead seeking to woo striking auto workers more 2,000 miles (3,200km) away in Michigan.
The eventual Republican nominee will face President Joe Biden, the likely Democratic candidate, next year.
On stage for the Fox Business Network's primetime showdown are Ms Haley, Mr Ramaswamy, Florida Governor Ron DeSantis, former New Jersey Governor Chris Christie, former Vice-President Mike Pence, South Carolina Senator Tim Scott and North Dakota Governor Doug Burgum.
Former Arkansas Governor Asa Hutchinson, who appeared at the first debate last month in Milwaukee, Wisconsin, did not qualify to participate Wednesday night at the Ronald Reagan Presidential Library in Simi Valley, California.
Several candidates piled on against Mr Ramaswamy, a biotech entrepreneur and political newcomer who has seen a polling bounce since the first debate.
The 38-year-old faced harsh criticism from the likes of Ms Haley and Mr Pence, in particular over his foreign policy proposals.
"Every time I hear you, I think I get a little bit dumber," a visibly infuriated Ms Haley told him. "We can't trust you."
The former entrepreneur, who has focused his foreign policy interventions on the threat posed by an ascendant China, faced criticism over his past business dealings in the country.
Mr Pence offered Mr Ramaswamy back-handed praise for pulling out of a Chinese deal in 2018, saying it "must have been about the time he started voting in presidential elections".
But Mr Ramaswamy, a brash political novice with highly unorthodox policy proposals, smiled about being "interrupted by a lot of people here".
He also held firm with highly unorthodox policy proposals, including forcefully asserting that being transgender was "a mental health disorder" and that children under the age of 16 should be barred from using social media.
Another ex-businessman on the stage, the low-polling Mr Burgum, interrupted the forum on several occasions to argue it was time to "treat the taxpayer like a customer".
Mr Burgum also argued that he was the kind of "business leader" Republicans have been looking for and that, as North Dakota's chief executive, he had already done what his rivals had only proposed.
Immigration, and the influx of migrants and drugs across the US southern border, has been a top concern among Republican voters and it came up periodically through the two-hour event.
Mr DeSantis vowed to treat Mexican drug cartels "as the foreign terrorists that they are", while Ms Haley said she "will send in our special operations and we will take out the cartels".
Such arguments, also heard at the first debate, have drawn strong criticism in Mexico, where many remain distrustful of US interventionism in domestic security affairs.
Mr DeSantis, who has struggled to eat away at Mr Trump's lead without angering his loyal supporters, also zeroed in for the first time on the elephant not in the room – Mr Trump.
He said he had a record of enacting conservative priorities as Florida's governor and stood apart from Mr Trump on the issue of abortion.
Mr Christie, long an arch critic of the former president, argued that Mr Trump was too afraid to defend his record in office, adding: "We should call you Donald Duck."
Mr Trump, who leads his Republican challengers by about 40 points in most opinion polls, had long indicated he would skip the event.
He has said his dominance over the rest of the field would only be undermined by showing up, also alleging bias in the choice of debate moderators and venue.
In a speech at an auto supplier in the Detroit suburbs, Mr Trump barely mentioned his opponents, except to say they were "all competing for a job" in his administration if he wins.
His remarks came one day after Mr Biden, in a first for a sitting president, joined a picket line with auto industry workers at the labour union's invitation.
Mr Trump, who spoke at a non-unionised factory, slammed the president's push for electric vehicle production and warned workers they were "all going to be out of business".
And he repeatedly called on UAW leaders to endorse his presidential bid, telling workers to "get your union leaders to endorse me, and I'll take care of the rest".
It was an early skirmish in the battle for the blue-collar vote, and their most direct face-off so far, ahead of next year's election.
A CBS News poll conducted earlier this month found Mr Trump beating Mr Biden by one point in a rematch of their 2020 head-to-head.
Republican voters will begin choosing their candidate in state-by-state contests in January, with the first taking place in Iowa.
The winner will be formally crowned at the party convention in Milwaukee in July and go on to the general election less than four months later.