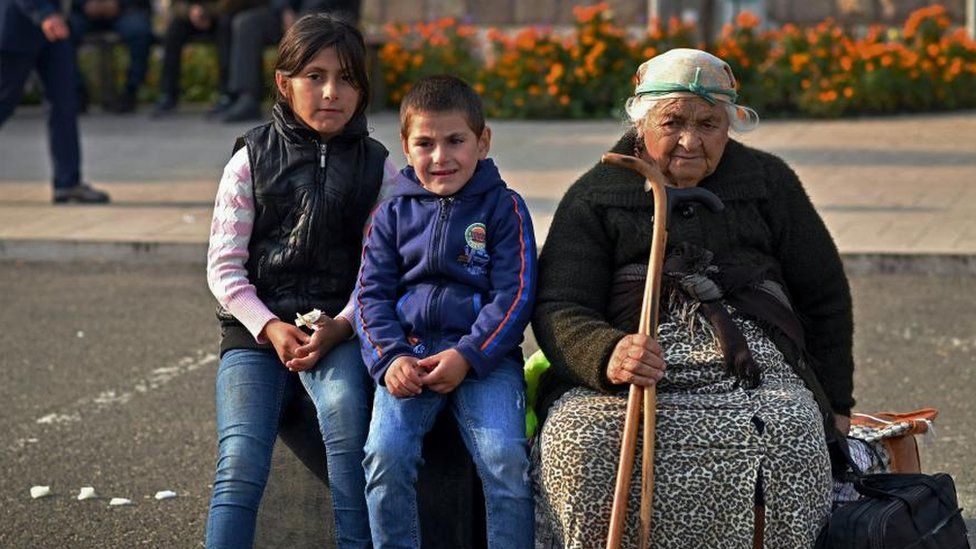 The leader of the self-declared Republic of Nagorno-Karabakh has said it will cease to exist in the new year.
Samvel Shahramanyan announced on Thursday that he had signed an order dissolving all state institutions from 1 January.
The region, which had been controlled by Armenians for three decades, was seized by Azerbaijan last week.
More than half of its majority ethnic Armenian population have now fled, according to officials.
The region is recognised internationally as part of Azerbaijan but Armenia took control in the 1990s following the collapse of the Soviet Union.
Mr Shahramanyan said the decision to dissolve the state was "based on the priority of ensuring the physical security and vital interests of the people", referencing Azerbaijan's agreement that "free, voluntary and unhindered travel is ensured to residents".
He encouraged people from Nagorno-Karabakh, including those currently living outside it, to "familiarise themselves with the conditions of reintegration" into Azerbaijan. Talks between Baku and the Karabakh authorities have started on this.
Armenia's Prime Minister Nikol Pashinyan has said he expects there will be no Armenians left in Nagorno-Karabakh in the coming days.
Fears of fresh violence came when Azerbaijan mounted an effective blockade of a vital route into the enclave in December 2022.
On 20 September, a ceasefire brought 24 hours of fighting to an end.
But many of the region's 120,000 ethnic Armenians fear they have no future in Nagorno-Karabakh. Mr Pashinyan said "ethnic cleansing" had started in the region.
On Thursday, he called for international action over the issue.
"If the condemnation is not followed by adequate political and legal decisions, then these condemnations become acts of agreement with what is happening," he told members of his cabinet.
Western governments have been pressing Azerbaijan to allow international observers into Karabakh to monitor its treatment of the local population but access has not yet been given.
Meanwhile, a former leader of the enclave has been charged with a number of crimes including financing terrorism, according to the Azerbaijani authorities.
Ruben Vardanyan, who headed the separatist government from November 2022 until February, was arrested on Wednesday while trying to leave for Armenia, officials said.
Earlier this week, an Azerbaijani government source told Agence France Presse news agency that the country intended to apply an "amnesty to Armenian fighters who laid down their arms in Karabakh", they said anyone who had committed "war crimes" must be handed over.
Mr Vardanyan has now been placed in pre-trial detention and is expected to be there for months.
The Armenian authorities are adamant they can cope with the growing number of people fleeing Nagorno-Karabakh. A senior official told the BBC it was a matter of principle to help Armenia's "brothers and sisters" from the region.
Traffic jams have lined the road out of Karabakh towards Armenia for days, with families crammed into cars, boots overflowing and roof-racks piled high with belongings.
In the town of Goris, close to the border, the aid effort is intensifying. Local hotels are full, offering rooms for free, and Armenians are posting on social media, offering housing all over the country to refugees.
The demand is so high, the authorities are opening a second hub two hours down the road in Vayk.