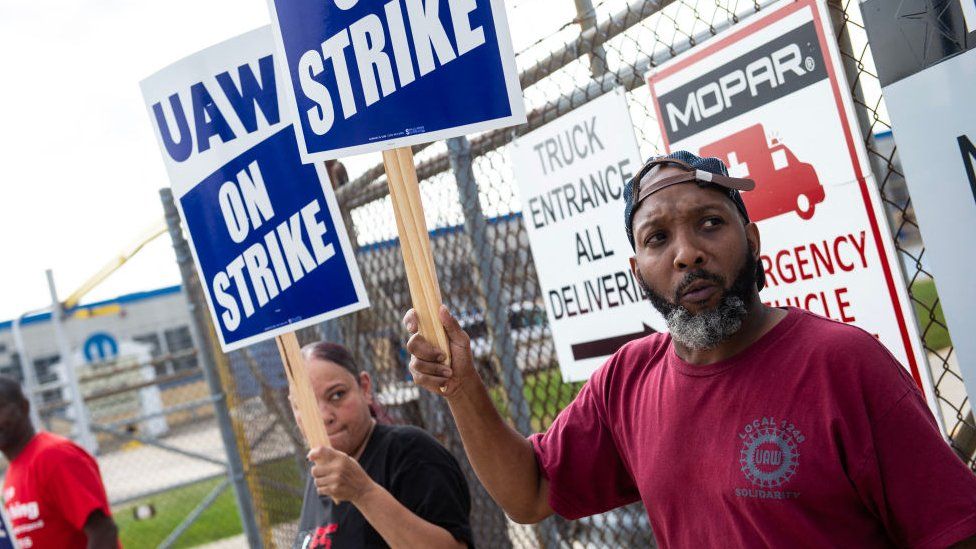 Joe Biden is expected to join members of the United Auto Workers (UAW) union on the picket line in Michigan, a first for a sitting US president.
Mr Biden's visit to local car workers comes a day before his main electoral rival, Donald Trump, does the same.
The White House has said the president will not "get into negotiations", although he is expected to speak.
Mr Biden has repeatedly touted himself as the most pro-union president in US history.
While US lawmakers – and presidential candidates – frequently appear at strikes to express their solidarity with American workers, it is considered unprecedented for a sitting president to do so.
Earlier in September the UAW declared a strike targeting Ford, General Motors and Stellantis, pushing the three major auto companies for higher pay and other improvements in new labour contracts.
The White House, which was heavily involved in resolving a 2022 labour dispute with rail workers, was "not going to get into negotiations", White House Press Secretary Karine Jean-Pierre told reporters on Monday. She declined to comment on whether Mr Biden supported the current UAW proposal.
Mr Biden's presence in Michigan is intended to show that "we support the auto workers", Ms Jean-Pierre said.
"To be very clear, he is standing with them to make sure that they get a fair share," she added.
The White House announced Mr Biden's visit to the UAW workers last week, soon after Mr Trump announced he would skip the 27 September Republican presidential debate in California to visit Detroit, the heart of US car and truck manufacturing.
On his social media platform Truth Social, Mr Trump angrily insisted he had provoked the presidential visit.
"Crooked Joe Biden had no intention of going to visit the United Autoworkers, until I announced that I would be headed to Michigan to be with them [and] help them out," he wrote.
Mr Biden was invited to visit the UAW members by the group's president, Shawn Fain, who has sometimes been critical of Mr Trump.
In his Truth Social post, Mr Trump – who has not been invited by the UAW – vowed that auto workers are "toast" if they do not endorse him and if he does not win the election.
The visits by Mr Biden and Mr Trump – currently the frontrunner for the Republican nomination – come as Republicans and Democrats alike focus on the electorally important Midwestern "Rust Belt", where blue-collar workers such as UAW members form a vital voting block.
The battle for those votes in Michigan promises to be intense. Democrats narrowly won the state in the 2020 presidential election after losing there in 2016.
Meanwhile, the UAW endorsed Mr Biden in 2020 but has yet to identify a preferred candidate for the 2024 election, saying that the union's support needs to be "earned".
Mr Biden's visit to the picket line also comes as his administration pushes for more electric vehicle (EV) production in the US – a cause for concern for union members who worry that EVs require fewer workers to build them and could be made in non-union factories for much lower wages.