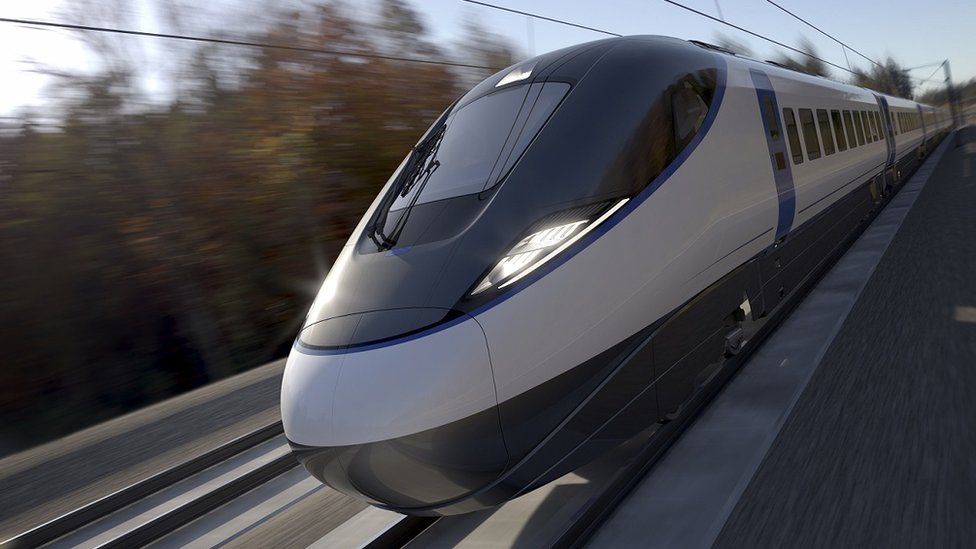 Criticism is growing over the possible scrapping of the HS2 high-speed rail link between Birmingham and Manchester.
Abandoning the link would be a "gross act of vandalism", former chancellor, George Osborne, has said.
Greater Manchester mayor Andy Burnham said axing the extension risked creating a "north-south chasm".
Speculation about the rail leg has grown as the government has refused to guarantee that the line will continue between the Midlands and North West.
Speaking on Monday, Prime Minister Rishi Sunak said he would not comment on "that type of speculation".
"What I would say is we're absolutely committed to levelling up and spreading opportunity around the country," he said.
"And transport infrastructure is a key part of that, but not just big rail projects, but also local projects, improving local bus services, fixing pot holes, all of these things make a difference in people's day-to-day lives."
The BBC understands a decision on HS2 could be made as soon as this week.
The annual Conservative Party conference begins in Manchester on Sunday, and Conservative MP Steve Brine told the BBC "it would seem very odd to be in Manchester next week, and can a project to Manchester".
HS2 is intended to link London, the Midlands and the north of England – the first part, between west London and Birmingham, is in mid-construction.
But the scheme as a whole has already faced delays, cost increases and cuts – including the planned eastern leg between Birmingham and Leeds.
The last official estimate on HS2 costs, excluding the cancelled eastern section, added up to about £71bn.
But this was in 2019 prices so it does not account for the spike in costs for materials and wages, for example, in recent months.
Chancellor Jeremy Hunt said last week that costs were getting "totally out of control".
A June statement to Parliament included figures for how much had been spent on HS2 so far, although they were not completely up to date.
It said £22.5bn had been spent on the London to Birmingham leg while £2.3bn had been spent on preparing other sections, on measures such as buying up land.
However, writing in the Times, Mr Osborne and Lord Heseltine said scrapping the route to Manchester, and potentially a link between west London and Euston station, would be "an act of huge economic self-harm, and be a decision of such short-sightedness that we urge the prime minister: don't do it".
"How could you ever again claim to be levelling up when you cancel the biggest levelling-up project?", they wrote.
"Where would a cancelled HS2 leave the North and Midlands? Abandoned is the answer."
On Sunday, Grant Shapps, the current Defence Secretary and former Transport Secretary, said it would be "crazy" not to review plans for HS2 given that costs have risen. In 2015, it was budgeted to cost £55.7bn.
He also would not comment on whether or not separate plans for the Northern Powerhouse Rail scheme between Leeds, Manchester and Liverpool would still go ahead if the northern section of HS2 is scrapped.
The Northern Powerhouse Rail project would include a mix of new and upgraded lines to speed up links, and would use part of the lines planned under the second leg of HS2.
Speaking to the BBC's Today programme, Mr Burnham said axing the HS2 extension "rips the heart" out of the plans for the Northern Powerhouse project.
"It would leave the north of England with Victorian infrastructure probably for the rest of this century," he added.
If that happened while infrastructure in the south of England is upgraded it "is a recipe for the north-south divide to become a north-south chasm, the very opposite of the levelling up that we were promised in this Parliament," Mr Burnham said.
However, he indicated that he was open to talks about postponing the Birmingham to Manchester leg so that rail improvements within the north could take place first.
"As part of any discussion we would say, whatever you decide, please don't scrap it," Mr Burnham said.
"If you're adamant that changes have to be made, we would be open to a conversation about re-phasing so that the northern section, Northern Powerhouse Rail, is built first. That is something we could have a discussion with the government about. But scrapping it would basically take everything off the table."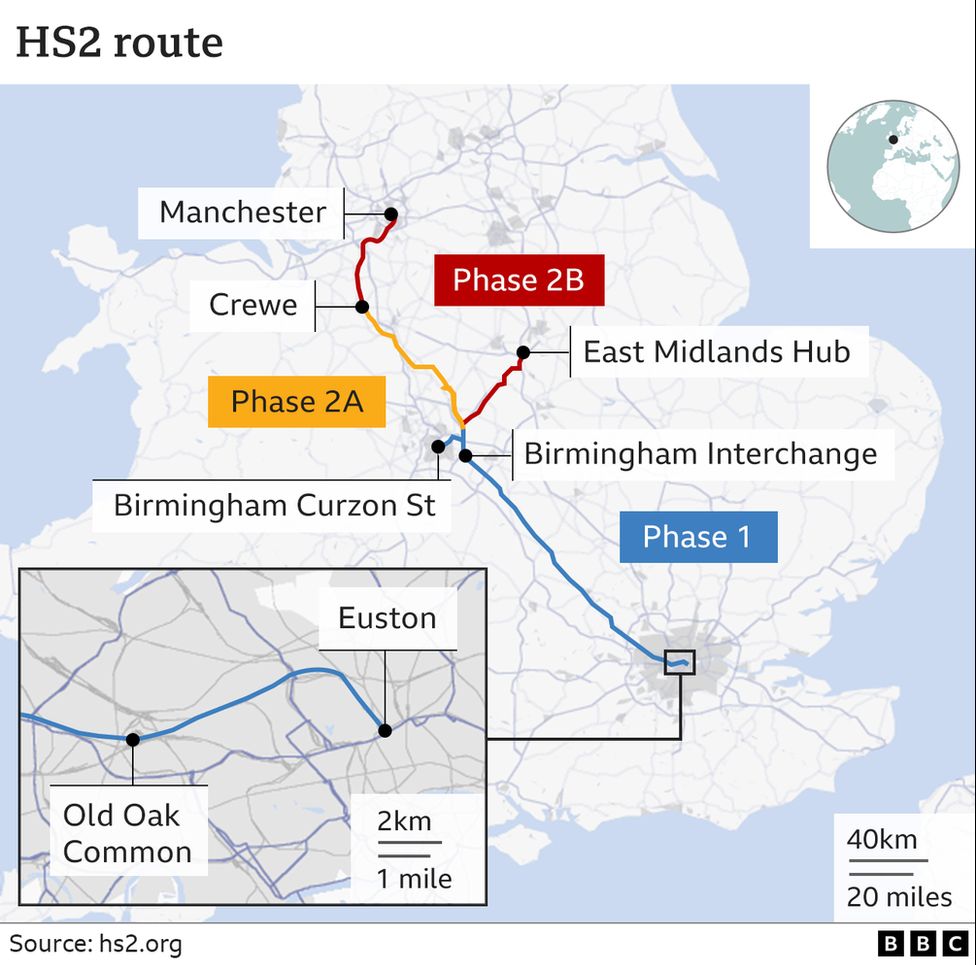 Labour has so far refused to confirm it would fund the HS2 line to Manchester if the Conservatives axe it.
On Sunday, Darren Jones, new shadow chief secretary for the Treasury, said the Labour party would "love to build the HS2", but said little "proper" information had been made available by the government.
Also at the weekend, more than 80 companies and business leaders also sought clarity over the commitment to HS2.
The bosses of dozens of businesses and business groups – including Manchester Airports Group, British Land, Virgin Money, and the Northern Powerhouse – all signed a letter to the government urging renewed commitment to HS2, saying that repeated mixed signals were damaging the UK's reputation and the wider supply chain.

Have you been affected by the issues raised here? Do you live on the proposed route between Birmingham and Manchester? You can share your experience by emailing haveyoursay@bbc.co.uk.
Please include a contact number if you are willing to speak to a BBC journalist. You can also get in touch in the following ways:
If you are reading this page and can't see the form you will need to visit the mobile version of the BBC website to submit your question or comment or you can email us at HaveYourSay@bbc.co.uk. Please include your name, age and location with any submission.