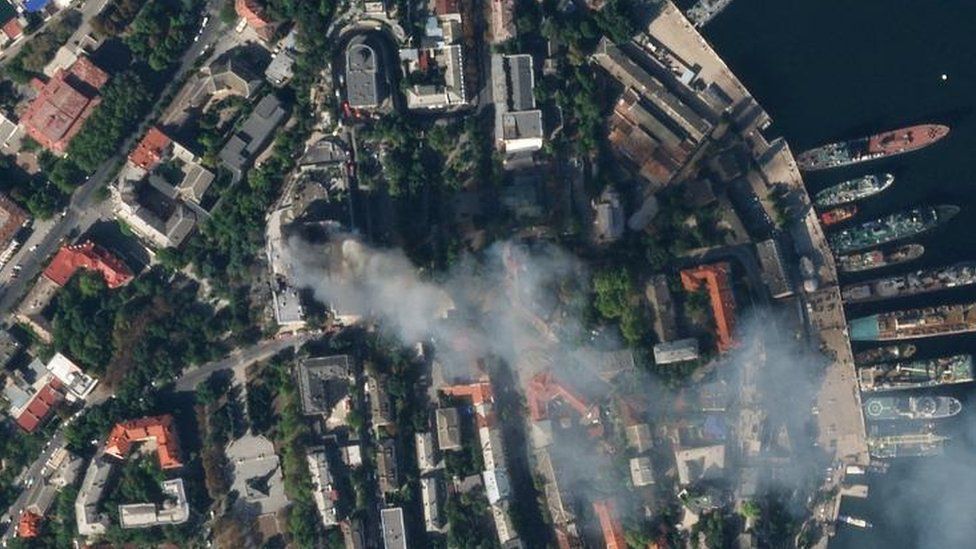 Ukraine says Friday's missile strike on the headquarters of Russia's Black Sea fleet in Crimea was timed to coincide with a meeting of naval officials.
In a short statement, the Ukrainian military claimed the strike had caused deaths and injuries but did not provide more details.
On Friday Moscow said one serviceman was missing after the attack.
The fleet, based in the port city of Sevastopol, is seen as the best of Russia's navy.
A Ukrainian military source told the BBC that Friday's attack was carried out using Storm Shadow missiles, which are supplied by Britain and France.
The Ukrainian military statement on Saturday asserted that it had left "dozens of dead and wounded occupiers, including the top management of the fleet".
Kyiv's intelligence chief, Kyrylo Budanov, claimed that two Russian commanders were badly injured in the missile strike.
The BBC is unable to independently verify many of the battlefield claims made by either side.
The Sevastopol area came under renewed attack on Saturday. The city's Russian-installed governor, Mikhail Razvozhaev, said debris from a missile shot down by air defences had fallen near a pier.
He also told residents he was ordering an inspection of bomb shelters following some complaints they were hard to access or in poor condition.
"We earnestly ask everyone: stop sowing panic and pleasing our enemies with this – panic is their main goal," he wrote on Telegram.
Kyiv's forces have recently been launching near-daily strikes against Russian forces based in Crimea.
Last week, Ukraine's navy claimed to have knocked out an S-400 air defence missile battery covering the peninsula, degrading Russia's ability to defend against fresh attacks.
A day earlier, a large Russian landing ship and submarine were damaged in an attack which Ukraine said also made use of Storm Shadow missiles.
The attacks on Crimea are strategically and symbolically important.
As well as being a platform from which to attack Ukraine, the Black Sea fleet is a major symbol of Russia's centuries-old military presence in the region.
It was based in Crimea under a leasing deal even before Russia illegally annexed the peninsula in 2014.