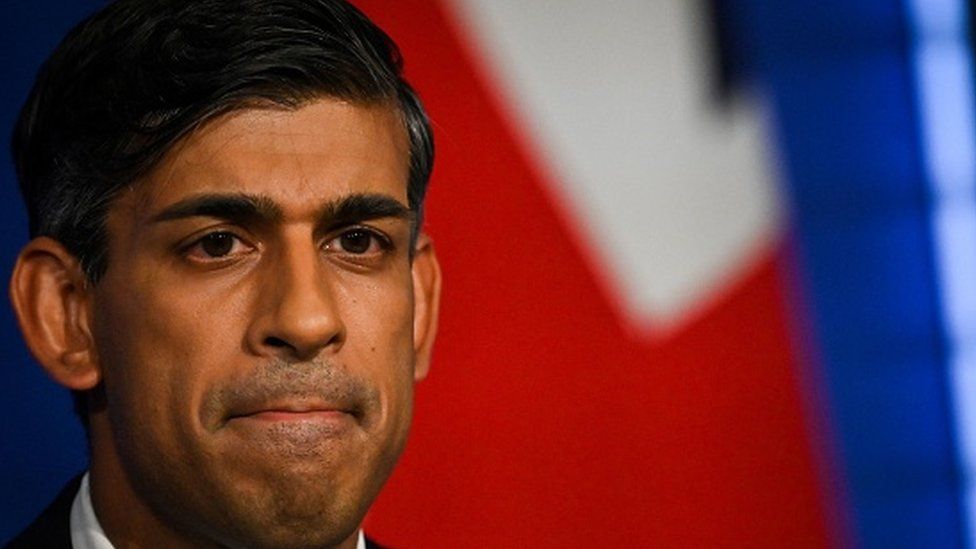 Rishi Sunak has insisted the UK will meet its net zero targets despite being accused of "wishful thinking" by the government's own climate adviser.
In an interview with the BBC, the PM said he was not slowing down efforts to combat climate change, after a major overhaul of some green policies.
The move has provoked a backlash, with the Climate Change Committee (CCC) saying the UK had "moved backwards".
But Mr Sunak said he was "confident" the UK would hit net zero by 2050.
In a bid to seize the political agenda, the prime minister announced exemptions and delays to several key green policies, alongside a 50% increase in cash incentives to replace gas boilers.
Key among the changes in his speech was a five-year delay in the ban on the sale of new petrol and diesel cars.
Lagging far behind Labour in the polls, the Conservatives under Mr Sunak are seeking to create dividing lines with opposition parties ahead of a general election, expected next year.
For weeks, Mr Sunak has been signalling a shift in approach to net zero, which means achieving a balance between the carbon emitted into and removed from the atmosphere.
He has sought to frame his changes to green policies as "pragmatic" and has highlighted the costs of low-carbon technology, such as electric cars.
But earlier this year, the Climate Change Committee – the government's independent advisers on cutting carbon emissions – warned that the UK's attempts to achieve its net zero commitments were already "worryingly slow".
The chief executive of the committee, Chris Stark, said the changes announced by Mr Sunak on Wednesday would make it harder for the government to hit legally binding climate goals.
"The wishful thinking here is that we have not got a policy package to hit the legal targets this country has set in law," Mr Stark told the BBC.
Although he agreed that "you can't just wish and will your way to net zero", Mr Sunak said "people have asserted these targets without having an honest conversation with the country about what's required to deliver them".
Since his speech, Mr Sunak has faced criticism for claiming he was "scrapping" proposals to increase air fares to discourage foreign holidays and tax meat consumption, neither of which have ever been government policies.
In the interview, the BBC's Nick Robinson asked Mr Sunak if he was being "honest" about scrapping policies that "don't exist".
Taking aim at the CCC, Mr Sunak accused the committee of "euphemistically" proposing a tax on meat and compulsory car-pooling.
Mr Sunak was asked whether, by going against the recommendations of the committee, he was copying former Prime Minister Liz Truss by ignoring advice on her economic policies.
In response, Mr Sunak said: "I'm happy to get opinions and advice from everybody and everyone's entitled to their view.
"We're very confident being in government with all the information at our disposal, that we're on track to hit all our targets."
The prime minister said Wednesday's speech was the first in a series which would "change the direction of our country", adding: "I know I'll get criticism and flak but I'm not going to be deterred."