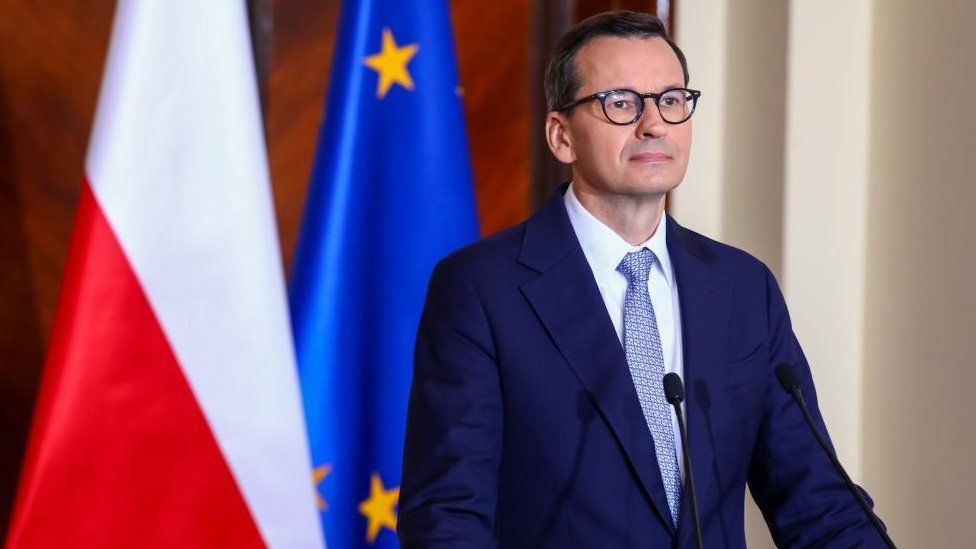 One of Ukraine's staunchest allies, Poland, has announced it will no longer supply weapons to the country as a diplomatic dispute over grain escalates.
The nation's prime minister said it would instead focus on arming itself with more modern weapons.
The move comes as tensions between the two nations rise.
On Tuesday, Poland summoned Ukraine's ambassador over comments made by President Volodymyr Zelensky at the UN.
He said some nations had feigned solidarity with Ukraine, which Warsaw denounced as "unjustified concerning Poland, which has supported Ukraine since the first days of the war".
Poland's prime minister, Mateusz Morawiecki, announced the decision to no longer supply Ukraine with weapons in a televised address on Wednesday after a day of rapidly escalating tensions between the two countries over grain imports.
"We are no longer transferring weapons to Ukraine, because we are now arming Poland with more modern weapons," Mr Morawiecki said.
The grain dispute began after Russia's full-scale invasion of Ukraine all but closed the main Black Sea shipping lanes and forced Ukraine to find alternative overland routes.
That in turn led to large quantities of grain ending up in central Europe.
Consequently, the European Union temporarily banned imports of grain into five countries; Bulgaria, Hungary, Poland, Romania and Slovakia to protect local farmers, who feared Ukrainian grain was driving down the prices locally.
The ban ended on 15 September and the EU chose not to renew it, but Hungary, Slovakia and Poland decided to keep on implementing it.
The European Commission has repeatedly stated that it is not up to individual EU members to make trade policy for the bloc.
Ukraine's Economy Minister Yulia Svyrydenko said that "it is crucially important for us to prove that individual member states cannot ban imports of Ukrainian goods".
But Poland said they would keep the ban in place, and a "complaint before the WTO doesn't impress us".
Mr Morawiecki said they would increase the number of banned products from Kyiv if Ukraine escalates the grain dispute. Poland's foreign ministry added that "putting pressure on Poland in multilateral forums or sending complaints to international courts are not appropriate methods to resolve differences between our countries".
Despite the ban, the three countries said they would still allow grain to be transported through them to other markets.
Kyiv called for Poland to "leave emotion aside" after their ambassador was summoned and instead suggested the parties should adopt a constructive approach to resolving the dispute.
The French Foreign Minister, Catherina Colonna said on Wednesday an EU study revealed Ukrainian grain imports would not cripple European farmers, and described the tensions as "regrettable".