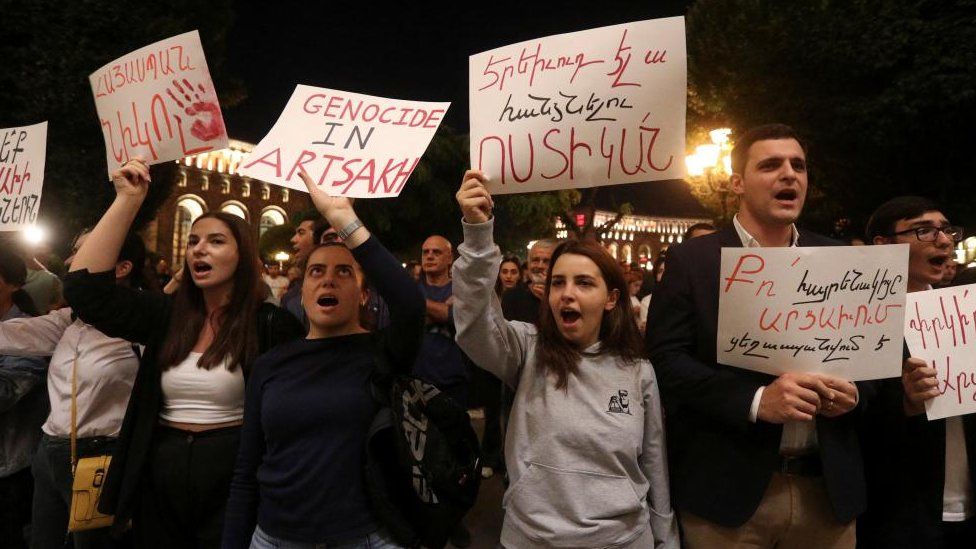 There were clashes between police and demonstrators in the Armenian capital of Yerevan on Wednesday, as thousands protested the government's handling of the Nagorno-Karabakh crisis.
Azerbaijan said it had restored its sovereignty over the territory, after a deadly 24-hour military offensive.
It has led to Armenia being accused of failing to protect ethnic Armenians in the contested territory.
Protesters are calling for Armenia's Prime Minister Nikol Pashinyan to quit.
They say he made too many concessions in the fight for Nagorno-Karabakh, and did little to help the ethnic Armenians who live there.
The territory is recognised internationally as part of Azerbaijan but large areas of it have been controlled by ethnic Armenians for three decades.
Pictures from Yerevan showed police in riot gear standing guard near a government building as some protesters threw rocks.
While some people peacefully waved flags and posters, others were shown injured and covered in blood.
"Our authorities have renounced Artsakh," opposition politician Avetik Chalabyan told the crowd, using the Armenian name for Karabakh.
"The enemy is at our doorstep. We must change authorities to change national policy," he added, while another lawmaker called for an impeachment procedure to be launched against the prime minister.
Another protester, Sargis Hayats, said Mr Pashinyan "must go" and told AFP news agency: "We are losing our homeland, our people." Some 120,000 ethnic Armenians live in Nagorno-Karabakh.
On Tuesday, Azerbaijan's military launched an "anti-terror" operation demanding that Karabakh's forces surrender and disband their "illegal regime".
Unable to get any support from Armenia because a key road has been blocked by Azerbaijan since December, the ethnic Armenians soon gave in.
On Wednesday, Azerbaijan's president Ilham Aliyev insisted he had nothing against the ethnic Armenian population, only what he called their "criminal junta".
In a televised address, he said Azerbaijan wished to integrate Karabakh's population and turn the region into "paradise".
But there are serious concerns at what could happen to the ethnic Armenians still in Nagorno-Karabakh.
Images posted on social media show thousands of Armenians gathered at the Russian-controlled airport in Khankendi – known as Stepanakert by ethnic Armenians – the capital of Karabakh trying to leave the territory.
A separatist official said on Wednesday that more than 10,000 people have been evacuated from Armenian communities to other settlements in the region "where relative safety can be provided". Another official stated that at least 200 people were killed in the fighting, including civilians – although the BBC has not been able to verify these numbers.
Azerbaijan's presidency said officials would meet Karabakh's Armenian representatives for talks on "issues of re-integration" in the Azerbaijani town of Yevlakh on Thursday.