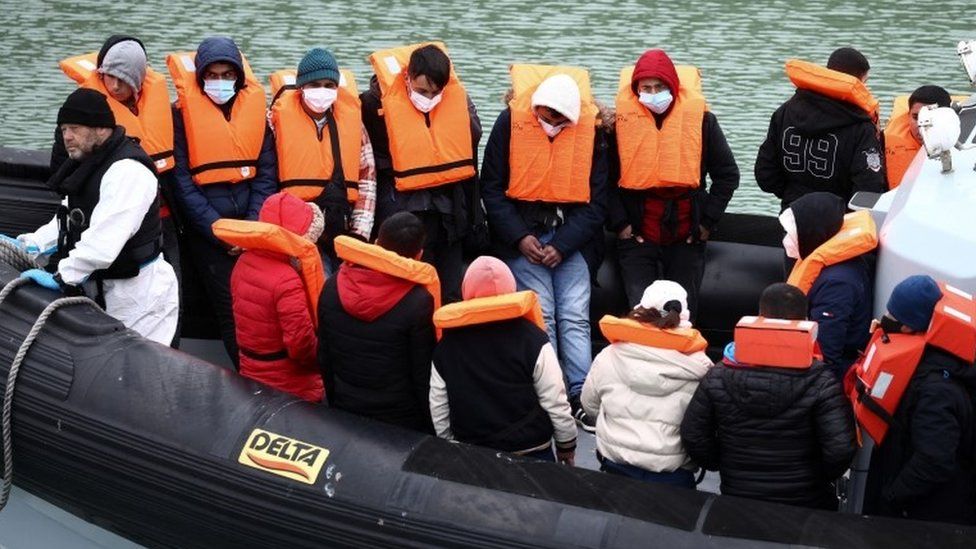 Labour leader Sir Keir Starmer has said people-smuggling should be treated "on a par" with terrorism, ahead of talks about a new security deal with Europe.
Sir Keir will seek a provisional agreement with the EU's policing body, Europol, for any future Labour government.
Any deal to return migrants may require accepting migrant quotas from the EU.
A government source said Sir Keir's plan to tackle gangs was a rehash of their policies.
Sir Keir said: "The government's failure to tackle the criminal smuggling gangs orchestrating boat crossings is now so profound that I believe it needs to be considered on a par with the other three big security threats we face: climate change, hostile foreign powers and terrorism."
Asked if he would be willing to accept the "quid pro quo" of migrant quotas in exchange for a deal, the Labour leader said: "That would be part of any discussions and negotiations with Europe."
When pressed by reporters on Thursday morning, Sir Keir would not give a number of asylum seekers he would be happy to take in under a deal.
He also denied that negotiating for closer co-operation with the EU was a weakening of his stance on Brexit, but said closer co-operation with the EU was needed.
Speaking from The Hague, he told ITV's Good Morning Britain: "There is no return to freedom of movement. We have left the EU."
Health Secretary Steve Barclay said Labour's plan would amount to "giving up control of our immigration policy".
In total, 45,755 migrants crossed the Channel in 2022, the highest number since figures began to be collected in 2018. So far this year, 20,101 people have made the crossing, according to the latest figures.
In an article for the Sun newspaper, the Labour leader accused the government of creating a "criminal industry" out of people traffickers who organise small boats for migrants to cross the channel.
"Just because we are outside the EU, doesn't stop us leading in Europe," Sir Keir wrote.
The Labour leader hopes a deal will include a replacement for the EU's live police data and intelligence-sharing system.
He is outlining his plans for a cross-border police force to combat smuggling gangs at a meeting with senior officials from Europol on Thursday.
Labour has already committed to abandon government plans to remove asylum seekers to Rwanda, and instead invest in more resources for the National Crime Agency, which carries out operations against traffickers.
Brexit saw the end of the UK's seat on the board of Europol, and access to shared intelligence databases.
The agreement between the EU and the UK replaced some of the previous arrangements, including a new surrender agreement so that serious criminals can be moved between the two territories.
There was also a new agreement on the exchange of criminal record information, fingerprints, and number plate data.
But senior police have raised concerns that the EU's criminal database – the Schengen Information System (SIS II) – was a faster way of sharing police information than its post-Brexit replacement, known as I-24/7.
The government has committed to improving other shared databases in the coming years.
Sir Keir said: "The reality is that Britain's borders and immigration system are being run by a hostile and growing foreign power, criminal smuggling gangs on the continent.
"My Labour government will be twice as ruthless, to smash the gangs and secure British borders."
Conservative sources have accused Labour of being disingenuous, saying the plan to tackle the small boats crisis with increased law enforcement would not be able to solve it.
A government source said Sir Keir's plan was "nothing more than a rehash of the government's own policies in tackling the gangs overseas".
The source added: "Labour aren't serious about this and even the National Crime Agency has warned in its assessments that law enforcement can't stop the small boats – you need a removals and deterrence programme like Rwanda to stop people making the journey in the first place.
"And he's going to hit people smugglers with civil orders? They're all in Europe with minimal UK footprint – as the NCA also knows. This from Labour is simply an attempt to hoodwink the British people."