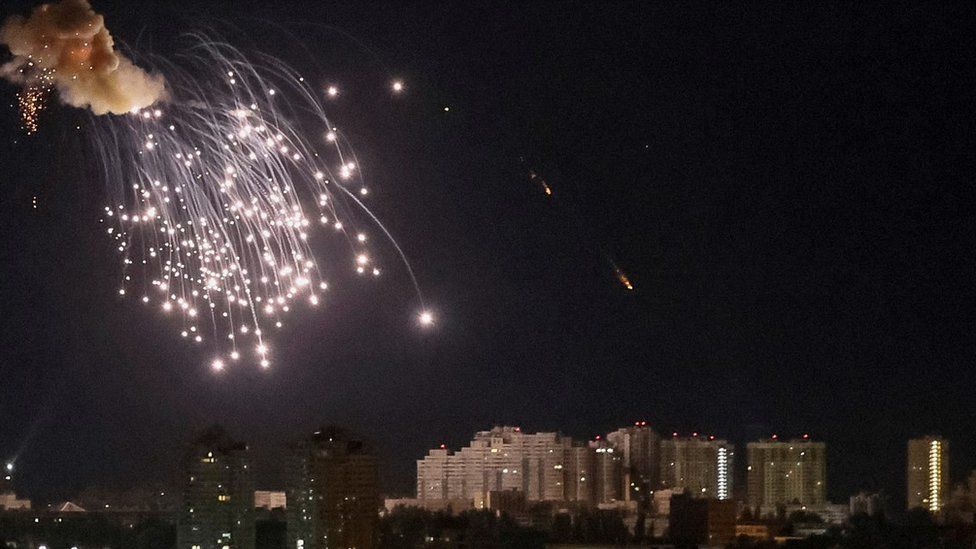 Kyiv was attacked by Russian drones early on Sunday and debris fell in several districts, Ukrainian officials say, but no casualties were reported.
At least 10 explosions were heard in the capital and air raid sirens signalled that residents should take shelter. Later the all-clear sounded.
Kyiv Military Administration chief Serhiy Popko said debris had sparked a fire in a residential building, but it had been extinguished.
Drones have also hit Kyiv previously.
On Sunday, the city authorities named the affected districts as Podilskyi, Sviatoshynskyi and Shevchenkivskyi, all in or near the city centre. Kyiv's air defence system has proven effective at downing most Russian drones and missiles targeting the city.
Mr Popko said about 20 Iranian-made Shahed attack drones had been downed on Sunday. They had flown over Kyiv in groups from several directions, he said.
Most of the debris fell on open ground, he added, but some damaged cars and trolleybus cables.
Meanwhile, Russia says it destroyed eight drones launched by Ukraine over the Black Sea near the Crimean Peninsula – which Russian forces have occupied since 2014. Drones are also called unmanned aerial vehicles (UAVs).
Drones allegedly from Ukraine have previously flown deep into Russia, including to the Moscow region, and recently hit planes at a military airbase in Pskov. But Ukrainian officials generally neither confirm nor deny their involvement in such raids.
Russia's defence ministry also says its naval aircraft destroyed three Ukrainian military speedboats that were heading towards Crimea. The US-made boats, carrying marines, were hit north-east of Snake Island, it said.
The BBC has not verified the claim, which comes just days after Russia said it had destroyed four Ukrainian speedboats off Crimea.
Earlier, Ukraine's new defence minister Rustem Umerov urged Western allies to stay the course and continue weapons supplies in order to win the war.
"We are grateful for all the support provided… We need more heavy weapons," he said. "We need them today. We need them now."
In his appeal, he said "Ukrainian warriors today are sacrificing their lives for the core values of democracy and freedom" and "they need back-up from your side".