Ukraine has little more than 30 days left of fighting before the weather hinders its counter-offensive, the top-ranking US military officer says.
Speaking to the BBC's Sunday with Laura Kuenssberg programme, Gen Mark Milley said colder conditions would make it much harder for Ukraine to manoeuvre.
He admitted the offensive had gone more slowly than expected. But he said: "There's still heavy fighting going on.
"The Ukrainians are still plugging away with steady progress."
Gen Milley said it was too early to say whether the counter-offensive had failed, but said Ukraine was "progressing at a very steady pace through the Russian front lines".
"There's still a reasonable amount of time, probably about 30 to 45 days' worth of fighting weather left, so the Ukrainians aren't done.
"There's battles not done… they haven't finished the fighting part of what they're trying to accomplish."
Kyiv's counter-offensive, which was launched in the summer and aims to liberate Russian-occupied territory in Ukraine, has so far seen only small gains.
"I said at the very beginning of this [war] that this was going to be long, slow, hard, and high-casualty-producing, and that's exactly what it is," Gen Milley said.
In the same interview, Adm Sir Tony Radakin, the UK chief of defence staff, said "Ukraine is winning and Russia is losing".
"That is because the aim of Russia was to subjugate Ukraine and to put it under Russia's control", he said.
"That has not happened and it never will happen, and that's why Ukraine is winning."
He added that Ukraine was making progress in its battle to regain its territory, having recovered 50% of the ground Russia seized.
Ukraine's progress was also down to the international community "applying economic pressure and diplomatic pressure, and Russia is suffering because of that", he said.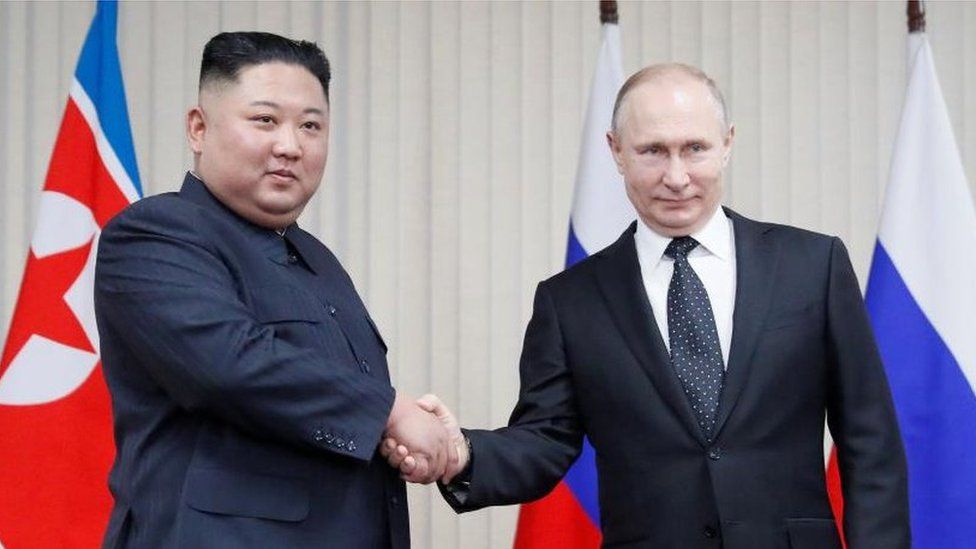 Meanwhile, Vladimir Putin's alliance with North Korea shows the Russian president is in a "state of desperation", said Adm Radakin.
He said the ties between the two countries showed how few partners Russia had left.
The two leaders are said to be planning to discuss North Korea providing Moscow with weapons to support its fight in Ukraine.
There is concern both in Washington and in Seoul about what North Korea would get in return for an arms deal, which may result in increased military co-operation between the two countries in Asia.
The alliance was "a reflection of the catastrophic mistake that Russia made by invading Ukraine", said Adm Radakin.
And it was also a reflection of the domestic situation in Russia, he said.
"You've got to look at the fact that [Russia's] economy is under pressure, the sanctions are having a greater impact. It doesn't have a raft of international partners.
"It's lost half a million people that have fled the country. There's at least a million more that want to leave the country.
"It's struggling to have enough people to keep supporting the war," he said.
On the subject of Donald Trump, Gen Milley said the US military's allegiance was "to the constitution", when asked if it would serve a commander-in-chief who was in jail.
Donald Trump, who hopes to be the Republican candidate in the 2024 US election, faces multiple criminal charges which could see him jailed if found guilty.
"We take our oath to a document, the constitution of the United States of America," he said.
"So we will be faithful always to that constitution regardless of who occupies the White House."
He said the military would obey all lawful orders from whoever is the duly-elected president of the United States.
Gen Milley ruled out entering politics himself, and said he would "run for best grandad" when he retires in a few weeks.