The search for escaped terror suspect Daniel Khalife has entered a fourth day, with police racing to investigate the first confirmed sighting of him.
The ex-soldier was spotted by a member of the public on Wednesday morning, shortly after he left HMP Wandsworth by hiding underneath a delivery truck.
CCTV footage is being reviewed and a police helicopter has been scouring areas of south-west London overnight.
Police urged Mr Khalife to give himself up, saying they were closing in on him.
On Friday, Met Police officers were carrying out door-to-door enquiries in the hunt for the 21-year-old.
The force is also offering a reward of up to £20,000 for information that leads directly to his arrest.
It comes as a close relative of Mr Khalife told the Times he should hand himself in, describing him as a "very, very intelligent, easygoing and kind boy" who had changed in recent years.
The unnamed family member told the paper: "If I could talk to him, I would tell him to end this and give himself up, even though I understand he is afraid."
Mr Khalife is accused of trying to spy for an enemy state – understood to be Iran – obtaining information likely to be useful to a person committing or preparing an act of terrorism, and plotting a fake bomb hoax.
He is thought to have strapped himself to the underside of a food lorry to make his escape from the London prison on Wednesday.
Cdr Dominic Murphy, who leads the Met's Counter Terrorism Command, said the force had received 100 calls from the public and the Wandsworth Roundabout sighting "could be very significant".
"This remains a fast-paced and dynamic investigation, but I want the public to know that a large number of officers are working extremely hard to locate Khalife," he said.
He said his message to the suspect was to hand himself in: "We will be closing in on you, Daniel, you really need to come in and give yourself up."
Cdr Murphy added that efforts were being focused on London but would also look at other parts of the UK as the investigation developed.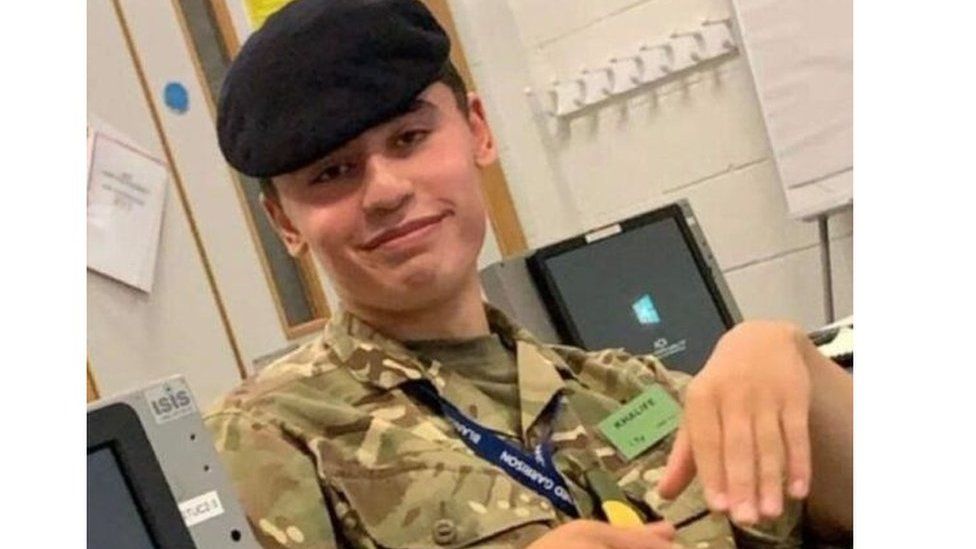 Mr Khalife, who is British and has Lebanese heritage on his father's side, grew up in south-west London and joined the Army after leaving school.
A former Army colleague has told BBC News of his shock at the prison escape.
The man, who has now left the armed forces and whose identity the BBC has agreed not to reveal, became friends with Mr Khalife when the pair first trained as soldiers, aged 16.
"He was quite a nice chap. He was always at the front of the pack for phys [physical training]," said the former colleague.
"It was quite a weird feeling knowing that you were friends with him and now he's this type of person… You do wonder what's gone on."
He described Mr Khalife as resourceful, adding he had learned "basic survival skills" in the Army – including how to keep clean, find water and read maps.
Mr Khalife went on to serve at Beacon Barracks in Stafford, a base for two Army signals regiments.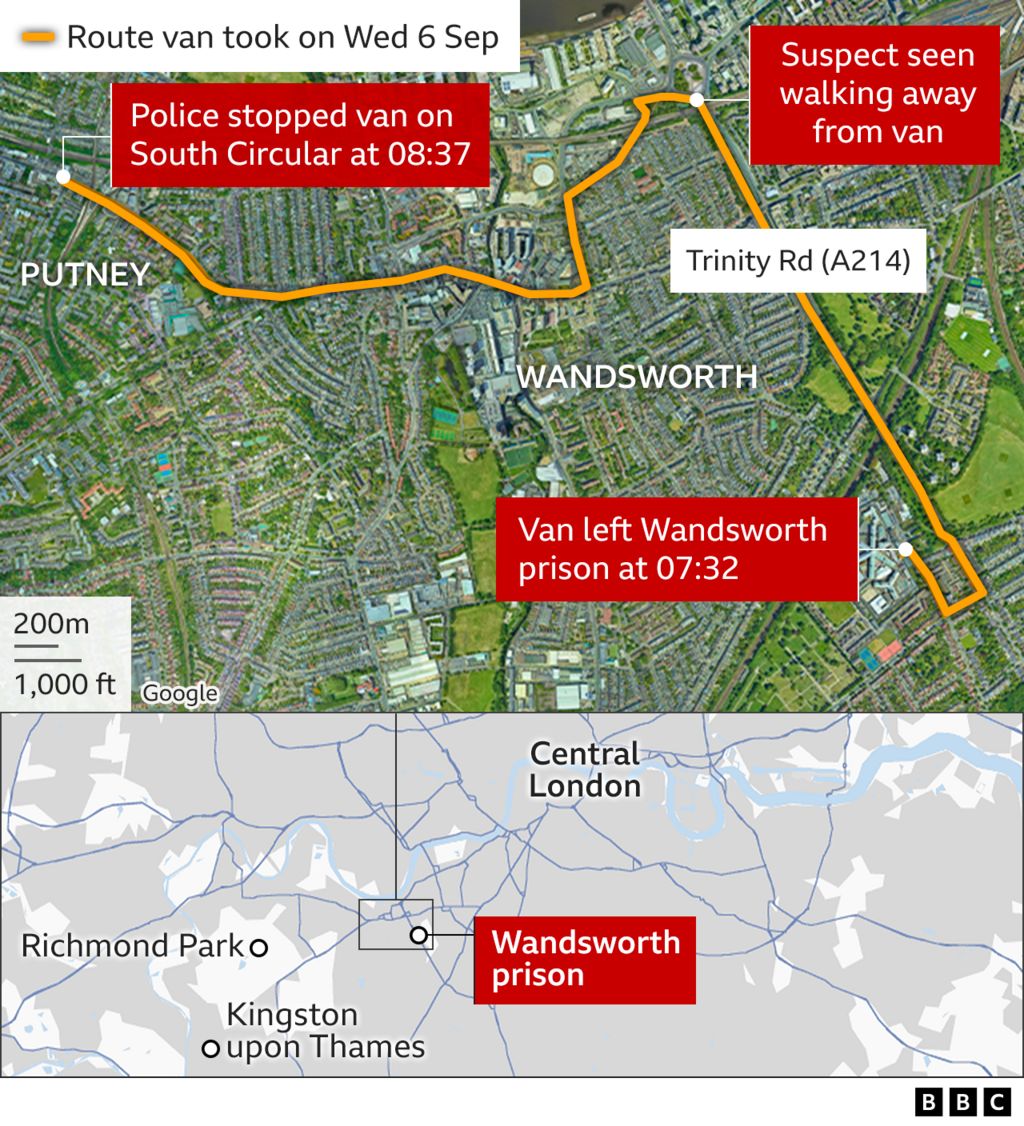 Mr Khalife is described as slim, 6ft 2in (1.9m), with short brown hair.
Police say there is no reason to believe he poses a threat to the public, but have urged people not to approach him and instead call 999.
Detectives believe he was still wearing his prison-issue cook's uniform when he slipped out of the category B jail on Wednesday.
Some 150 Met Counter Terrorism Command officers have been deployed in the search since Khalife was declared missing at 08:15 BST.
A search took place on Thursday night into the early hours of Friday in Richmond Park, south-west London – just 2.8 miles (4.6km) from the prison.
BBC News was told it was not based on any specific lead or intelligence, and search efforts have been scaled back.
Met Police Commissioner Sir Mark Rowley said the force was exploring the possibility the former soldier was helped by other prisoners or guards.
And Justice Secretary Alex Chalk said an independent investigation would take place following the escape.
It will run alongside reviews looking at the categorisation and placement of all HMP Wandsworth prisoners, and all those in custody charged with terrorism offences.
What is Daniel Khalife accused of?
Mr Khalife joined the Army in 2019 and was based at MoD Stafford – also known as Beacon Barracks – when he disappeared on 2 January after an alleged bomb hoax.
A later court hearing at Westminster Magistrates' Court heard he allegedly planted fake devices "with the intention of inducing in another the belief the item was likely to explode or ignite".
He was arrested "in or near his car" on 26 January after "active efforts to look for him", a court heard. He was placed in Wandsworth two days later.
Mr Khalife was due to appear in court on 13 November to face charges including preparing an act of terrorism, and collecting information useful to an enemy – an offence under the Official Secrets Act.
He denied the charges against him at the Old Bailey in July.
Additional reporting by James Gregory