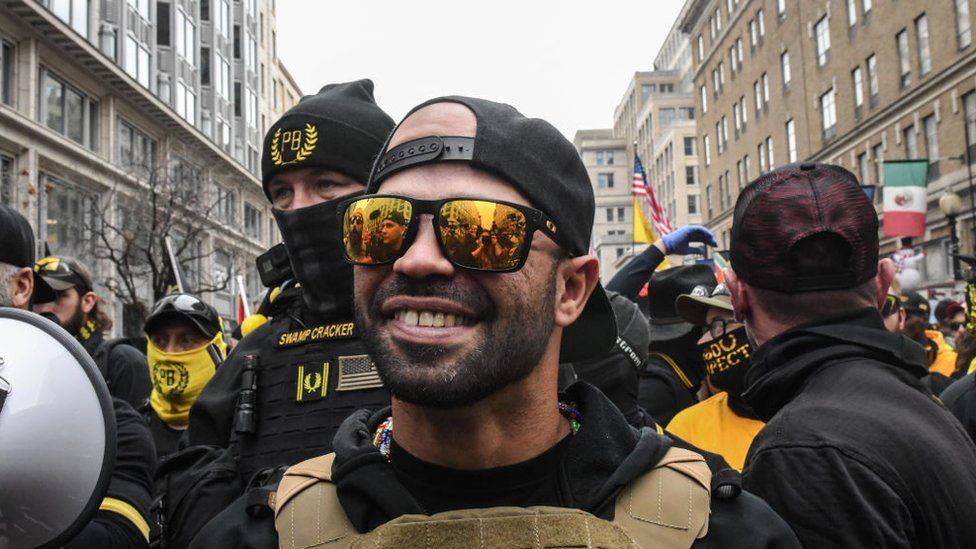 The Proud Boys' former leader has been jailed for 22 years for orchestrating the US Capitol riot, the longest sentence so far for a ringleader of the raid on the seat of American democracy.
Henry "Enrique" Tarrio was convicted of seditious conspiracy, a US Civil War-era charge, and other counts in May.
Tarrio, 39, was not in Washington during the riot, but helped organise the far-right group's involvement.
More than 1,100 people have been arrested on Capitol riot charges.
Before he learned his fate on Tuesday, an emotional Tarrio apologised to police and residents of Washington DC for his role in the 6 January 2021 riot, when Trump supporters stormed the congressional building as lawmakers met to certify incoming US President Joe Biden's election victory.
"I am extremely ashamed and disappointed that they were caused grief and suffering," he told Washington's federal courthouse. "I will have to live with that shame for the rest of my life."
Tarrio, who was wearing an orange jail uniform, added: "I was my own worst enemy.
"My hubris convinced me that I was a victim and targeted unfairly."
Acknowledging that Mr Trump had lost the November 2020 presidential election, Tarrio said: "I am not a political zealot. Inflicting harm or changing the results of the election was not my goal.
"I didn't think it was even possible to change the results of the election."
His lawyer argued that Tarrio was a "keyboard ninja" who tended to "talk trash", but had no intention of overthrowing the government.
"My client is no terrorist," said his attorney, Sabino Jauregui. "My client is a misguided patriot."
But US District Judge Timothy Kelly, a Trump nominee, noted that Tarrio had on many previous occasions expressed no remorse for his actions.
"Seditious conspiracy is a serious offence," said Judge Kelly. "Mr Tarrio was the ultimate leader of that conspiracy."
Prosecutors had called his actions "a calculated act of terrorism", meriting a sentence of 33 years in prison. The defence wanted no more than 15 years.
Tarrio stood silently as the judge handed down the penalty. As he left court, Tarrio waved to his family members in the public gallery and flashed a peace sign.
His lawyers said he plans to appeal.
In the aftermath of the 2020 election, Tarrio and other Proud Boys had posted threatening messages online, warning of violence and unrest if then-US President Donald Trump left office.
That month, Tarrio replied to an online post by now-President Joe Biden, writing: "YOU need to remember the American people are at war with YOU. No Trump… No peace. No quarter."
Tarrio, who has described himself as Afro-Cuban, was stopped by police two days before the US Capitol riot as he entered Washington DC.
He was arrested on a warrant charging him with burning a Black Lives Matter banner that was taken from an African-American church in the city about three weeks earlier.
Tarrio was also found with a high-capacity ammunition magazine, which is illegal under the city's gun laws. He was released on bail and ordered to leave the national capital.
On the day of the riot, he was in Baltimore.
As Trump supporters laid siege to the congressional complex, Tarrio posted online that he was "enjoying the show".
"Do what must be done," he wrote, urging on the rioters.
Tuesday's hearing was the last in a series of sentencing hearings for the ringleaders of the US Capitol riot.
Until now, the longest sentences were the 18-year terms handed down last week to another Proud Boy, Ethan Nordean, and in May to Stewart Rhodes, founder of the Oath Keepers, a far-right militia.
Three other Proud Boys received prison sentences last week for their roles in the Capitol riot.
Former US Marines Dominic Pezzola and Zachary Rehl received 10 and 15 years, respectively.
Joe Biggs, a US Army veteran, got 17 years.
Mr Trump has promised to pardon most or all of the rioters if he's re-elected president in 2024.
The charges against US Capitol rioters have varied – from relatively minor crimes like entering a restricted area, to destruction of government property, assault and conspiracy. Around 200 have pleaded guilty to felony charges.
The investigation is still ongoing – the FBI is still trying to locate 14 rioters captured on video assaulting police officers or members of the media.