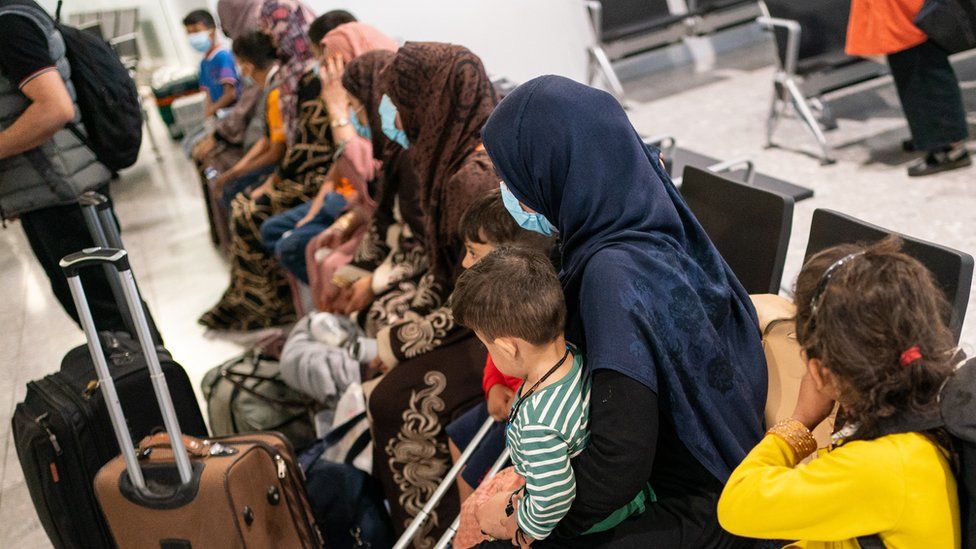 Afghan families given refuge by the UK are facing homelessness after being told by the government to move out of hotels, councils have told the BBC.
The families, many of whom worked for the British government, came to the UK after the Taliban takeover in 2021.
Thousands are still living in temporary government-funded hotel accommodation – but are now beginning to be moved out.
Cabinet Office Minister Johnny Mercer has said he will have failed if any of them end up living on the streets.
"That has not happened. And that is not going to happen," he told the BBC.
However, those that can not find permanent homes will be classed as homeless and the responsibility of local councils.
Councils say some families have already presented as homeless this week. The Local Government Association (LGA) said one in five Afghans leaving hotels were presenting to local authorities as homeless.
It said Hertfordshire and Buckinghamshire were particularly affected, but Southampton, Basingstoke, Devon and Essex would also be impacted in the coming weeks and months.
One authority in Essex said it had nine families now facing homelessness. In Milton Keynes, the council has received 32 homelessness referrals so far.
Local authorities have a legal duty to find accommodation for homeless people.
The families were given three months notice in April to leave the hotels.
Mr Mercer said the government had done "a huge amount of work" to get Afghans into long-term, sustainable accommodation and this was "what's best for them and what's best for British taxpayers".
He said the "vast majority" of those presenting as homeless "have actually been offered somewhere to live, it's just for some of them, it's not where they want to live".
"Which is understandable, but that's not the same as living on the street because the government hasn't done its job," he added.


Mahmood – not his real name – was evacuated with his wife to the UK in August 2021 and his one-year-old son was born while they were living in a hotel in Lincolnshire.
The family have been in the hotel for two years, but have been told they will have to leave by 25 August.
The 27-year-old said he had viewed dozens of flats, but believes he has not been accepted by any landlords because the salary he earns working in a supermarket is not high enough.
"The council hasn't helped me much – they haven't found anything to offer to me. They say they are looking but I think at the end of the day it's up to landlords who they want to give their place to," he told the BBC.
He said it was "very difficult" living in a single hotel room as a family of three, adding that they were unable to cook their own food or have friends visit.
"We are very grateful to the British government for their help to get us out of Afghanistan," he said.
"But if I had known this in Afghanistan that I would be in a hotel room for two years, I would have not come here to England – I would have been happy to stay in my own country regardless of what could have happened to me."
He said he was worried about the future, adding: "There are 80 other families in this hotel and we don't know what's happening."


The Home Office said it had provided £285m funding to help with the transition, and was running schemes to help more Afghan families find permanent homes.
But councils say the government funding is not enough and although accommodation will be found for the refugees, it may mean they have to move hundreds of miles to other hotels.
Stephen Robinson, the Liberal Democrat leader of Chelmsford City Council, said his housing officers had to find accommodation for nine Afghan families, totalling 60 people.
"They were offered the chance to come to the UK because of their loyalty to the British government and they have been stuck in hotels for the last year, 18 months, and now they are being moved out," he told BBC News.
The families had highly qualified people who wanted to contribute to British society, he added, and had found work and schools for their children.
"They are all becoming homeless next week and we have a statutory responsibility to put them into temporary accommodation," he said.
The council already has to deal with 430 homeless households in Chelmsford, said Mr Robinson, and there was a lack of accommodation.
"We warned the government that this would be a problem and they just covered their ears. They didn't want to think about the end game," he told the BBC.
"We have a moral duty to those who worked for the British government to look after them properly and we have, as a country, this government, has let them down."


How many people have been resettled in the UK from Afghanistan?
In 2021, the government launched the Afghan Relocations and Assistance Policy (ARAP) scheme for Afghans who had worked for the British military or UK government
The Afghan Citizens' Resettlement Scheme (ACRS) opened in 2022 to allow up to 20,000 refugees to settle in the UK in the coming years
As of March 2023, about 21,000 people had been resettled under these schemes, including British nationals
Currently, 8,799 people – about half of whom are children – are living in hotels or serviced accommodation


Telford & Wrekin Council leader Shaun Davies, chairman of the Local Government Association, said councils shared the Home Office's determination to get Afghan families out of hotels and into permanent homes.
However, he added: "It is wrong that some families are having to leave Home Office-funded hotels only to then end up having to move into temporary accommodation."
"With record numbers of households already living in temporary accommodation and an acute shortage of housing across the country, this is adding huge pressure on to councils on the ground and disruption and distress for families, some of whom are particularly vulnerable," he said.
"This situation is likely to worsen significantly as the Home Office stops paying for the remaining bridging hotels for Afghan families in the coming days and weeks."
He argued the government should continue to pay for hotel places for those families struggling to find accommodation.
Mr Davies also said hotels should not be closed to Afghan refugees only to "switch to becoming hotels for other new arrivals".
Labour MP Dan Jarvis, a former soldier who served in Afghanistan, said the idea Afghans were being "forced to become homeless" was "shameful".
"These are not economic migrants – these are Afghans who placed themselves in mortal peril in order to serve alongside British forces in Afghanistan, and they did so at our request," he told BBC Radio 4's Today programme.
Additional reporting by Najiba Feroz and Abdullah Bakhtiar

Have you been affected by the issues raised in this story? You can get in touch by emailing haveyoursay@bbc.co.uk.
Please include a contact number if you are willing to speak to a BBC journalist. You can also get in touch in the following ways:
If you are reading this page and can't see the form you will need to visit the mobile version of the BBC website to submit your question or comment or you can email us at HaveYourSay@bbc.co.uk. Please include your name, age and location with any submission.