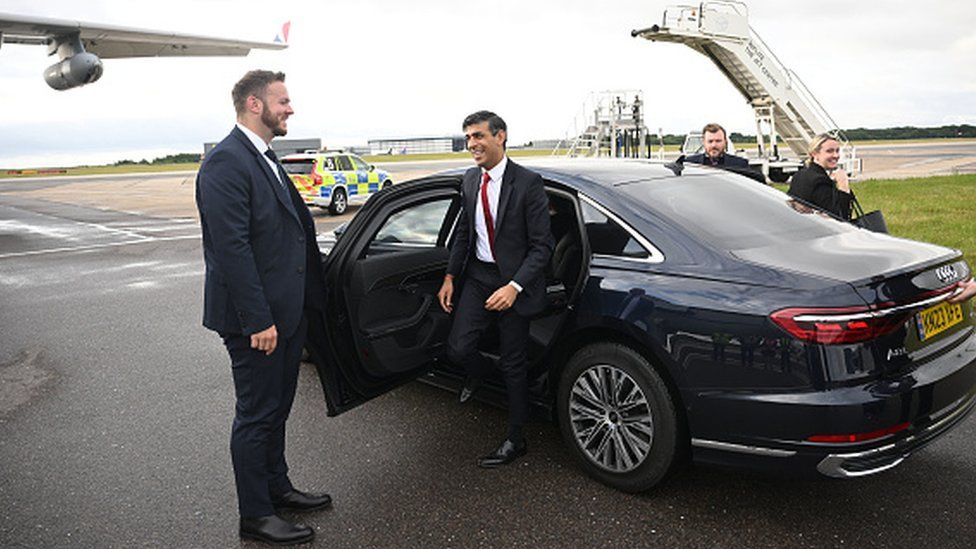 A new stock phrase is being deployed by Rishi Sunak when talking about his government's efforts to curb planet-warming carbon emissions.
Net zero will be met, the prime minister has said, in "a proportionate and pragmatic way".
This has become his mantra on the 2050 target since his party's unexpected win in a by-election last month, when the Conservatives capitalised on a backlash against the contentious expansion of London's clean-air zone.
Lagging behind Labour in the polls, the Tories have backed motorists frustrated by green policies, and approved the licensing of more drilling for oil and gas in the North Sea.
Environmental campaigners are horrified, and some green-minded Tory MPs aren't too happy either.
But Conservatives and other political parties who view net zero through a sceptical lens are pleased Mr Sunak has changed his tone.
In recent days, some senior Tory MPs have felt sufficiently emboldened to call for an full-scale overhaul of the government's green agenda.
"I think Uxbridge is a bit of a turning point," Craig Mackinlay, chairman of the Net Zero Scrutiny Group (NZSG) of MPs and peers pushing for the target to be rethought, told the BBC.
He's referring to Uxbridge and South Ruislip, the seat which the Conservatives held on to in a by-election dominated by Labour mayor Sadiq Khan's plan to enlarge the clean-air Ultra Low Emission Zone (Ulez).
Mr Mackinlay says this was the first UK election where "there's been a real focus on some of the cost of these measures".
The cost of net zero is something that Mr Mackinlay's group has highlighted relentlessly since the target was set under Theresa May's government in 2019.
In their latest initiative, net-zero sceptic Tory MPs have been pressing the prime minister to "rethink" the government's proposed ban on petrol and diesel vehicles from 2030.
"I'm really pushing on this because I think we're going to lose a very efficient UK car industry," Mr Mackinlay says.
So far, Mr Sunak has rejected calls to lift the ban.
Instead, the prime minister has mainly focused on signalling tweaks to green policies, such as delaying a target for improving home insulation, and ordering a review of low-traffic neighbourhoods in England.
"In terms of policy, little has actually changed," says Jack Richardson, the head of energy and environment at the centre-right Onward think tank.
But there has been a shift in messaging, he adds.
"The majority of people across all demographics, regions, and major political parties back net zero and want to tackle climate change, but they do not want unfair costs put on them to get there."
Opinion polls back this up, suggesting climate action that involves personal costs or changes to lifestyle is not popular.
That's why Mr Richardson thinks "getting on with policy delivery while making it clear he will not make life harder for people is a good message for the prime minister".
This allows Mr Sunak to claim he's "on the side of motorists", while keeping in place carbon-reducing policies that attract less attention. One former minister, who did not wish to be named, described this strategy as one that focuses on the fairness of the transition to net zero, while still delivering emissions reductions.
"Although Sunak is clearly seeking to weaponise green issues, no actual decisions have been made so far that meaningfully reverse any of our current commitments," says Adam Bell, the government's former head of energy strategy.
Scaling up those commitments to deliver net zero is what many Conservatives would like to see. The 2050 target enjoys broad support within Mr Sunak's party.
However, fresh data from ConservativeHome, a website popular with Tory activists, suggests there may be a cooler attitude among the party's grassroots.
Its latest survey on green issues, published on Thursday, found around 40% of party members did not support the target, with a similar number supporting it but saying it should not be written into law.
There are Tories who are worried about the electoral consequences of even a rhetorical shift on environmental commitments – not least in some rural seats being targeted by the Liberal Democrats.
Conservative MP Chris Skidmore, for example, said granting new oil and gas licences would put the party "on the wrong side of history".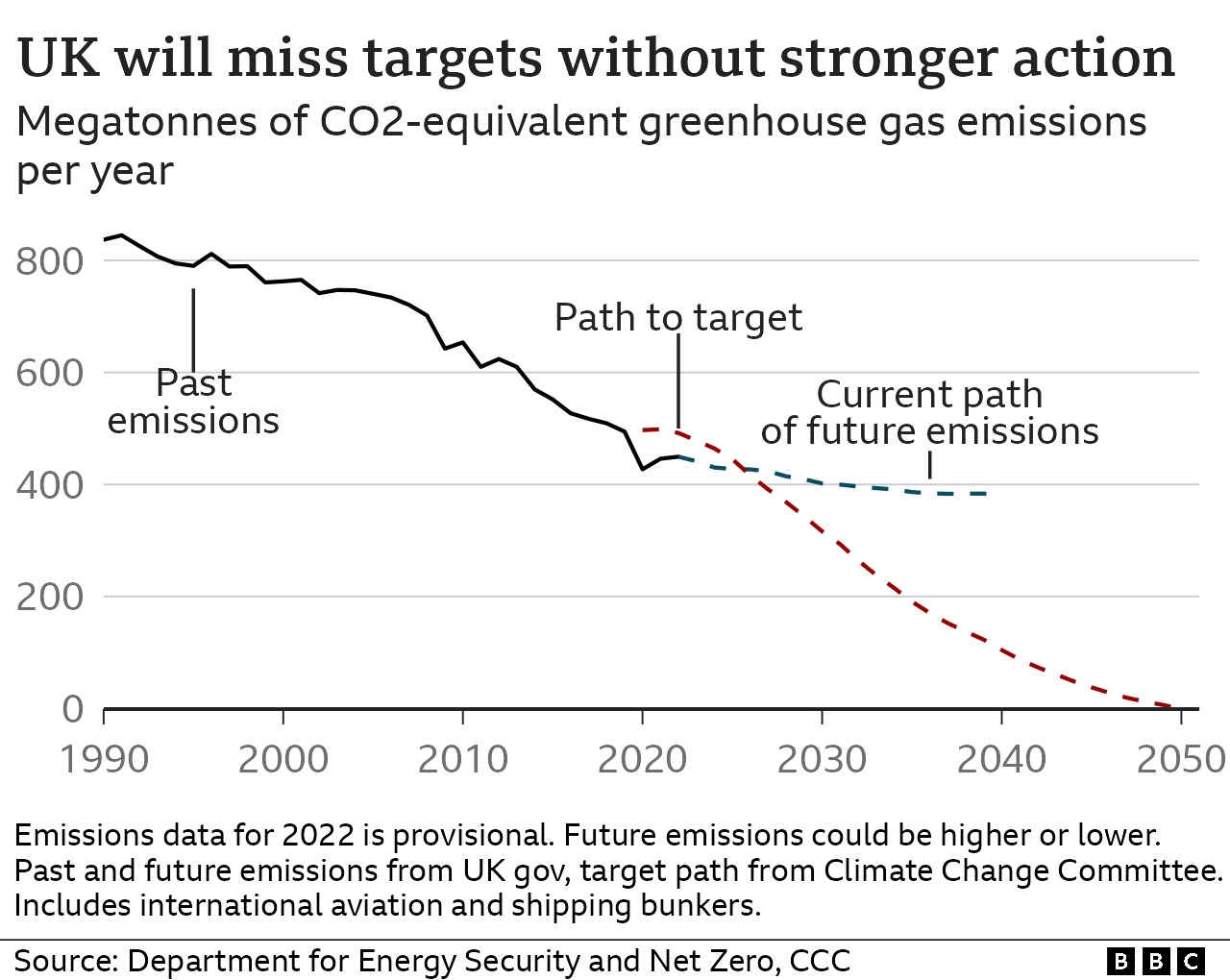 Still, with living costs soaring to historic highs, and a general election expected next year, the sceptical voices are straining to make their voices heard.
Reform UK, the former Brexit Party, claimed the Tories were copying its domestic energy policies on oil and gas extraction.
The party, which has no MPs but has been rising in national polls recently, has gone further, calling for an acceleration of UK gas and oil exploration and a referendum on net zero.
The party's leader, Richard Tice, says Mr Sunak's recent announcements were "waffle to create a gap with Labour".
The Conservatives have clearly been seeking to widen that gap between them and Labour, which has also been feeling the heat on climate issues and the cost of its energy policies.
With Mr Sunak accusing Labour of being in the pocket of "eco-zealots", the party has scaled back a £28bn-a-year plan to invest in green industries.
Does this point to a cost-of-climate-action election next year?
Net zero is "going to be more of a factor", Mr Mackinlay says, "because in the past everyone was on exactly the same page".
"But now there is a glimmer of difference," he says. "If we can make that difference a little bit more obvious, it does give people a choice."