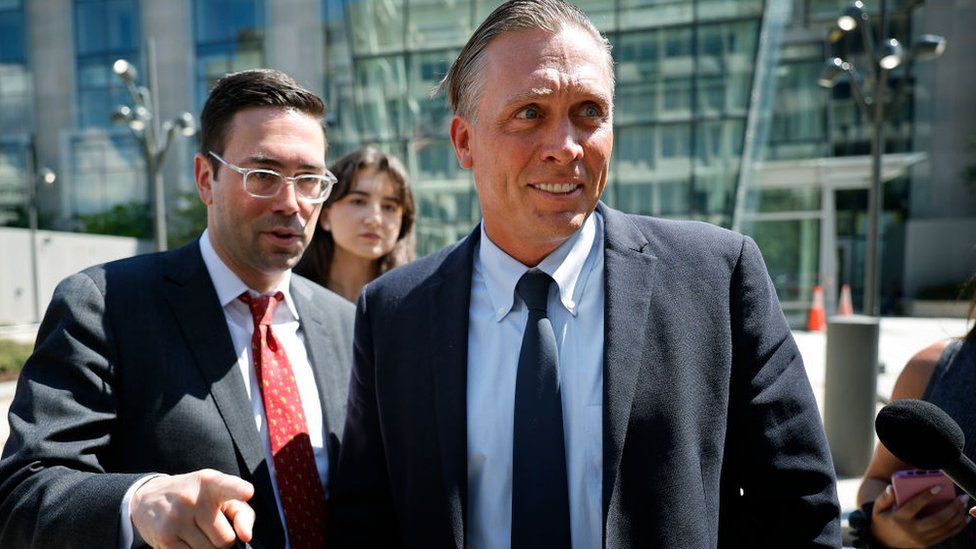 Hunter Biden put his father, Joe Biden, on speakerphone up to 20 times while speaking with business associates, a US congressional panel has heard.
But Hunter's business associate, Devon Archer, told lawmakers Joe Biden did not discuss business on the calls, according to those at the hearing.
It comes as Republicans prepare for possible impeachment proceedings against President Biden.
The White House accused Republicans of "an evidence-free wild goose chase".
President Biden said in 2019 that he had never discussed with his son or anyone else in the family "anything having to do with their businesses".
The Republican-led House of Representatives Oversight Committee is investigating whether President Biden could have been improperly involved in his son's dealings.
Archer, a former Abercrombie & Fitch model, appeared behind closed doors before the panel for more than five hours on Monday to discuss Hunter Biden's overseas business interests, including in Ukraine.
Both Archer and Hunter Biden sat on the board of Ukrainian energy company Burisma in 2014, while Joe Biden was vice-president.
Archer said Hunter may have put his father on speakerphone about 20 times during calls with various contacts over a decade, according to lawmakers from both parties who attended Monday's hearing.
Andy Biggs, an Arizona Republican, said Archer had told lawmakers that Burisma would have folded without the "Biden family brand".
But Dan Goldman, a New York Democrat on the committee, told reporters afterwards that Hunter was merely selling "the illusion of access" to his father.
"It was all casual conversation, niceties, the weather, what's going on," said Mr Goldman.
He added that it was unclear whether President Biden was even aware who was on the other end of the call.
Mr Goldman said Archer had "repeated over and over and over again that President Biden never discussed any business dealings or interests with Hunter or anyone else".
But House Oversight Committee chair James Comer argued Archer's testimony "confirms Joe Biden lied to the American people when he said he had no knowledge about his son's business dealings".
The White House poured scorn on the Republican inquiry.
Spokesman Ian Sams said in a statement on Monday: "It appears that the House Republicans' own much-hyped witness today testified that he never heard of President Biden discussing business with his son or his son's associates, or doing anything wrong." 
Archer's testimony came as he negotiates with the US Department of Justice on when he should report to prison to begin serving his sentence for a 2018 conviction in a conspiracy to defraud a Native American tribe. 
Hunter Biden's attorney, Abbe Lowell, said Archer's testimony confirms that he "did not involve his father in, nor did his father assist him in, his business". 
Earlier this month, Republicans released an FBI memo with unverified allegations – but no proof – that Joe and Hunter Biden had accepted multi-million dollar bribes from Burisma.
Last week Hunter Biden's plea deal with federal prosecutors to plead guilty to two misdemeanour tax evasion charges fell apart.