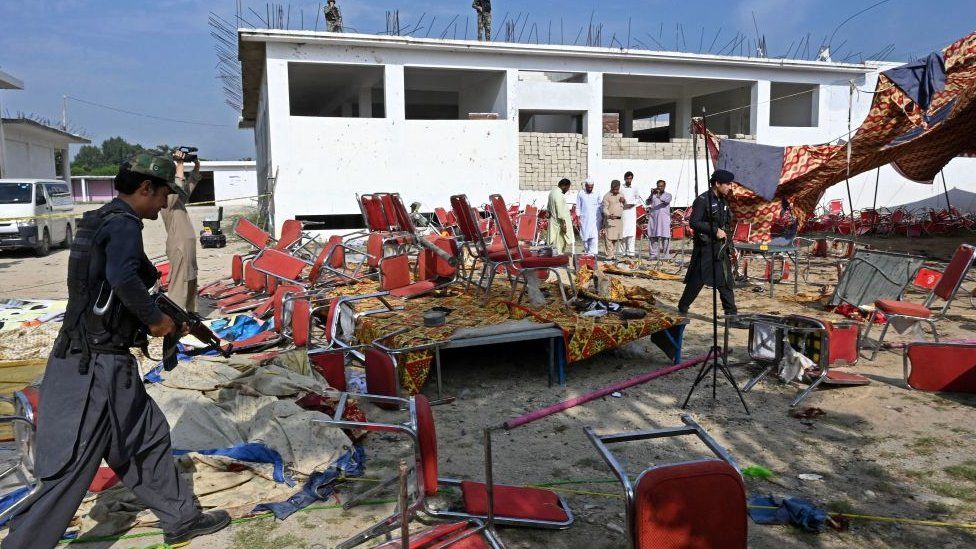 "Doomsday scenes" unfolded in Pakistan after a suicide bomber targeted a political rally, killing at least 45 people, an eyewitness has told the BBC.
People screamed for help as rescuers rushed to the scene in the north-west Bajaur district on Sunday, rally organiser Imran Mahir said.
The attack targeted the Jamiat Ulema-e-Islam-Fazl (JUI-F), a party that is part of the government coalition.
"A person standing next to me died. Another was injured," Mr Mahir said.
"It was a big sound. I initially thought there was a problem with the generator or the sound system. My ears have been ringing and hurting. My head is still hurting."
Hundreds had turned up for the rally, which was an opportunity for the Islamist JUI-F to rally its support ahead of an election expected to take place later this year.
Mr Mahir, who was seated on the stage when the bomb was detonated, described how the explosion unleashed flames and pellets on the crowd that gathered in the town of Khar, in Khyber Pakhtunkhwa province, near Pakistan's border with Afghanistan.
"I saw the injured and dead around me. It was very bad situation – it was like doomsday. Soon after the blast there was a panic, it was chaos, people running everywhere," he said.
"I don't know why I wasn't injured, it was my luck, my time wasn't over yet. There was a man in his 80s far away from the explosion but he passed," he said.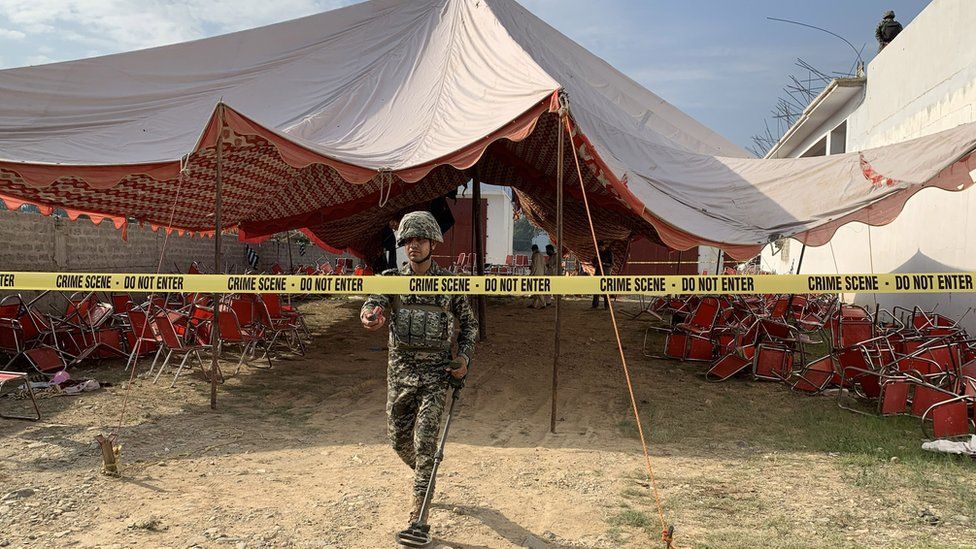 Officials have warned the death toll may rise further, as 15 people are in critical condition.
A regional leader of the JUI-F, Maulana Ziaullah, was among the fatalities, local officials told the BBC.
"We never thought it would happen to political workers or students and they would do such a big explosion. It was not in our mind, we weren't even thinking of it," Mr Mahir said.
He said he had been to seven burials overnight.
Mr Mahir said however, that morale within the JUI-F ranks remains "strong and high", adding, "We are not going to stop contesting seats, we will carry on. We will face the future".
Pakistan's Prime Minister Shehbaz Sharif condemned those responsible as being terrorists who have "targeted those who speak for Islam, the Quran and Pakistan" and said they would face "real punishment".
While no-one has yet said they carried out the attack, the local branch of Islamic State group (IS) in Pakistan claimed to be behind several attacks this year in Bajaur and has previously claimed targeting JUI-F.
In June, the militants said they were behind the assassination of a party official in the village of Inayat Killi.
The Pakistani Taliban (TTP) has condemned the attack and denied any involvement.
In recent years attacks the TTP and other militant groups have been on the rise again in north-west Pakistan after the Afghan Taliban gained power in neighbouring Afghanistan in 2021. The TTP resumed attacks after ending a ceasefire last November.