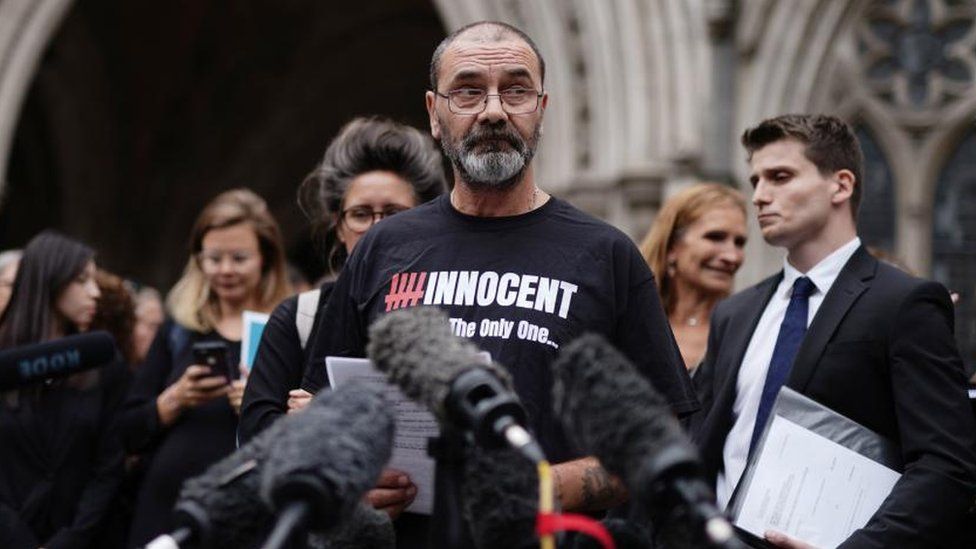 A senior Conservative MP has urged ministers to change prison compensation rules after it emerged a man who wrongly spent 17 years in jail may have money deducted from his payout.
Andrew Malkinson, 57, was cleared of a rape he did not commit. He called the current rules "kind of sick".
Under existing rules, savings made on living costs while in prison can be deducted from compensation.
Sir Bob Neill said: "Any fair-minded person thinks this is just wrong."
The government has no plans for any changes but keeps all laws under review.
The rules date back to a decision made in 2007 by the House of Lords.
It said that money could be deducted from compensation for "saved living expenses". This refers to costs the prisoner would have incurred if they had not been locked up, such as food and accommodation, according to a House of Commons briefing paper.
Sir Bob, who is chairman of the Justice Select Committee, said that at the time the decision was made, it was thought that taxpayers would be offended at paying money to someone who was freed on a technicality.
He said Mr Malkinson, however, was not cleared on a technicality, but on DNA evidence.
"This was a serious miscarriage of justice," he told BBC Radio 4's Today programme.
"It's clearly not right that somebody who was deprived of their liberty, because of the failures of the state and its institutions for a number of years, then should pay the state or be obliged to give some money back to the state, for the privilege of having been wrongly incarcerated.
"That surely offends any any kind of sense of justice," he added.
He said he would like ministers to change the rules to protect those wrongly convicted from paying such costs.
"The sums involved are trivial in the overall scheme of things," he said.
The maximum payment in cases where someone has been in jail for more than 10 years is £1m.
A Ministry of Justice spokesperson said: "This was a deeply troubling case and we recognise the pain of any individual punished for a crime they did not commit – which is why we continue to support the work of the independent Criminal Cases Review Commission (CCRC).
"It is only right victims of miscarriages of justice can apply for compensation and that all requests are properly assessed independent of government."
In 1997, convictions against cousins Vincent and Michael Hickey for the murder of Carl Bridgewater at a farm near Stourbridge in 1978 were found to be fundamentally flawed.
Michael Hickey was subsequently awarded £1.02m and Vincent Hickey £550,000 but, in each case, a 25% deduction was made from the part of their compensation that reflected loss of earnings while in prison.
This was because of living expenses they did not have to pay while in prison.
On the programme, criminal defence lawyer Matthew Ryder KC described the difficulties of getting the Court of Appeal to consider cases of possible wrongful conviction.
He said two Parliamentary committees had found the CCRC needed to be "less hesitant" about referring cases to the Court of Appeal.
"We've got to get ourselves in a position where if there's a risk of injustice, a risk of someone like an innocent man staying in custody for a very long time when their cases should be considered, we've got to find a mechanism where those cases get considered by the Court of Appeal," he said.