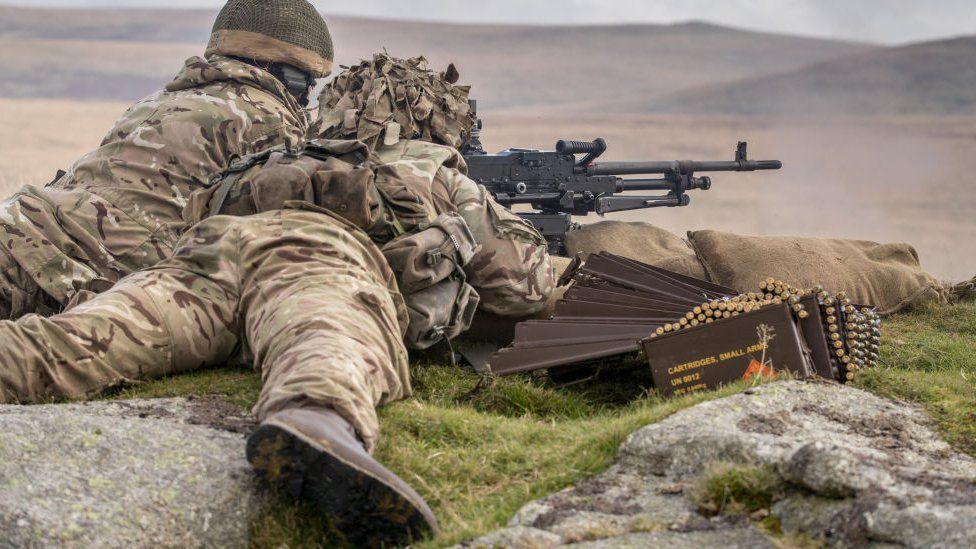 Two machine guns, two pistols and nearly 2,000 rounds of ammunition have been lost by UK armed forces over the past two years.
Meanwhile, two SA80 Cadet PP Rifles were stolen in 2021.
The MoD said it had "robust procedures to deter and prevent losses and thefts".
The figures, released after a Freedom of Information request, revealed two general-purpose machine guns (GPMGs), one Glock 43X Pistol, one Glock 17 Pistol and one deactivated AK47 Rifle, were lost by the department in 2021 and 2022.
Some 76 computers and 124 USBs were also lost or stolen over the two-year period.
The MoD said the lost AK47 Rifle and stolen SA80 Cadet PP Rifles were deactivated and could not be reconverted into lethal weapons.
It said most ammunition was lost accidentally during exercises or operations.
The department added that all laptops, tablet computers and USBs were encrypted to minimise the impact of any losses.
Labour's shadow defence secretary John Healey said: "The first duty of any government is to keep people safe, so ministers have serious questions to answer on how these weapons, electronics and ammunition have gone missing from MoD bases, and who's got them now.
"At a time when external threats are rising, ministers must sort out security inside the MoD to ensure UK equipment doesn't fall into the wrong hands."
An MoD spokeswoman said: "We take the security of defence assets very seriously and have robust procedures to deter and prevent losses and thefts. In some cases of reported theft, the property is later recovered.
"If any items are reported lost or missing due to suspected criminal activity, we will take the necessary steps to investigate and prosecute."