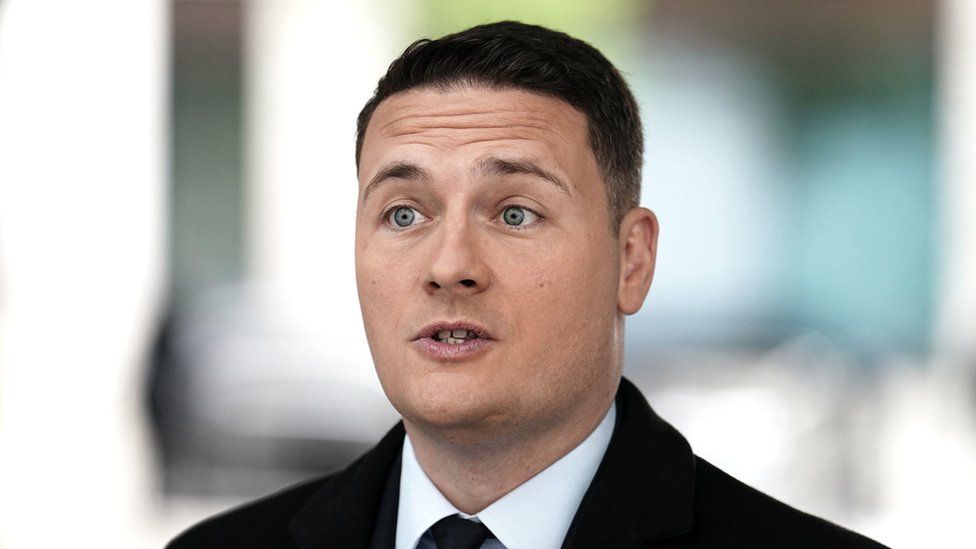 Labour would give people greater choice over where they receive hospital treatment, the shadow health secretary has pledged.
Wes Streeting said organising waiting lists by region would give patients more freedom and help tackle backlogs.
Labour leader Sir Keir Starmer is expected to commit to delivering the idea across England during a speech on Monday.
The address is also expected to include new pledges on NHS targets.
It will be the third in a series of speeches he is making on Labour's five "missions" for government if it wins power. These missions are likely to form the backbone of the party's manifesto at the next general election, expected in 2024.
Speaking on the BBC's Sunday with Laura Kuenssberg programme, Mr Streeting said organising waiting lists on a regional basis would give patients "real choice" over where they are seen.
The party says this would allow patients to get treatment more quickly if queues are shorter at nearby hospitals.
Under Labour's plan, it is understood that waiting lists would be shared across integrated care systems – coalitions of several neighbouring NHS trusts that usually cover populations of between 500,000 and 3 million people.
Patients already have some rights to choose where they receive non-urgent care under NHS England's constitution, but the party sees this option as under-used.
In his BBC interview, Mr Streeting said many patients were unaware about their rights to choice over treatment, or don't "feel the freedom to exercise that choice".
He said that a trial in West Yorkshire, where NHS trusts are sharing waiting lists for conditions affecting blood vessels, showed the approach worked.
The change would also "build more capacity in the system", he added, to help tackle waiting lists that have ballooned since the pandemic.
More spending outside hospital
Elsewhere, Mr Streeting said Labour also wanted to see a greater share of NHS spending outside of hospitals to tackle health problems earlier.
He said that the proportions of spending were "very different" in other developed economies that have "much better outcomes than we have here in the UK".
"We under invest in primary care, community services, mental health, diagnostics, and capital, and we've got to shift that focus," he added.
"Lots of hospital trust leaders are already doing this. They recognise that the pressure we see in hospitals is in part driven by the clogged front door to the NHS in primary care and community services as well as delayed discharges in social care."
Speaking on Sunday with Laura Kuenssberg, former Tory chairman Sir Jake Berry rubbished Labour's approach, saying the party was aiming to "do more of what the Conservative government is already doing".
The government says it wants to boost community NHS services. It recently announced plans to let high street pharmacies prescribe a greater range of common prescription drugs, including antibiotics, to ease the pressure on GPs.
And as part of efforts to cut waiting lists, ministers say new community "diagnostic centres" opening this year will allow people to access checks and scans for conditions such as cancer, heart disease or lung disease without travelling to a hospital.
Labour does not want to make multiple expensive promises. But it might be tricky to translate its ambitions into concrete plans that the public believe will make an immediate difference – and getting voters excited about structural changes to the NHS might be a tall order.
Mr Streeting also confirmed that a review of social care policy carried out for the party will be published next month.
The report, by a Labour-affiliated think tank, is expected to inform the party's position on social care ahead of the next election.
He did not offer details of what will be in the blueprint, but said Labour has previously stressed the need to improve pay in the sector, as well supporting people more in their own homes.