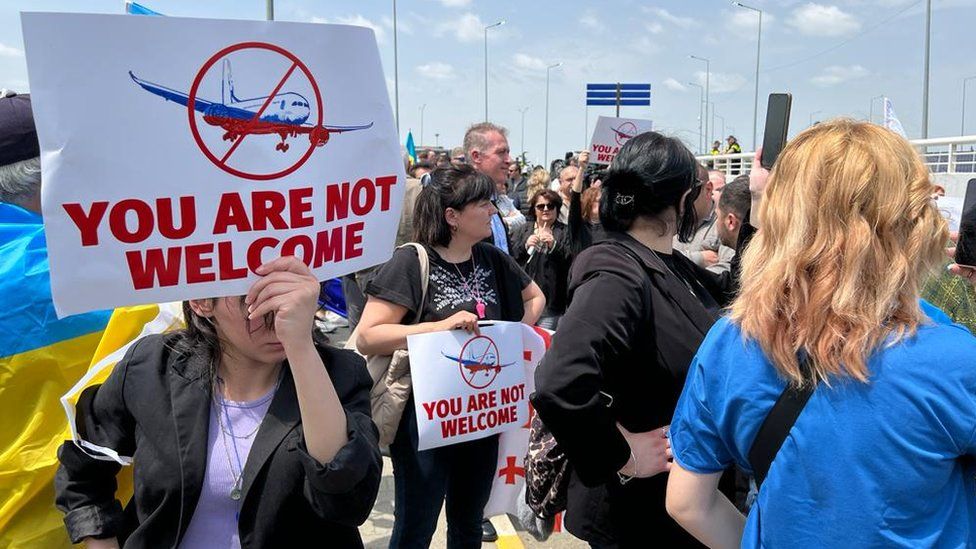 Protesters held banners saying "you are not welcome" at Tbilisi airport in Georgia, as the first direct flight for almost four years arrived from Russia.
Scuffles broke out as police barred them from standing outside the airport arrivals hall.
The Azimuth Airlines plane arrived at 13:20 local time (09:20 BST), days after getting the green light from Georgia's civil aviation authority.
Georgia's government has welcomed the return of direct flights from Russia.
"The beneficiaries are our citizens who have to take a detour at triple the cost," said Irakli Kobakhidze, the chairman of the governing Georgian Dream party.
The government argues a million ethnic Georgian citizens living in Russia stand to benefit, although Russian figures suggest the number is closer to 114,000.
But most Georgians oppose the government's move to allow flights and more than 100 Georgian organisations says it is a "direct sabotage" of their country's aspirations to join the EU. Georgia is hoping for Brussels to approve its bid to become a candidate later this year.
On board the first flight was a delegation of pro-Russian Georgian NGOs and businesses, according to Russia's state news agency. Georgian Airways is also planning daily flights to Moscow.
The apparent thaw in relations comes after President Vladimir Putin signed a decree ending Moscow's unilateral ban on direct flights imposed in response to mass anti-Russia protests in Tbilisi in 2019.
Russia has also lifted 20-year-old entry restrictions on Georgian citizens, allowing them to visit for up to 90 days without a visa.
And yet the two countries do not have diplomatic relations.
Russia and Georgia fought a war in 2008 and 20% of Georgia's internationally recognised territory remains under Russian occupation.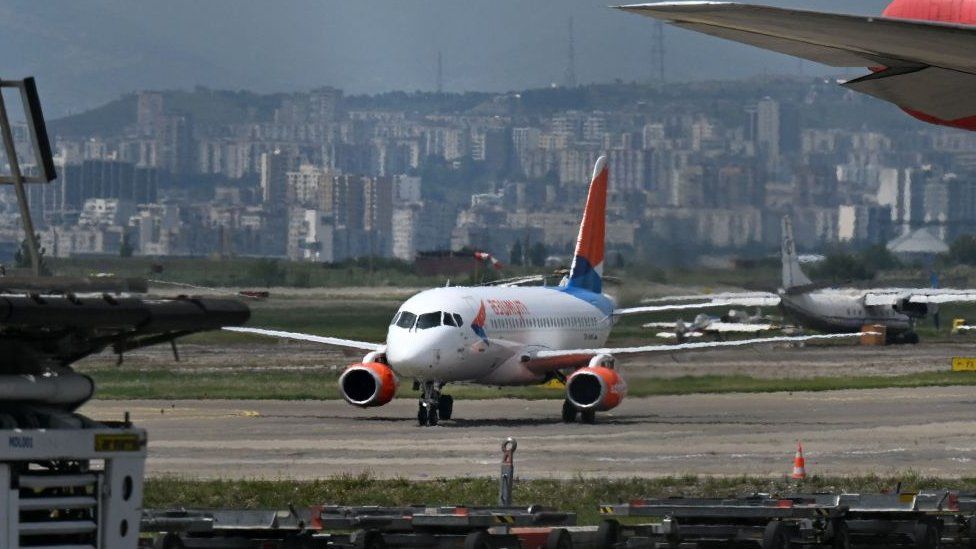 Georgia's pro-European President Salome Zurabishvili denounced "another Russian provocation".
And both the EU and the US have expressed disappointment at the latest developments.
US Ambassador to Georgia Kelly Degnan questioned the decision to accept "a gift" from what she called an aggressor country.
"I think the important question is why, why now? Why is Putin now making these concessions, these offers to Georgia. What is the price that Georgia is going to have to pay?
"We all know that Putin does not give anything without extracting a price," she said.
The EU's spokesperson for foreign affairs, Peter Stano, said earlier this week that the decision raised doubts about Georgia's commitment to align itself with the 27-member union.
"We and our partners do not allow flights from Russia, flights to Russia and flights over Russia," he pointed out.
Georgia's opposition has roundly condemned the return of direct flights as a "reward" to the ruling Georgian Dream for "good behaviour" towards Russia since its invasion of Ukraine.
Georgia did not impose sanctions against Russia and has allowed tens of thousands of Russian citizens to relocate here, many of them escaping mobilisation.
Levan Khabeishvili, who leads the largest opposition party United National Movement, said that President Putin was trying to turn Georgia into a "Russian province".
But he added that "the will of the Georgian people is unshakeable! We choose Europe, not Russia!".