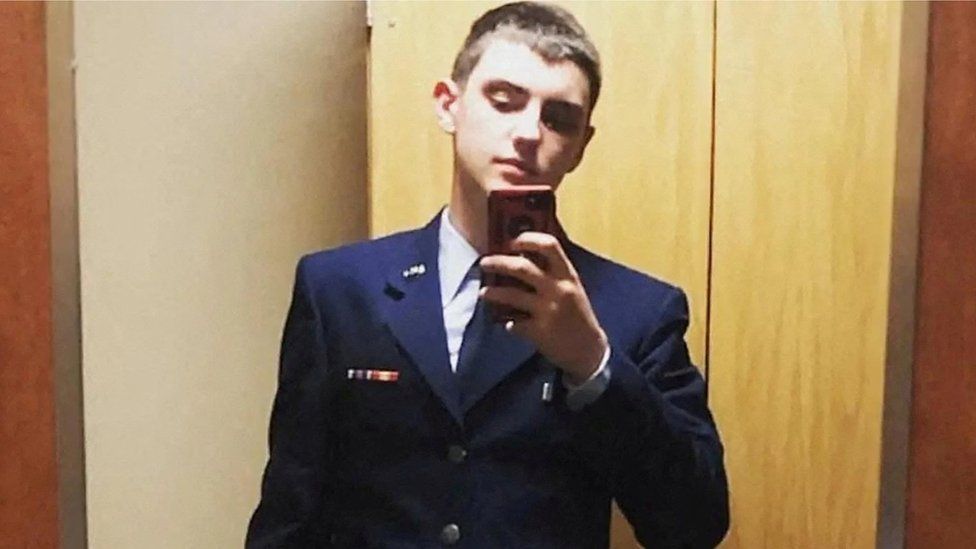 A US airman suspected of leaking classified files was warned repeatedly about his handling of classified information, prosecutors say.
In a court filing, US prosecutors argued Jack Teixeira should remain in detention because of his "wilful disregard" for protecting information.
He allegedly leaked files even after he was warned by his superiors on two separate occasions last year.
The 21-year-old has been in custody since the FBI arrested him on 14 April.
He was charged with the unauthorised transmission and retention of defence materials after dozens of classified files appeared in the online chat room Discord. They included sensitive information about US allies and the war in Ukraine.
A judge will soon decide whether he should remain in detention until his trial and is expected to hear arguments on Friday.
The court filing from justice department prosecutors on Wednesday alleged Mr Teixeira's superiors had flagged "concerning actions" around Mr Teixeira's handling of classified information.
It said that on one occasion he was seen taking notes and putting them in his pocket. His superiors then asked him to stop taking notes in any form on classified information, prosecutors said.
A month later, Mr Teixeira's bosses discovered he was "potentially ignoring a cease-and-desist order on deep diving into intelligence" after he went to a classified briefing and posed "very specific questions" about what was discussed. They told him to stop and "focus on his job", the court filing said.
Then, in February 2023, after someone saw the airman viewing intelligence information that was "not related to his primary duty", Mr Teixeira's supervisors were notified, according to the court document. It is unclear if he was disciplined.
Prosecutors have argued Mr Teixeira should not be released on bail because he poses a threat to national security, while defence lawyers argue he should be released with restrictions.
Prosecutors claim the airman has bragged to people online about violating rules on classified information. They say he acknowledged in December that he was "breaking a ton of UD regs", a reference to unauthorised disclosure, but said, he did not care "what they say I can or can't share".
Prosecutors say the posts make clear that Mr Teixeira "simply did not care" what the government or his superiors told him and that he would not listen to a court's instructions either.
Mr Teixeira's defence lawyer said he should be free to stay in his home in the presence of either relatives, Air Force personnel, or lawyers.
He denied his client posed a serious flight risk, and said suggestions by prosecutors that foreign adversaries would seek to take advantage of Mr Teixeira's release were rooted in "speculation".