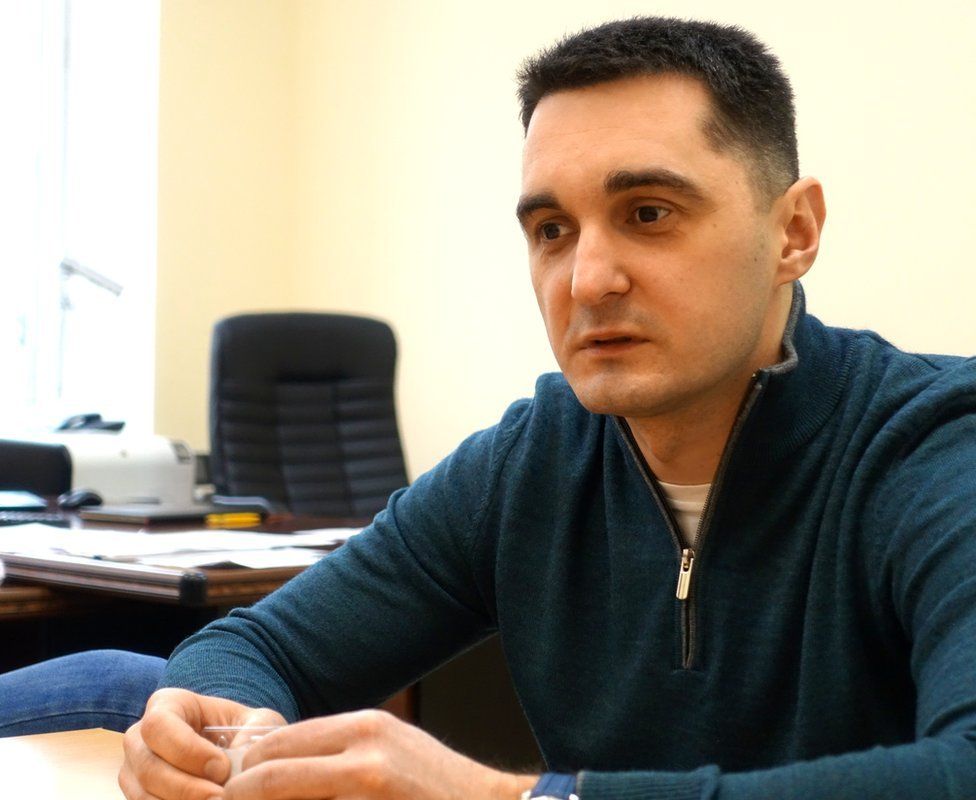 One year after the Ukrainian city of Mariupol fell to Russian control, its displaced steel workers find themselves both comforted and unsettled by ghosts of their former lives.
Ivan Holtvenko clutches his ID card from his old job in the southern port city as he chats to me in his new workplace, a steelworks in central Ukraine.
"I hid the pass [when I fled], and now I'm saving it, hoping that one day I'll need it again," he says.
Ivan is among dozens of workers from Mariupol's Azovstal steelworks who have begun a new life in Kamianske, 270km [168 miles] away, after surviving the final battle for Mariupol, one of the most defining moments of the war.
For weeks, Ukrainian fighters holed up in the tunnels and bunkers of the steelworks, making a last stand against the Russian forces. They were eventually forced to leave, but Azovstal became a symbol of resistance against the invasion.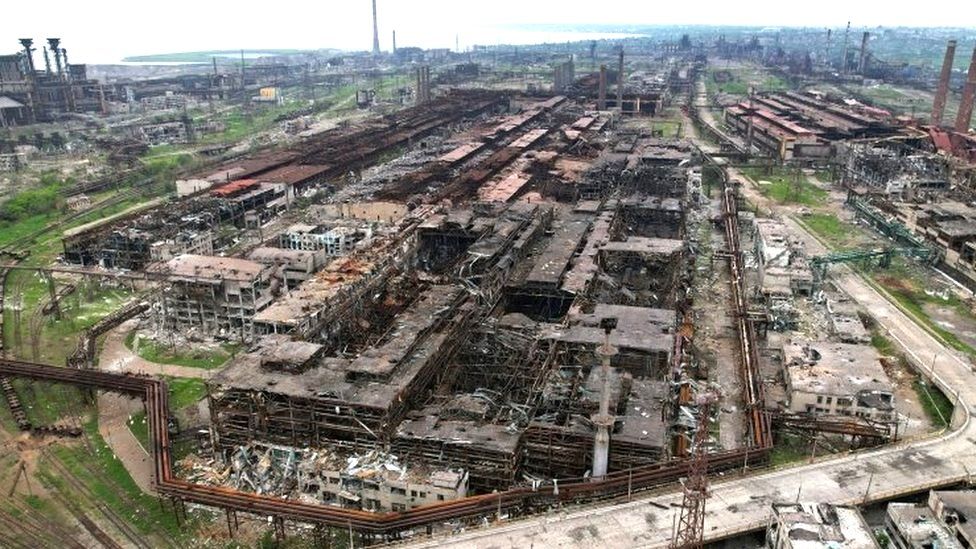 Ivan has no idea if, or when, Ukraine will retake Mariupol. But he yearns for his old life.
When former Azovstal workers bump into each other in the shelters, hallways, offices and factory floor of their new workplace, they connect over their lost lives. Some have nicknamed themselves the "Mariupol diaspora".
"When you meet someone from Mariupol you get that feeling inside," repairs engineer Oleksandr Shabanov says, smiling.
Managers at the new steel factory say there are about 120 former Azovstal staff there, as well as more from another Mariupol plant.
Workers reminisce about summers spent at the beach, fishing trips and the sea views in their industrial home city. Two say they were in the process of building holiday homes together when Russia invaded.
They talk of Facebook groups that have now gone quiet. Some of their former colleagues have moved to other parts of Ukraine or abroad. Others have been killed. Many more are missing.
"We don't know what's happened to him," a group of Mariupol workers say as they talk about one former colleague and friend.
Of the 10,500 staff at Azovstal, managers say fewer than half are accounted for.


The Mariupol workers remember a time when they weren't scared of war, joking that people there have a reputation for being tough.
Fighting first broke out in the city in 2014, and the government briefly lost control after clashes with pro-Russian militants and protesters. But the workers say they never thought it would fall, as it did last year following a lengthy siege.
Its theatre, which was sheltering hundreds of civilians, was bombed, its maternity hospital badly damaged in a Russian strike.
Ivan said nothing had prepared them for this.
"We thought it was going to be a crisis we could live through, just as we did in 2014," he tells me.
As is the case with other members of the Mariupol diaspora, Ivan's home was destroyed during the siege. The building and everything inside it is now just a memory – family photos, clothes, furniture.
"Everything got burnt," he says.
But while Ivan and other colleagues draw strength from their community, for others it only exacerbates their trauma.
"How can anything comfort me?" says engineer Ihor Khadzhava.
"There is nothing good about ending up here… and nowhere to go back to. There's no plant, no work, nowhere to live, just hate."
Residents who have remained in Mariupol say Moscow has brought in labourers from across Russia and Central Asia to rebuild the city, but not as it was – streets have had their Soviet names restored, new buildings have appeared and many of those damaged in the siege have gone. Russian flags have been erected as well as pro-Russia billboards and posters.
The Russian rouble is now the only currency accepted in shops there, and re-opened schools in the city are teaching a Russian-language curriculum. Residents are under pressure to get Russian passports.
Ihor is now resigned to accepting whatever fate might bring. When sirens ring out at the factory to warn of a possible Russian attack, he keeps working.
He hasn't used a shelter since the two months he spent underground in the bunker at Azovstal last year.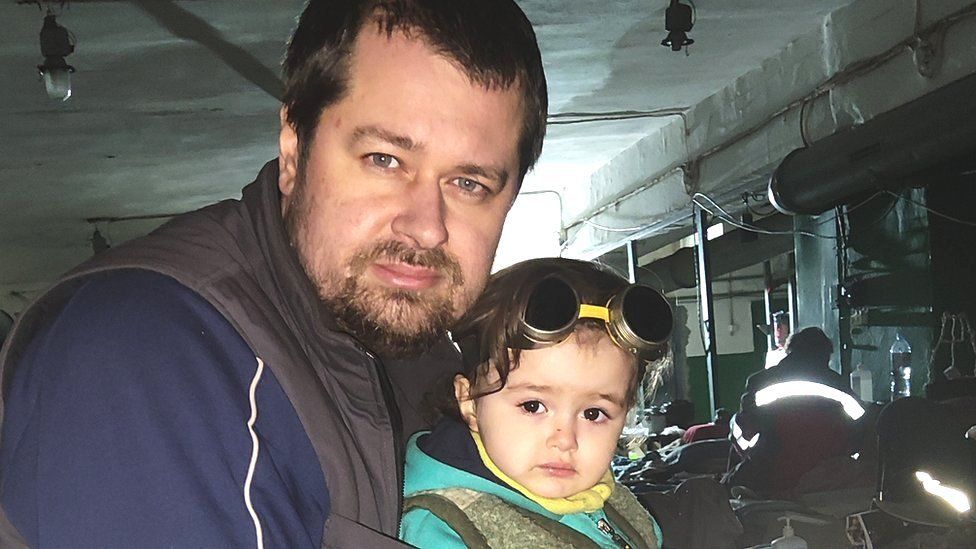 "What's the use?" the 39-year-old says blankly.
For the former Azovstal workers who do use the shelters, there are memories even underground.
Oleksandr takes a photo on his phone and sends it to his wife Yuliia.
"No kidding. It really looks the same," she replies.
Being in the near-identical bunker can be traumatic, Oleksandr says.
"The point of the shelter is not to feel frightened. When you go down it's the safest place… but in the back of my mind there is this fear," he says.
In Mariupol, an estimated 90% of residential buildings were damaged or destroyed during the siege by the Russian forces, and about 350,000 of the population of almost half a million were forced to leave.
Back then, Oleksandr and Yuliia had sought shelter in Azovstal's Soviet-era bunkers after fleeing their ninth-floor apartment – a shell had hit a neighbouring building, spraying shrapnel through their window.
The couple grabbed food, clothing, identification documents, their cat Mason and a 2kg bag of pet food, before running to Azovstal as shells landed around them.
In the shelter, they slept on wooden pallets and divided up tasks to stay busy – guarding the exits, cooking meals, cleaning.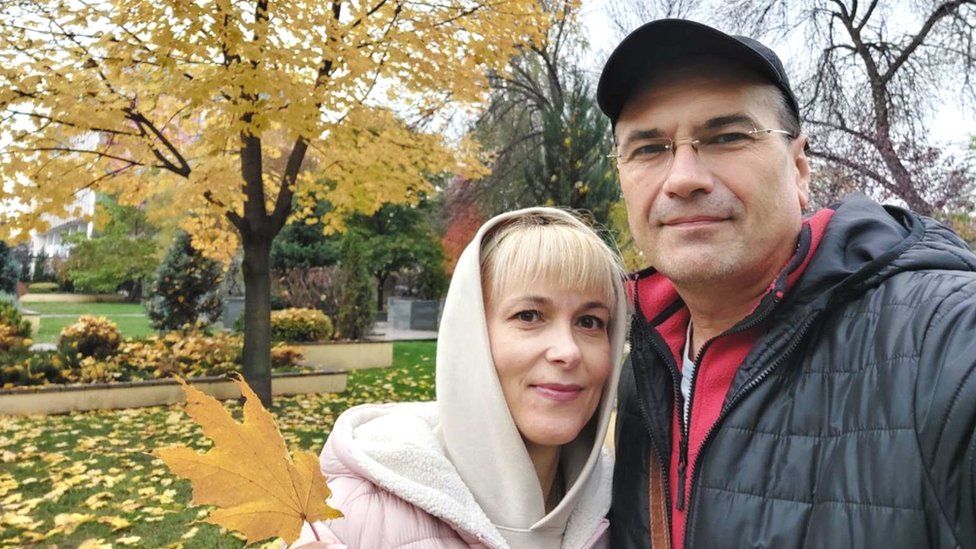 When supplies were running low, Yuliia would draw the children pictures of their favourite foods so they could pretend to eat them. They dreamed of burgers and sausages.
Oleksandr and Yuliia remember Ihor's daughter making a "squeaky noise like a siren" when she came to stroke Mason, while another child, whose own pets had been left at home, sang to him each night: "Mason, Mason, you're a king of cats".
There were other pets in the shelter – a pug would sometimes run around frantically as missiles landed overhead.
The shelter's occupants had no idea how long they would be there. Sometimes they wondered if they would ever see daylight again.


Kamianske is in a much safer location than Mariupol – further inland and on the west side of the Dnipro River, which acts as a natural buffer.
But workers say that Russia's siege of Mariupol, and the important role the Azovstal bunker played in keeping some of them safe, has taught them the importance of being prepared.
In the shelter at the Kamianske steelworks, Oleksandr, Ivan and others wait behind thick metal doors to be given the all-clear to resurface. Smaller side rooms contain toilets, an examination bed and medical equipment, stacks of water bottles, jars and tins of food, phones and computers, and a generator.
"We understand that it's not only about sheltering, but also about having things that are most needed in those situations," Ivan explains.
"Is there a place to sit? What if there are wounded in the group? Is everything OK with the electricity? What about internet connection? Warm clothes? Food?"
But no amount of preparation can completely allay their fears.
"Of course, we can joke and say 'we are from Mariupol, nothing scares us', but actually every time you hear the sirens you get very uncomfortable and really want it to end," Ivan says.
Because of course, the last time the Mariupol workers saw their home city, it was under attack.
Some people remained in the city because they were unable to leave, due to illness or old age, while others welcomed Russia's presence.
But the workers we spoke to in Kamianske said they would not consider returning to the city while it remains under Russian occupation.
"No matter how much the Russians try to hide it under construction, those are still ruins," Ihor's wife Karyna says of her home city.
With no sea to look out to, Oleksandr and Yuliia now take regular trips to the Dnipro River, hoping it will instil feelings of calm. But, they say, it's not the same.
For now the Mariupol diaspora, like many displaced Ukrainians, are trying to adapt to a life in limbo. To life as a community without a home.
Additional reporting by Svitlana Libet