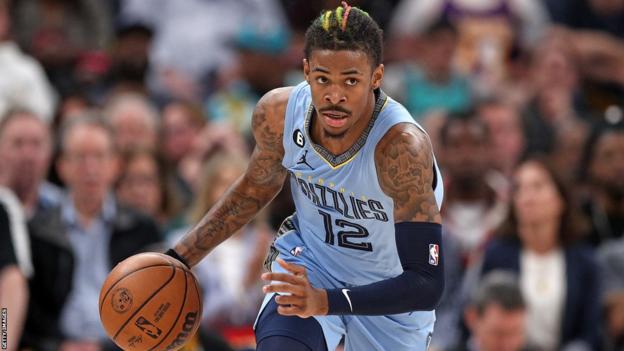 The Memphis Grizzlies star Ja Morant has been "suspended from all team activities" after again appearing to hold a gun in a video on social media.
Morant, 23, appeared to briefly hold up a gun in a car with a friend in a live broadcast on Instagram on Saturday.
The All-Star guard was suspended for eight games without pay by the NBA in March after a video showed him holding a gun in a Colorado nightclub.
The NBA said it is looking into this second incident.
"We are aware of the social media post involving Ja Morant and are in the process of gathering more information," said NBA spokesperson Mike Bass.
The Grizzlies said Morant's suspension is "pending League review".
After the incident in March, Morant apologised and said he took "full responsibility" for his actions.
He said he would "work on learning better methods of dealing with stress and my overall wellbeing" and that, after reflection, he realised "what I have to lose".
Morant also underwent counselling while he was suspended.
Glendale Police Department investigated the nightclub incident but did not find enough evidence to charge anyone for a crime.
At the time, NBA commissioner Adam Silver said Morant's conduct was "irresponsible, reckless and potentially very dangerous" but added that Morant had "made it clear" that he had "learned from this incident".
The Grizzlies were beaten by the Los Angeles Lakers in the first round of the play-offs last month.