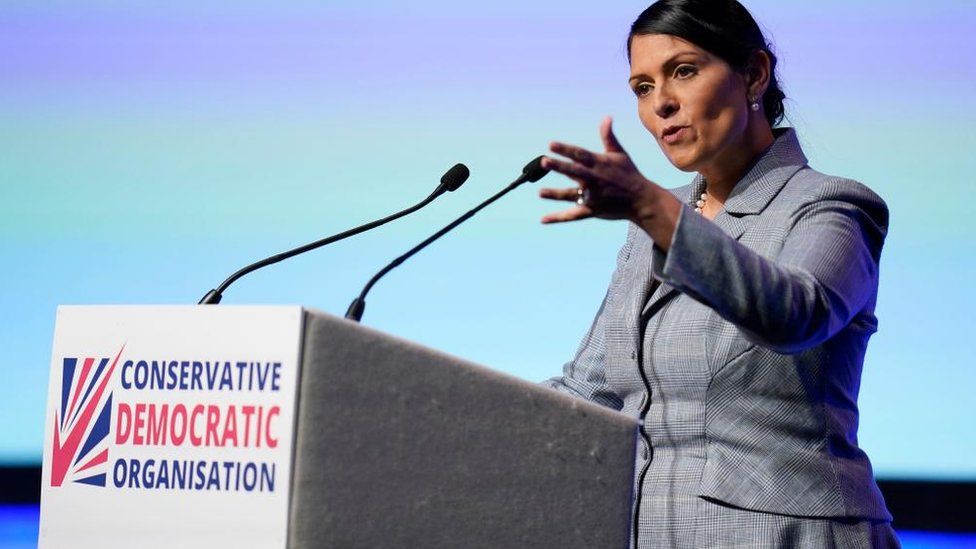 Former Home Secretary Priti Patel has blamed the Conservative Party's leadership for heavy local election losses in a speech.
Ms Patel said she was sorry that it was "errors and mistakes sometimes of us in Westminster and our actions that have cost our party dearly".
She was among several high-profile Tory MPs who spoke to the Conservative Democratic Organisation, a new grassroots pro-Boris Johnson group.
The Tory Party said it had no comment.
She told the group's conference in Bournemouth: "Some parts of Westminster and our colleagues have done a better job of damaging our party than the opposition, the left wing campaign groups, the civil service, which we all struggle with day in day out and even I'm afraid, some of those in the media that want to distort and make life difficult for us".
The Conservative MP for Witham suggested that if government leaders spent more time with the party's grassroots they would be more in touch with their values.
Highlighting heavy Tory losses in the recent local elections in England and the "serious repercussions" of that for the party, the former cabinet minister said that "for the first time in 20 years… we are no longer the largest party in local government".
The Conservatives lost control of 48 councils and lost more than 1,000 councillors in May's English local elections.
There are three things that unite the new Conservative Democratic Organisation – a belief that the Tory party has become too centralised, a strong feeling that many current policies aren't "Conservative" enough and a lingering resentment about the toppling of Boris Johnson by MPs and the later appointment of Rishi Sunak without a vote of party members.
The problem for this group is that the first two issues aren't likely to be addressed to their satisfaction without the third – a change of leader. But given recent events that's something few want to talk openly about – Jacob Rees-Mogg said it would be an "absurd" thing to do. And that suggests that many are now starting to look beyond the next election.
But other senior Tories are unimpressed. Writing in the Times, former armed forces minister Tobias Ellwood hit out at what he called a "right-wing caucus" within the party, focused on tax cuts, "Europe-bashing" and culture wars. Those MPs, he said, were "disloyal" and "reckless", and failed to recognise that a Conservative victory at the next general election is still possible.
Ms Patel was a close ally of Mr Johnson and served as home secretary during his premiership.
She paid tribute to him in her speech as the "man that got Brexit done" and as the person who delivered on the "people's priority".
In a video message played at conference, Mr Johnson thanked delegates for "continuing to campaign for freedom and democracy".
The Conservative Democratic Organisation conference in Bournemouth was attended by other high-profile supporters of Mr Johnson including Mr Rees-Mogg and Nadine Dorries.
In the speech, Ms Patel criticised MPs who removed Mr Johnson from power.
She said Westminster colleagues had "turned their back on the membership and effectively broken that golden thread in terms of the democracy from the bottom of the party right up to the top".
She also criticised recent budgets for diverging from what she called Conservative values.
She warned that if the party does not change it would risk losing more votes.
Reacting to Ms Patel's comments, the Liberal Democrats said the Tories had "decided to rekindle their infighting" and the party was marked by "constant chaos".