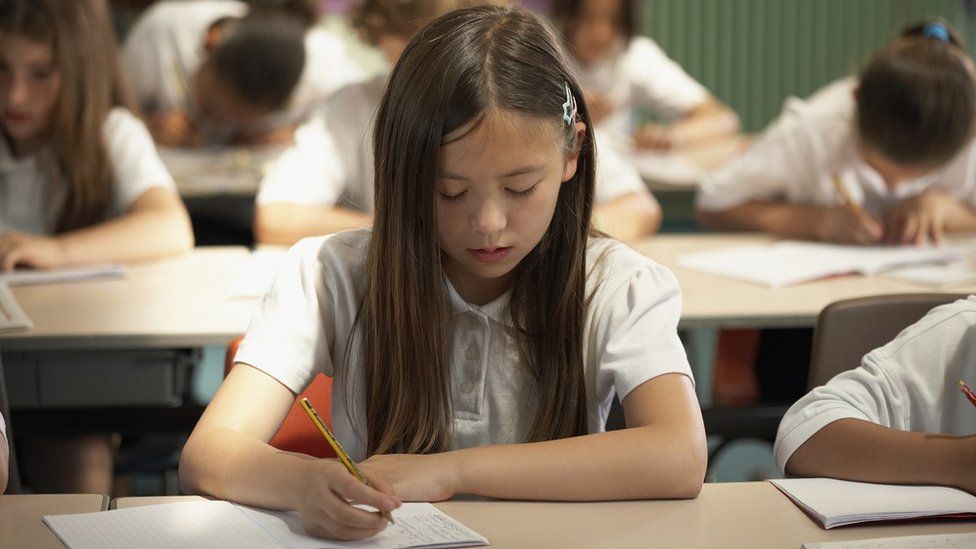 The government has defended tests for Year 6 pupils across England, after some parents and teachers said a paper in this week's Sats was too difficult.
One head teacher said the English reading test included some "GCSE-level" questions. Some pupils were left in tears and did not finish the paper.
It has fuelled a debate among teachers and parents about the purpose of Sats.
A Department for Education (DfE) spokesperson told BBC News the tests were "designed to be challenging".
The government had previously said it worked to ensure that "all tests are appropriate".
But asked for further comment on the English reading paper, the DfE added that Sats had to be tough "in order to measure attainment across the ability range, including stretching the most able children".
The government has advised that details of the content of the test paper should not be published until all Year 6 pupils have had the chance to take it.
Sats are tests taken by pupils in Year 2 and Year 6 to assess their reading, writing and maths skills – and to test schools' performances.
Sarah Hewitt-Clarkson, head teacher at Anderton Park Primary School in Birmingham, said it was "heartbreaking" to see her pupils struggling to get through the reading paper.
Mrs Hewitt-Clarkson, who has two teenage daughters who have taken their GCSEs in the past few years, said: "I'm not a secondary English teacher, but… some of those questions were definitely of that level. It's just unfair."
Mrs Hewitt-Clarkson hopes the Standards and Testing Agency – which is part of the DfE – might consider lowering the pass mark this year, in response to how difficult some students found it.
"For children to fail – or not achieve the standardised score – where we know in class they have been performing at an age-related expected level, or above, it just shows all the flaws of a system that depends almost entirely on one test," she said.
The government says it converts children's raw test scores into "scaled scores" so that tests can be compared, even if the difficulty varies.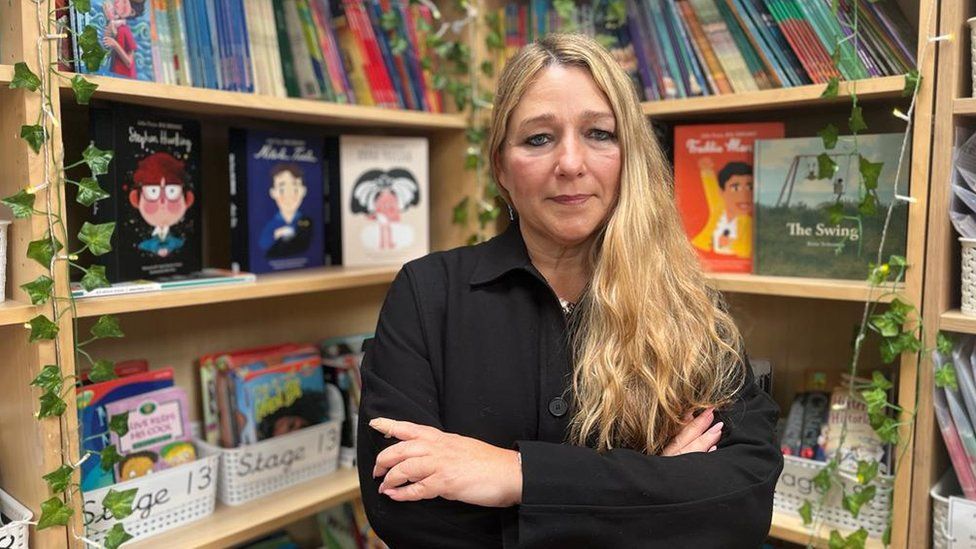 Heather, from Ipswich, said her son found this week's Sats process "absolutely fine".
"Our school puts very little pressure on our children for the Sats," she told BBC Radio 5 Live. "It's been quite a positive experience."
But Davina Bhanabhai, a writer from Leeds, said her daughter was "really flustered" by the English reading paper on Wednesday.
"Children came out feeling distraught, anxious and stressed. These three emotions are not what we want to bring our children up to experience," she told BBC News.
"The teachers are stressed because that's the only measure they have that they can show that they're doing their job," she added. "[The children] want to do well, so naturally that stress is going to be passed down [to them]."
Two education unions, the National Education Union (NEU) and NAHT, have raised concerns about the paper.
NEU joint general secretary, Mary Bousted, added there were "better ways of assessing pupils" than through Sats.
Standard Assessment Tests, or Sats, are tests that children take in Year 6, at the end of Key Stage 2. They are national curriculum assessments in English grammar, punctuation and spelling, English reading and maths.
The government's Standards and Testing Agency says the purposes of Sats tests are to:
help measure pupils' progress
identify if they need any extra help in certain areas
assess schools' performances
produce national performance data.
Children also sit Sats in Year 2, at the end of Key Stage 1.
The national curriculum tests were cancelled in 2020 and 2021, during the pandemic.