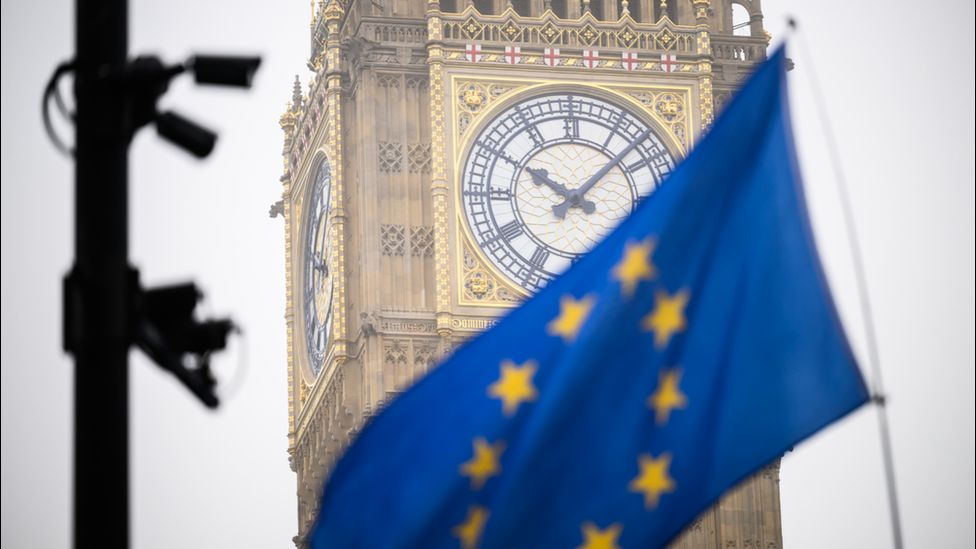 The government has ditched its plan for thousands of EU-era laws to expire automatically at the end of the year.
The plan – dubbed a post-Brexit bonfire – would see laws that were copied over to the UK after Brexit vanish, unless specifically kept or replaced.
Critics of the bill had voiced concern that it could lead to important legislation falling away by accident.
But the climbdown is likely to trigger anger from Brexit-backing Conservative MPs and members of the House of Lords.
Business Secretary Kemi Badenoch said the cut-off point would be replaced with a list of 600 laws the government wants to replace by the end of the year.
In a statement, she said the change would be made through an amendment when the Retained EU Law Bill returns to Parliament next week.
Tory Brexiteer Jacob Rees-Mogg, who introduced the bill when he was in government, called the move an "admission of administrative failure".
It showed an "inability of Whitehall to do the necessary work and an incapability of ministers to push this through their own departments," he added.
He said the move to ditch the deadline represented the triumph of "the blob" – a term used by some Tory MPs to describe the Whitehall establishment.
The UK incorporated thousands of EU laws into UK law to minimise disruption to businesses when the UK officially left the EU in 2020 – with an ongoing audit by civil servants having identified 4,800 so far.
Since September 2021, it has been reviewing this body of legislation to identify opportunities to give British firms an edge over European competitors.
The Retained EU Law Bill, which began its journey through Parliament during Liz Truss's premiership, would have introduced a 31 December cut-off date for most of these laws to expire, unless ministers replaced or decided to retain them.
However opposition parties, trade unions and campaign groups cast doubt on whether the deadline was realistic, given the huge workload in reviewing the legislation.
In a statement on Wednesday, Business Secretary Kemi Badenoch acknowledged the deadline had created "legal uncertainty" for businesses.
She said the government had already got rid of, changed or replaced around 1,000 EU-era laws – and was still committed to "lightening the regulatory burden on businesses".
But she added that the "growing volume" of EU laws identified during the ongoing audit had started to get in the way of "meaningful reform".
However, Labour called the move a "humiliating u-turn," accusing ministers of trying to "rescue this sinking ship of a bill".
"After wasting months of parliamentary time, the Tories have conceded that this universally unpopular bill will damage the economy," said Jenny Chapman, Labour's shadow Cabinet Office minister.
Liberal Democrat peer Lord Fox said the Conservatives had "dug themselves into a hole" with the bill, adding: "While they may have stopped digging, they're still in the hole".
The bill was passed by MPs in January, but was expected to run into significant opposition when it faces further scrutiny in the House of Lords.
Peers were meant to start debating the bill last month, but the government was reported to have put it on hold until last week's local elections in England were over.
The government is still expected to face opposition from peers over new powers for ministers to amend or replace EU laws using secondary legislation, a fast-track process that attracts less scrutiny in Parliament.
Opposition MPs, and some Conservatives, say this would rob Parliament of a meaningful say over what is changed.
Around 500 EU laws covering financial services had been exempted from the deadline, as they are due to be repealed by a separate bill making its way through the Commons. The same is expected for EU legislation affecting VAT and customs.
However, the footprint of EU-era legislation is particularly large when it comes to environmental regulation.
Campaign groups have warned about a loss of rights and legal protections in areas including water quality, air pollution standards and protections for wildlife.
The move to get rid of the deadline may be a pragmatic move, but is likely to disappoint MPs on the right of the Conservative Party and leave Prime Minister Rishi Sunak open to the charge he's not delivering the benefits of Brexit he promised.
Mr Sunak had promised during his unsuccessful leadership campaign last summer to publish a list of which EU laws would be retained or scrapped within 100 days of taking office.
However, he did not keep the pledge after taking office in October after he was chosen to replace Liz Truss as prime minister by Conservative MPs.