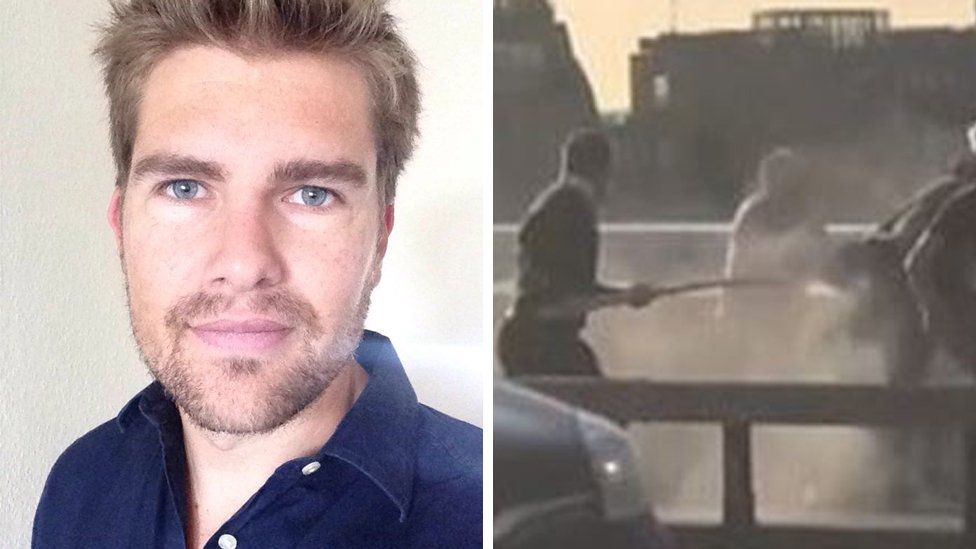 Members of the public who tackled the man behind the London Bridge attack in 2019 are among the recipients of the final civilian gallantry awards approved by the late Queen.
The list includes a Queen's Gallantry Medal for Darryn Frost who used a narwhal tusk to fend off Usman Khan outside the Fishmongers' Hall event.
The same award goes to two ex-offenders – John Crilly, who used a fire extinguisher on the attacker, and Steven Gallant, who helped confront him until police arrived.
He was commended for standing his ground against Khan, who was carrying two knives and wearing what turned out to be an imitation belt of explosives.
The bravery award winners are among 15 people praised for their heroic actions in the last list approved by the Queen, who died last September.
Such awards in future will be known as the King's Gallantry Medal or the King's Commendation for Bravery.
In November 2019 Khan stabbed Cambridge University graduates Jack Merritt, 25, and Saskia Jones, 23, and injured three other people at the conference held by an organisation involved in the rehabilitation of offenders in the City of London. He then ran on to London Bridge, and was later shot dead by armed officers.
A porter at the hall, Lucasz Koczocik, also received a Queen's Gallantry Medal for forcing Khan out of the venue, using an ornamental spear, despite him having sustained serious injuries from three stab wounds.
And prison officer Adam Roberts was commended for providing emergency first aid, while the attack was going on around him.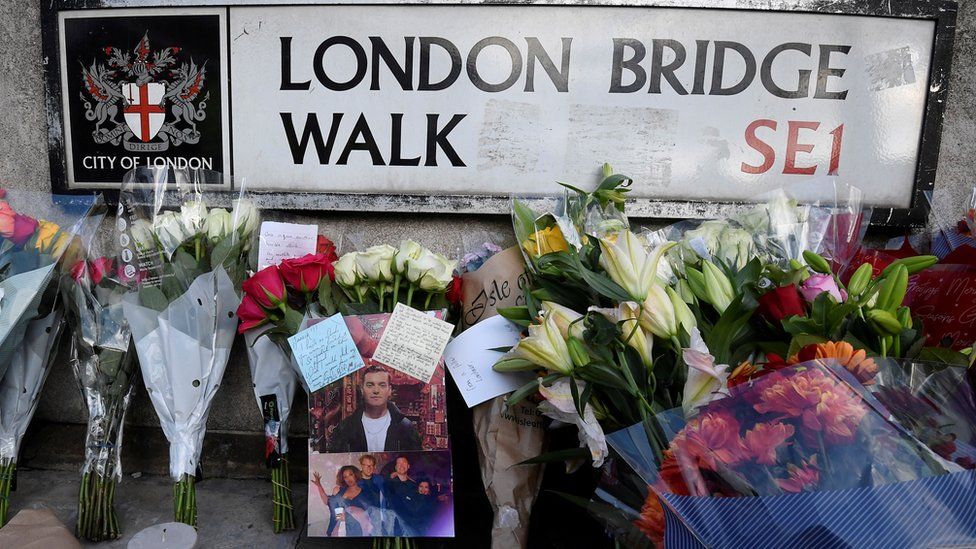 The five men brought together by the event were commended for the courage of their response – using improvised weapons and facing great danger themselves, as they chased the attacker on to the bridge.
Mr Frost used a narwhal tusk that had been on display at Fishmongers' Hall and pinned Khan down, despite the risk from what had seemed to be the suicide belt.
There are also awards for Lisa Way and Ayette Bounouri who came to his assistance. Mrs Bounouri used a shopping basket to try to deflect the attacker.
Other awards for bravery include:
The recipients, announced by the Cabinet Office, are nominated by the public in recognition of "exemplary bravery in saving the lives of others".
They are approved by the monarch, on the advice of the George Cross Committee which considers such awards, with these latest civilian honours the first for two years.
Oliver Dowden, Chancellor of the Duchy of Lancaster, said the latest recipients were "extremely worthy winners" of the Queen's last such awards.
"We all hope we'd react with courage in the face of danger. These people have lived through that test, and responded in the most admirable way," said Mr Dowden.