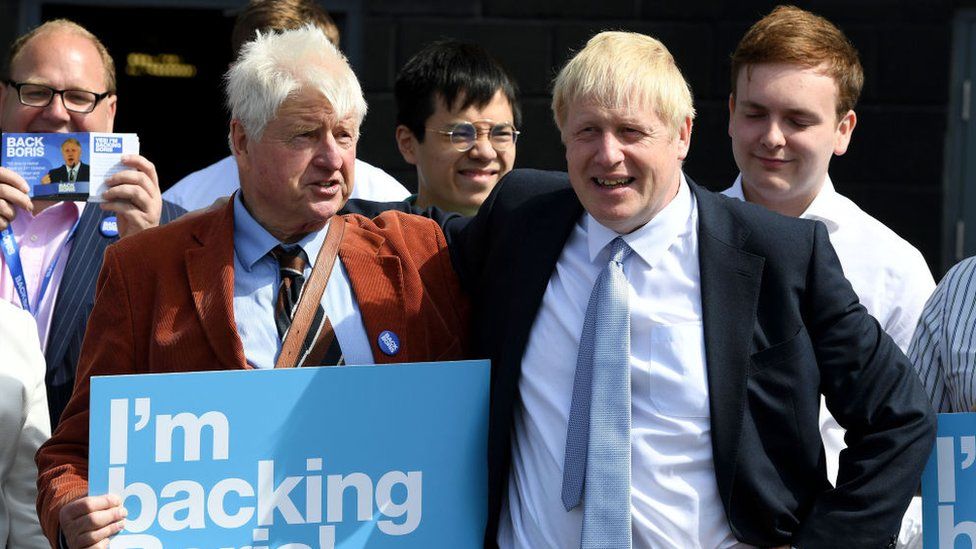 Former Prime Minister Boris Johnson would not be "wise" to nominate his own father for a knighthood, a government minister has said.
Speaking on BBC Question Time, Immigration minister Robert Jenrick said prime ministers should "absolutely not" hand honours to family members.
It follows reports Mr Johnson planned to name his father, former MEP Stanley, in his resignation honours.
Labour called on Prime Minister Rishi Sunak to block any such nomination.
The BBC understands Mr Johnson's list will also now feature only around 50 names, lower than the figure of 100 previously reported by a number of newspapers.
Under the UK system, outgoing prime ministers can ask the monarch to bestow peerages, knighthoods, and other honours on any number of people of their choosing.
Reports this week suggested Mr Johnson, who stood down in September after a series of scandals triggered mass resignations from his government, planned to include his father on his list.
Stanley Johnson served as a Conservative member of the European Parliament for the Wight and Hampshire East constituency from 1979 to 1984. He also worked at the World Bank and European Commission as well as writing a number of books on environmental issues.
Asked about the reports, Mr Jenrick – who served for two years in Mr Johnson's cabinet as housing secretary – said: "Is it, as a principle, wise for a prime minister to nominate a member of their own family for an honour? No, absolutely not."
He added that "we'll have to see what ultimately is on this list and what the government chooses to do".
There have been calls for Mr Sunak to block Stanley Johnson from being given a knighthood if his name is put forward.
Also speaking on Question Time, shadow Home Office minister Sarah Jones said Mr Sunak "needs to make it crystal clear" that Mr Johnson could not nominate his own father for an honour.
Reports this week have suggested that Mr Johnson was told by officials to cut the number of people on his list after initially proposing almost 100.
One ally of Mr Johnson's told the BBC his list was "shorter than David Cameron's or Theresa May's so everyone can relax".
Mr Cameron nominated 59 people for honours when he resigned, while Ms May nominated 51.
A spokesman for Mr Johnson refused to comment on whether or not he planned to put his father forward for a knighthood.
A Cabinet Office spokesperson said: "We do not comment on speculation around honours".