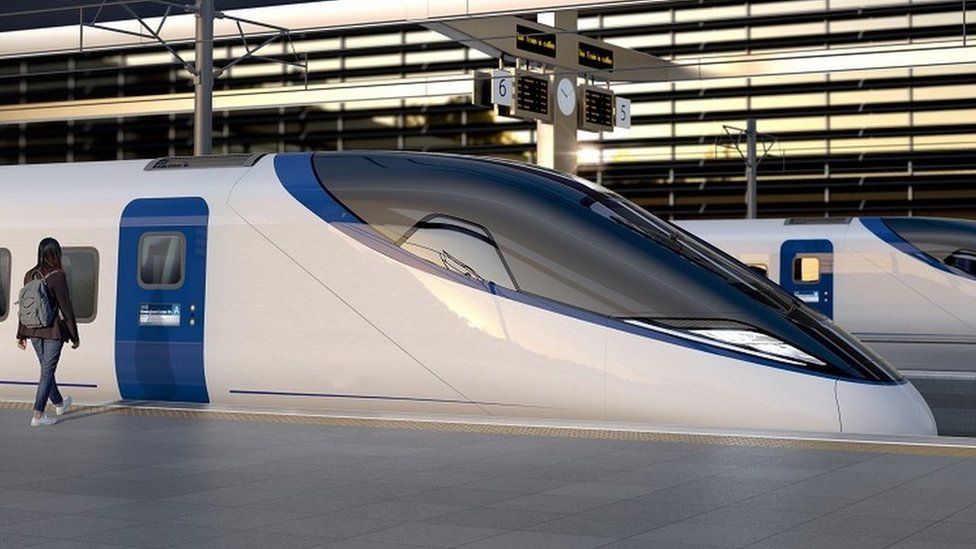 The government is set to announce that construction of certain sections of HS2 will be delayed in an attempt to cut costs, the BBC understands.
It is thought the delay will primarily affect sections from Manchester to Crewe and Birmingham to Crewe.
But sources have also indicated that some of the design teams working on the Euston end of the line may be affected.
Contractors are looking at whether they need to redeploy staff working on that site.
The high-speed railway will link London, the Midlands and North of England.
However, it has been beset by delays and cost increases. In 2010, it was estimated to cost around £33bn but that has since swollen to at least £71bn.
Mark Thurston, chief executive of HS2 Ltd, recently told the BBC that he and the government were examining the phasing of the build and the timing.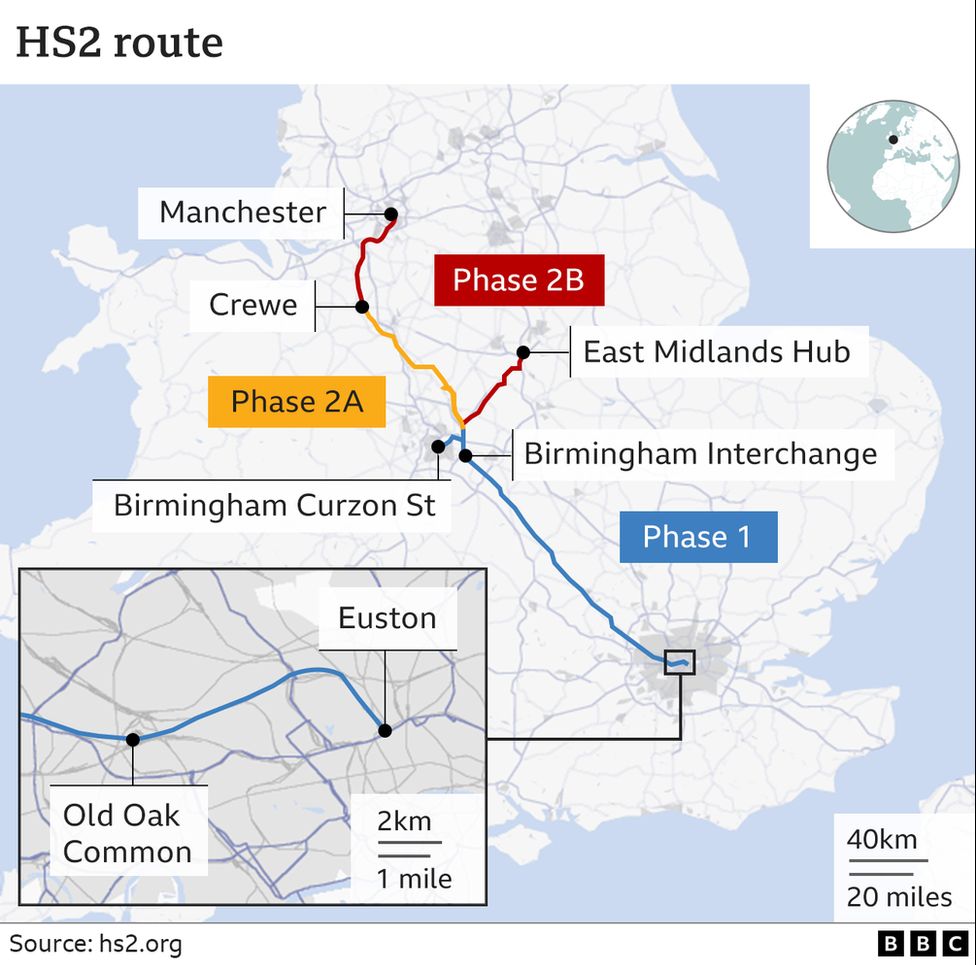 The project is grappling with the rising cost of materials due to the high rate of inflation.
It is understood that the government hopes that the delays will allow it to spread the cost over a longer period of time, making it more affordable by reducing annual expenditure.
Chancellor Jeremy Hunt, who will outline his Budget next week, wants debt to fall as a percentage of GDP within five years – a target explicitly set by the Prime Minister.
Conservative MP Simon Clarke, former chief secretary to the Treasury, tweeted that delaying construction "would be a sensible decision".
"Having observed HS2's progress as chief secretary, I have serious doubts as to value for money and cost control," he said.
Michael Fabricant, Conservative MP for Lichfield, Staffordshire which contains part of the HS2 line, said: "I shall be asking the government whether this delay marks the end of HS2 north of Birmingham for good and whether HS2 will make good the damage already done in southern Staffordshire.
He added: "Simply saying the project is delayed is not good enough. The area has been blighted by whole fields turned into construction sites."
Last week, Mr Thurston said the impact of inflation had been "significant" in the past year, "whether that's in timber, steel, aggregates for all the concrete we need to use to build the job, labour, all our energy costs, fuel".
He said HS2 was working with suppliers and the government to find ways of mitigating rising costs.
"We're looking at the timing of the project, the phasing of the project, we're looking at where we can use our supply chain to secure a lot of those things that are costing us more through inflation," he said.
HS2 trains are scheduled to carry the first passengers between Old Oak Common station in West London and Birmingham, between 2029 and 2033.
Euston station in London is currently scheduled to open later, by 2035. Further stretches to Crewe and then to Manchester are due by 2034 and 2041.
Most of the HS2 leg to Leeds was scrapped in 2021.