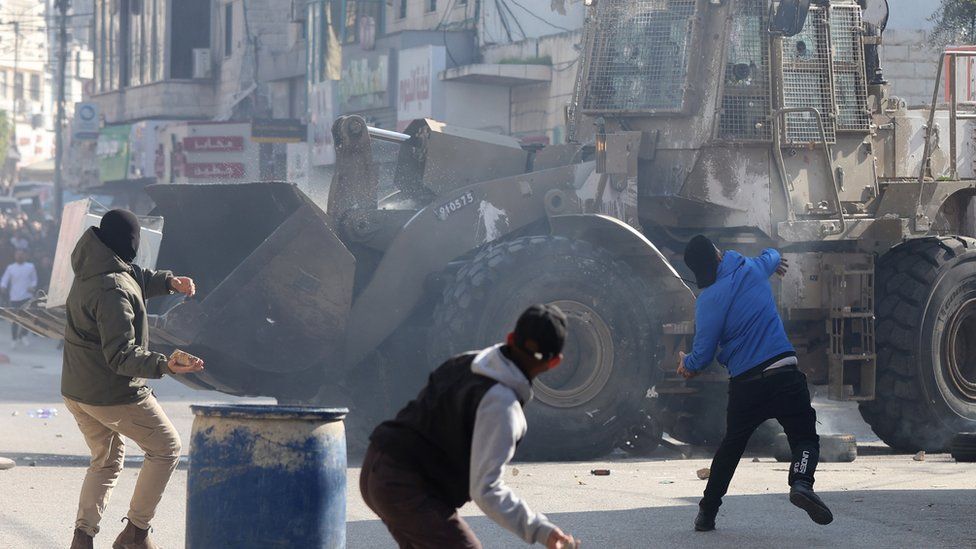 This is the most deadly Israeli raid into Jenin refugee camp in nearly two decades.
Nine Palestinians were killed when troops reportedly encircled buildings amid a storm of gunfire, grenades and tear gas in the packed urban camp.
Palestinian officials say two of the dead were civilians, including a 61-year-old woman, while militant groups claim the other seven as members.
The Israeli military says its troops went in to arrest Islamic Jihad militants planning "major attacks".
The history matters here. I have been to Jenin repeatedly over the last year as Israel's military raids have mounted, sparking increasingly fierce gunfights with a new generation of armed Palestinians.
Everyone you speak to roots their experiences in comparisons to April 2002, at the height of the second intifada or Palestinian uprising.
Back then, Israel launched a full-scale incursion – known as the Battle of Jenin – in which at least 52 Palestinian militants and civilians and 23 Israeli soldiers were killed. It had followed a campaign of Palestinian suicide bombings in Israel, many of which involved perpetrators from the city.
Much of Jenin camp was flattened in 2002. The scale of destruction, and Palestinians' stories of trying to repel the forces, are part of the collective memory there. It forms a backdrop to much that has happened since.
Last spring, Israel launched operation "Break the Wave" amid a surge in Palestinian gun and knife attacks targeting Israelis – the deadliest in years.
Some were carried out by Palestinian citizens of Israel who were supporters of the so-called Islamic State group. But several were Palestinian gunmen from Jenin, including Ra'ad Hazem who shot dead three Israelis in a bar in Tel Aviv and was later killed by security forces.
It put Jenin back in focus. Israeli search, arrest and home demolition raids in the city and nearby Nablus became near nightly.
The Israel Defence Forces (IDF) said it was operating to prevent further attacks, and that it fired at Palestinian gunmen who targeted its troops.
But the death toll across the West Bank was much broader than this. While armed militants accounted for a significant proportion of the more than 150 Palestinians killed in the occupied West Bank last year, many of those shot dead were not carrying guns; sometimes they were in groups throwing stones or petrol bombs towards jeeps, sometimes they were passers by or other civilians.
Some fatalities were during protests or confrontations against expansion towards their towns and villages by Israeli settlers who set up illegal outposts.
Israel was repeatedly accused by the United Nations and human rights groups of excessive use of force, a claim it consistently rejects.
But there was something else going on which added more fuel, and explains why some fear a further security collapse in the West Bank.
The Palestinian Authority (PA), which has limited governance powers in Palestinian cities, was losing control of Jenin and Nablus.
The PA is important – a legacy of the 1990s Oslo peace process – but these days its ageing leadership is badly out of touch with the Palestinian street and is seen by many as little more than a security company for Israel's occupation.
It is dominated by PA President Mahmoud Abbas' Fatah party – bitter rivals of the Palestinian Islamist militants Hamas.
The PA "co-ordinates" security with Israel – which means it shares information about some militants and its security forces step aside when Israel carries out arrest raids.
President Abbas now says security co-ordination will "end" due to the Jenin raid – although this threat has often been made before and only rarely even partially carried out.
By late 2021, the PA's security forces were unwelcome in Jenin refugee camp and the Old City of Nablus. It was losing control. This has been a long process, but it was accelerated by several moments that year.
One was the fallout from the May war between Israel and Hamas in Gaza – which added to the PA's unpopularity.
Another was grassroots admiration for six prisoners who tunnelled their way out of an Israeli jail – before being caught within a fortnight. All the militant prisoners were from Jenin, some were figures popularised in the 2002 incursion.
A new generation of militants in Jenin and Nablus were rejecting the PA while Hamas and Islamic Jihad militants faced arrest. They were arming themselves, loosely affiliated with the established groups but apparently not answerable to their traditional hierarchies.
They called themselves the Jenin Battalion and, in Nablus, the Lion's Den. A grassroots following surged on TikTok and Telegram.
They appeared with American-made weapons smuggled from Jordan or stolen and sold on from IDF bases. Many were too young to remember the destruction of 2002 but were old enough to be inspired by stories from it.
As one Israeli journalist embedded with the IDF special forces in Jenin said: "This is different. These are people who are willing to fight and willing to die."
From residents in Jenin refugee camp I repeatedly heard about the depressing reality continuing: by day, diminishing work prospects, the restrictions of a military occupation, no faith in a political future, and by night, the prospect of more Israeli military raids.
The Israeli army says it has prevented attacks on civilians and soldiers. The country's president has said today an Islamic Jihad "terror squad" were on their way to carry out an attack in Israel. But a wider flare-up is still feared.
US Secretary of State Anthony Blinken arrives in Israel on Monday, with the country experiencing mass protests against the most nationalist government in its history. He says he wants to "preserve" the two-state solution – the long-held international formula for peace. The reality on the ground, along with the stated policy position of the new Israeli coalition, suggests he may as well be speaking another language.