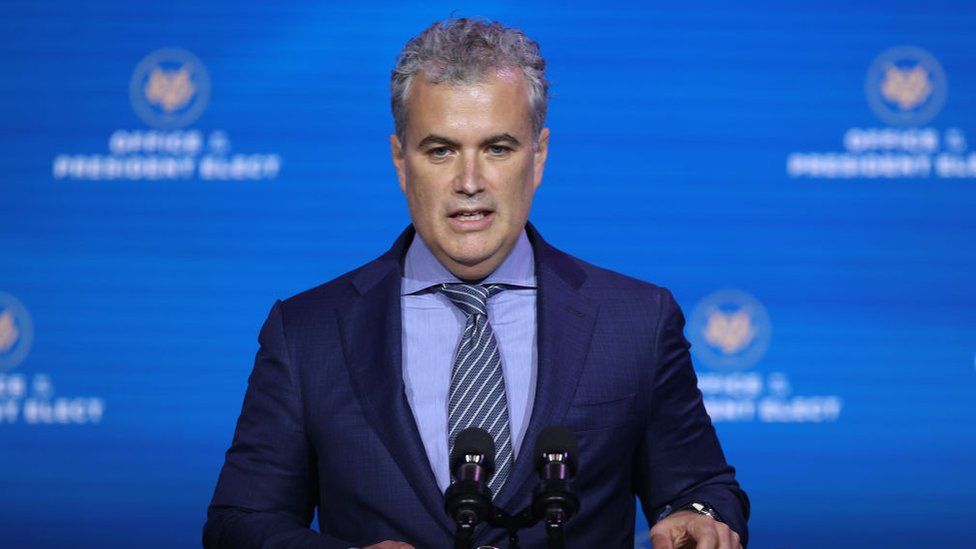 Jeff Zients, who led US President Joe Biden's Covid task force, is expected to be named the next White House chief of staff.
The current chief of staff, Ron Klain, is to step down after the State Of The Union address on 7 February, the New York Times has reported.
US media reported that an announcement was expected on Monday.
Mr Zients refused to comment on the reports when approached by the BBC's US partner CBS News.
The role is considered to be one of the most important at the White House. The chief of staff is responsible for driving the president's policy agenda and hiring staff.
Mr Zients left his role as the Covid policy coordinator last April but had since returned to assist with the November midterm elections.
He worked across various administrations including as an economic advisor to Barack Obama in 2009. In the private sector, he attempted to take over ownership of the Washington Nationals but was unsuccessful.
Mr Zients was credited for his work as Covid coordinator as he lead the nationwide vaccination campaign, but faced criticism that the administration did not do enough to boost testing.
His return to the White House comes at a crucial moment for the US president as his staff begin to turn their attention to a potential re-election campaign in 2024.
President Biden is also facing a special counsel investigation into the handling of classified documents found at his private office and at his home in Delaware.
He also worked as an adviser and speechwriter on Mr Biden's unsuccessful 1988 and 2008 White House campaigns and was a senior aide to Barack Obama.
Former US president Donald Tump had four chiefs of staff in four years.