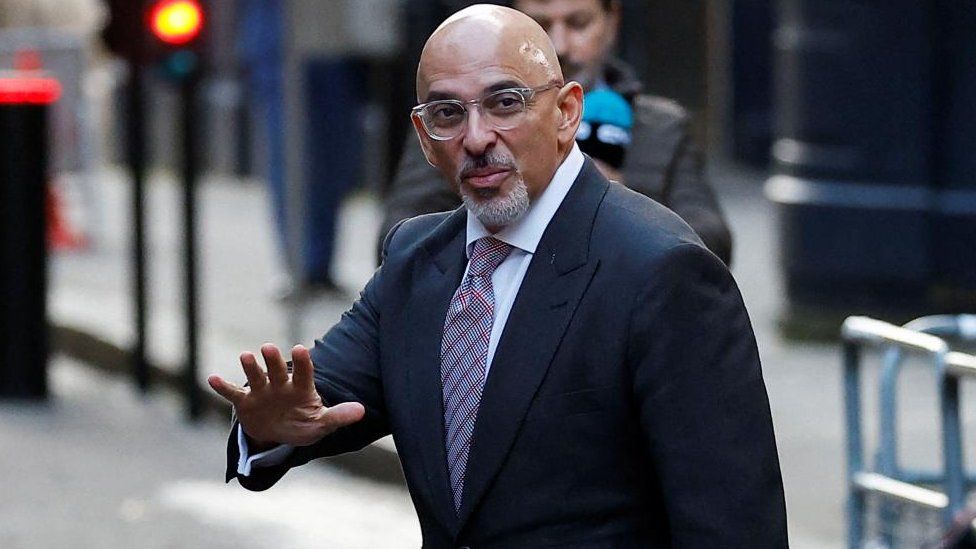 Nadhim Zahawi paid a penalty as part of his tax dispute with HM Revenue & Customs, the BBC has been told.
The Conservative Party chairman is facing claims he tried to avoid tax and had to pay it back. On Saturday he said he did make a payment to HMRC to settle the issue.
It was previously reported the money he paid included a penalty, but this had not been confirmed.
On Sunday evening, Mr Zahawi's allies insisted he would continue in his role.
The BBC also understands the tax issue was resolved while Mr Zahawi was chancellor between July and September last year – and the total amount paid is in region of what has been reported, of about £5m.
Pressure has been growing on Mr Zahawi to give more details about his finances after reports emerged this week he had agreed to pay millions of pounds to HMRC to settle his tax affairs.
The tax was related to a shareholding in YouGov, the polling company he co-founded in 2000 before he became an MP.
According to HMRC, tax avoidance involves bending the rules of the tax system to try to gain a tax advantage that Parliament never intended. It is legal and includes things that some people would consider to be normal tax planning.
Penalties can be applied by HMRC if tax is not paid in the correct amount at the right time.
Mr Zahawi has not confirmed how much his penalty amounted to, nor the total value of the final settlement with HMRC.
In a statement this weekend, Mr Zahawi said he had made an error in his taxes, but that it was "careless and not deliberate".
But Labour said there were a whole list of questions that still needed answers – and called on him to publish all his correspondence with HMRC "so we can get the full picture". Labour also said there are questions over the timing.
Although the BBC has been told the issue with HMRC was resolved while Mr Zahawi was chancellor – and the minister ultimately responsible for HMRC – but it is still not clear when he originally became aware of it.
His allies claim he told the government's Propriety and Ethics Team – which is in charge of ensuring ethics across government departments – about it before his appointment as chancellor.
And after having become chancellor, Mr Zahawi did not seek to challenge HMRC's demands, but instructed his accountants to pay all of what they said was due, the BBC has been told.
On Sunday, senior Conservative Sir Iain Duncan Smith then joined the calls for more scrutiny, urging Mr Zahawi to release "the absolute facts" and "get it all out now, whatever you have to do and clear it up".
But he defended Mr Zahawi, saying he did not believe he was "deceitful".
Foreign Secretary James Cleverly said it was for Mr Zahawi to decide "how much detail to put in the public domain".
The BBC was previously told on Saturday that Prime Minister Rishi Sunak was satisfied with Mr Zahawi's account and has confidence in him as chairman of the Conservative Party.
Nadhim Zahawi was announced as chancellor on 5 July 2022, hours after the resignation of Rishi Sunak from Boris Johnson's government.
He was previously education secretary and before that, coronavirus vaccines minister. He was made minister for equalities, minister for intergovernmental relations, and chancellor of the duchy of Lancaster under Liz Truss.
Mr Sunak appointed him as Conservative Party chairman and minister without portfolio, attending cabinet, on 25 October.
Mr Zahawi has been the Conservative MP for Stratford-on-Avon since 2010.