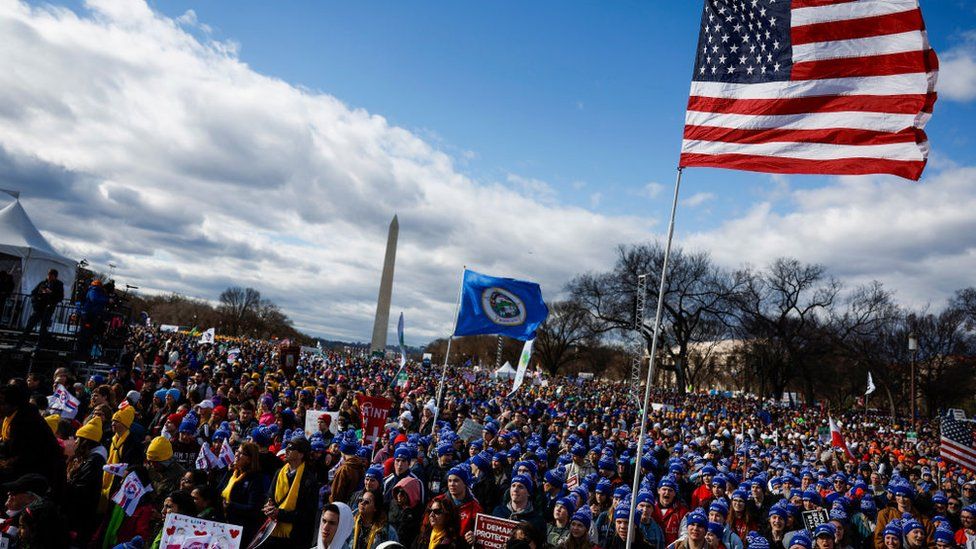 Thousands of anti-abortion activists gathered in Washington DC on Friday for the annual March for Life.
The rally – held every January since 1973 when Roe v Wade guaranteed abortion access nationwide – was the first since Roe was overturned in June.
The crowd spread across the National Mall, celebrating the Supreme Court's decision after decades of activism.
A small counter protest numbering dozens of pro-choice activists also gathered at the Supreme Court.
"There's a lot of excitement," said Kristan Hawkins, president of Students for Life of America – one of the largest anti-abortion organisations in the country. "There's this sense that the end of Roe is catapulting us into an abortion-free future."
Many of those who joined the march said they considered the Roe v Wade decision last summer to be the first step towards their ultimate goal: barring abortion across the US.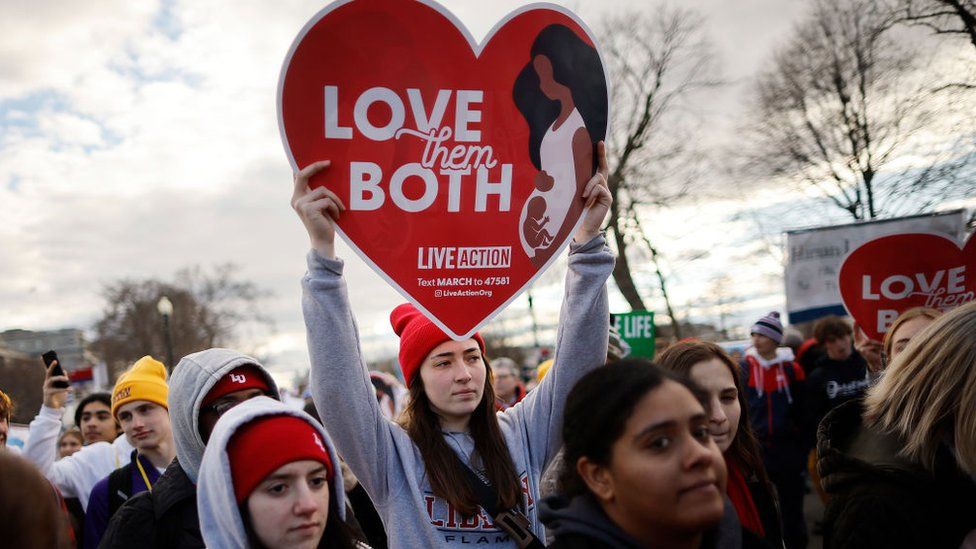 It returned the abortion issue to individual US states and, so far, some 20 million women in more than a dozen states are estimated to have lost access to abortion, according to the Guttmacher Institute, a pro-choice research group.
But the victory for the anti-abortion movement has been tempered somewhat by a series of recent setbacks.
In the November midterm elections, five states with abortion initiatives on the ballot voted in favour of abortion rights. Bans on the procedure in states like Montana, Ohio and Wyoming have been blocked by legal challenges in state courts. And as of this month, retail pharmacies are now allowed to dispense the abortion pill mifepristone for the first time.
"There's an anxiousness of what do we do now. There's a lot of that discussion happening," Ms Hawkins said. "We need to make abortion unthinkable and unavailable through the nation – that's what it means to be the post-Roe generation."
Stretching out for nearly two miles (3.2km) along the Mall, Ms Hawkins and her allies wielded loudspeakers and signs with anti-abortion slogans – "We Demand Protection at Conception" and "Love them Both". On Pennsylvania Avenue, which runs toward the White House, a tall video screen played footage on loop of what appeared to be dead foetuses.
The cheers of anti-abortion campaigners carried all the way up to the steps of the Capitol building, nearly reaching a small counter protest of pro-choice advocates who had gathered outside the Supreme Court.
"Abortion is a resource we think should be available to everyone," said 18-year-old Savannah Hagen Ovohbi, a university student in DC.
"When I first learned about sex education in middle school, abortion was an option that we had," she said. "Having that taken away from us is really scary."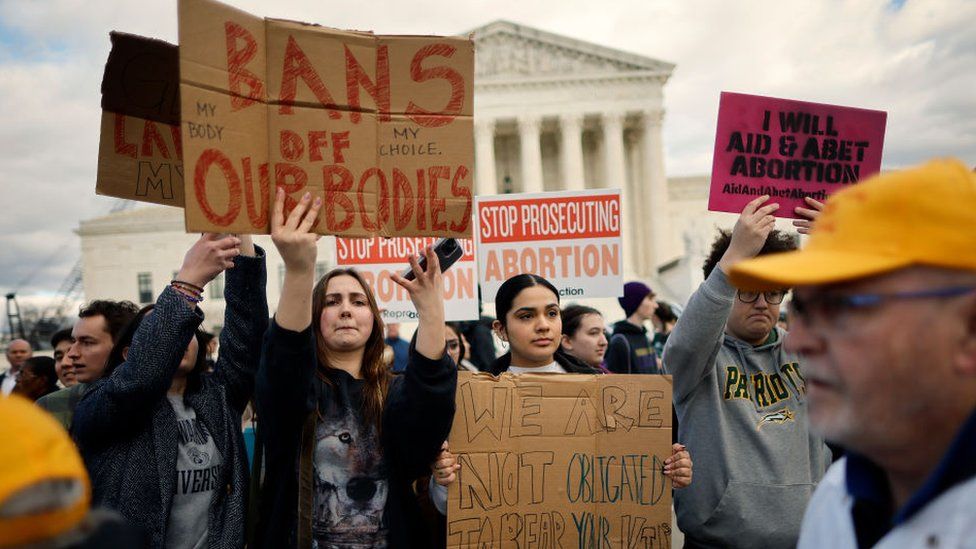 As Ms Ovohbi spoke, pro-choice and anti-abortion activists jostled for space and attention, shouting over one another with competing loudspeakers and occasionally shoving each other out of their way as the police looked on.
"There's been a lot of tension," she said. "The most disheartening thing about being here is how many young people are here standing on the other side."
But in the imposing building behind her – the Supreme Court – the battle for abortion rights is mostly over. Instead, campaigners on both sides have turned their focus to state laws and, increasingly, the 2024 presidential election.
On Saturday, Students for Life will hold its first vote on a set of possible Republican candidates as members decide who to endorse. Former President Donald Trump ran his 2016 campaign with the vigorous support of abortion opponents after promising to nominate anti-abortion judges to the Supreme Court, who then helped overturned Roe. 
"We are grateful to Donald Trump for getting us to this stage," Ms Hawkins said. "But whoever wants our vote is going to have to earn it."