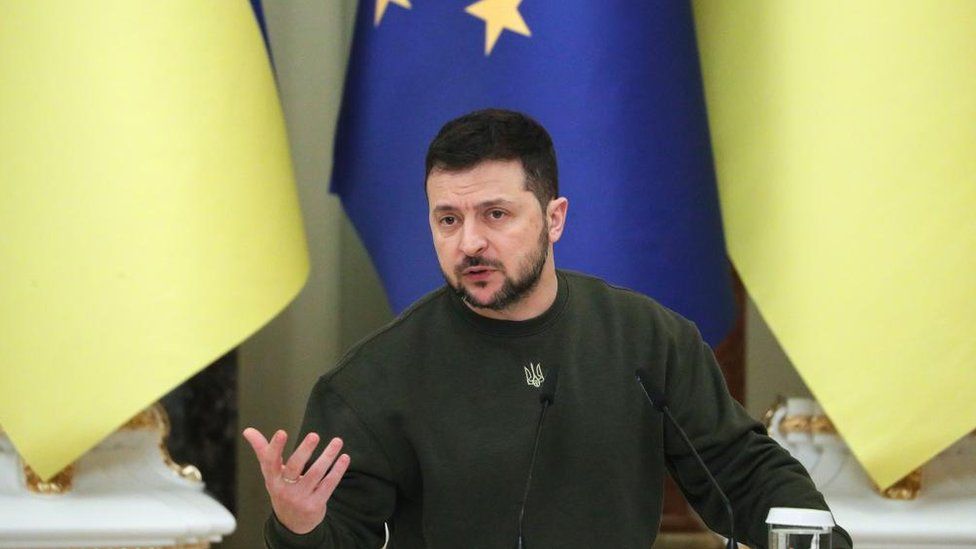 Ukrainian President Volodymr Zelensky has made a direct appeal to Germany to provide tanks ahead of crunch talks involving dozens of Western allies at Ramstein air base in southern Germany.
The US and European nations have already promised Kyiv more equipment to fight Russia's invasion.
Berlin is under growing pressure to allow its Leopard 2 tanks to be sent.
"If you have Leopard [tanks], then give them to us," Mr Zelensky told German public TV.
"These leopards won't go through Russia. We're defending ourselves," he said, in remarks criticising the German government's hesitant attitude.
Defence officials from more than 50 countries are due to meet at Ramstein, a day after the US and several European nations pledged more equipment to help Ukraine fend off any further Russian offensives.
Almost 11 months after Russia launched its war against Ukraine, Nato military officials believe Moscow is planning a renewed spring offensive with troop numbers bolstered by a partial mobilisation since the end of September.
The UK also offered 14 of its battle tanks recently – but Kyiv wants more.
As the nation of manufacture, Germany has to give its permission before countries such as Poland or Finland commit to sending their own Leopard tanks. However, Polish deputy foreign minister Pawel Jablonski indicated on Friday that Warsaw might do so anyway.
"We'll see. I think if there is strong resistance, we'll be ready to take even such non-standard action. But let's not anticipate the facts," he told Polish radio.
Ukraine's allies faced a "simple choice" on Friday, an adviser to the defence minister in Kyiv remarked ahead of the summit.
"Tanks for Ukraine are tanks for freedom," Yuriy Sak told BBC's Newsnight programme. If these were not sent, other countries might one day "have to use them themselves" against Moscow, he warned.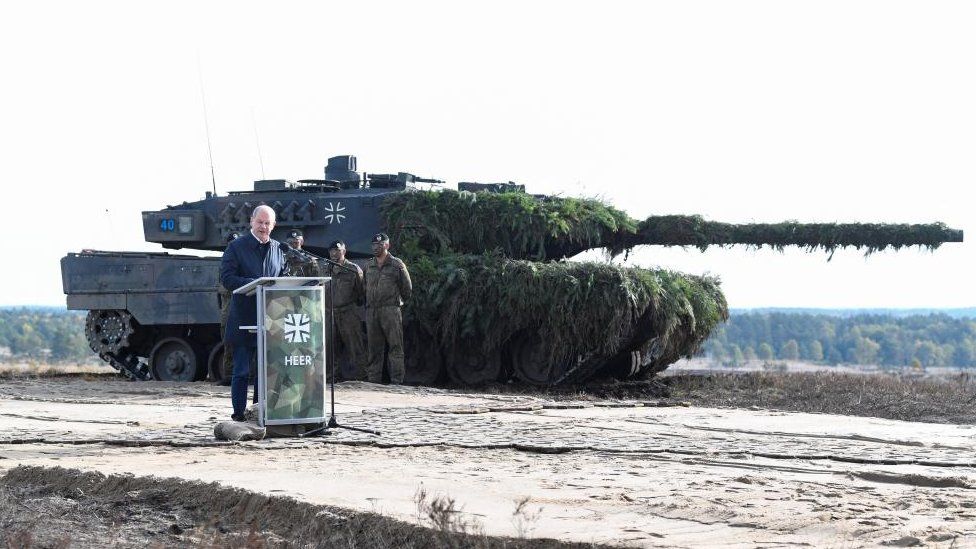 Berlin said this week that a decision on the Leopard was conditional on the US agreeing to send Abrams tanks, which it is not intending to do. But the new German defence minister, Boris Pistorius, said he was not aware of "such stipulation".
Late on Thursday, Germany said its position would become clear in the coming hours, AFP reported.
Mr Zelensky has repeatedly taken aim at Berlin's perceived hesitancy and on Thursday criticised suggestions that the US and Germany were only planning to commit vehicles if the other nation did the same.
"I don't think this is the right strategy to go with", Mr Zelensky commented, while calling for "strong decisions" to be made during Friday's conference.
Retired US Army general David Petraeus said there was "legitimate reluctance" in Washington on the issue of sending Abrams tanks because it was difficult to maintain and had a jet turbine.
He told the BBC it was "imperative" that any Western tank donations were made "early enough, so [Ukrainian soldiers] can actually train on them".
For its part, Russia has warned Western countries that providing tanks to its enemy would mark an "extremely dangerous" escalation in the conflict.
On Thursday, Western nations pledged to send more vehicles, artillery and munitions to bolster the Ukrainian war effort.
The US committed a new package worth $2.5bn (£2bn), saying this took its spend on Ukrainian support to $26.7bn since last February's full-scale invasion by Russia.
Tanks were not included in the offer, but the Pentagon did promise an extra 59 Bradley armoured vehicles, 90 Stryker personnel carriers and Avenger air defence systems, among other provisions.
The announcement came after nine European nations promised more support of their own following a meeting in Estonia. This included:
UK – 600 Brimstone missiles
Denmark – 19 French-made Caesar self-propelled howitzers
Estonia – howitzers, ammunition, support vehicles and anti-tank grenade launchers
Latvia – Stinger air-defence systems, two helicopters, and drones
Lithuania – anti-aircraft guns and two helicopters
Poland – S-60 anti-aircraft guns with 70,000 pieces of ammunition
Czech Republic – produce further large calibre ammunition, howitzers and APCs
Netherlands – support expected to be detailed on Friday