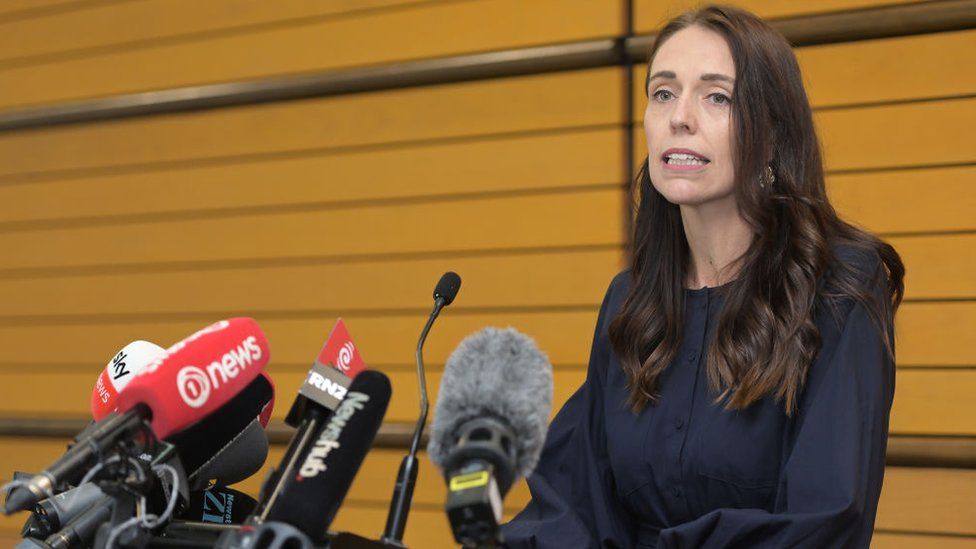 Jacinda Ardern has announced she will quit as New Zealand prime minister next month, saying she no longer has "enough in the tank" to lead.
Ms Ardern choked up as she detailed how six "challenging" years in the job had taken a toll.
She will step down as Labour Party leader no later than 7 February. There will be a vote in the coming days to determine her replacement.
New Zealand will hold a general election on 14 October.
Ms Ardern, 42, said she had taken time to consider her future over the summer break.
"I had hoped that I would find what I needed to carry on over that period but, unfortunately, I haven't, and I would be doing a disservice to New Zealand to continue," she told reporters.
Ms Ardern became the youngest female head of government in the world when she was elected prime minister in 2017, aged 37.
And a year later she became the second elected world leader to ever give birth while in office.
She steered New Zealand through the Covid-19 pandemic and its ensuing recession, the Christchurch mosque shootings, and the White Island volcanic eruption.
"It's one thing to lead your country through peace time, it's another to lead them through crisis," she said.
"These events… have been taxing because of the weight, the sheer weight and continual nature of them. There's never really been a moment where it's ever felt like we were just governing."
Ms Ardern led the Labour Party to a landslide election victory in 2020, but her domestic popularity has declined to new lows in recent months, according to opinion polls.
However Ms Ardern said she was not resigning because she believed Labour could not win the election, but because she thought it would.
"We need a fresh set of shoulders for that challenge," she said.
Deputy leader Grant Robertson said he would not contest the leadership vote, which will occur on Sunday. If one candidate cannot garner the support of two-thirds of the party room, the vote will go to Labour's lay membership.
Australian Prime Minister Anthony Albanese paid tribute to Ms Ardern as a leader of intellect, strength and empathy.
"Jacinda has been a fierce advocate for New Zealand, an inspiration to so many and a great friend to me," he wrote on Twitter.
Ms Ardern listed her government's achievements on climate change, social housing and reducing child poverty as ones she was particularly proud of.
But she said she hoped New Zealanders would remember her "as someone who always tried to be kind".
"I hope I leave New Zealanders with a belief that you can be kind, but strong, empathetic but decisive, optimistic but focused. And that you can be your own kind of leader – one who knows when it's time to go," she said.


You may also be interested in: