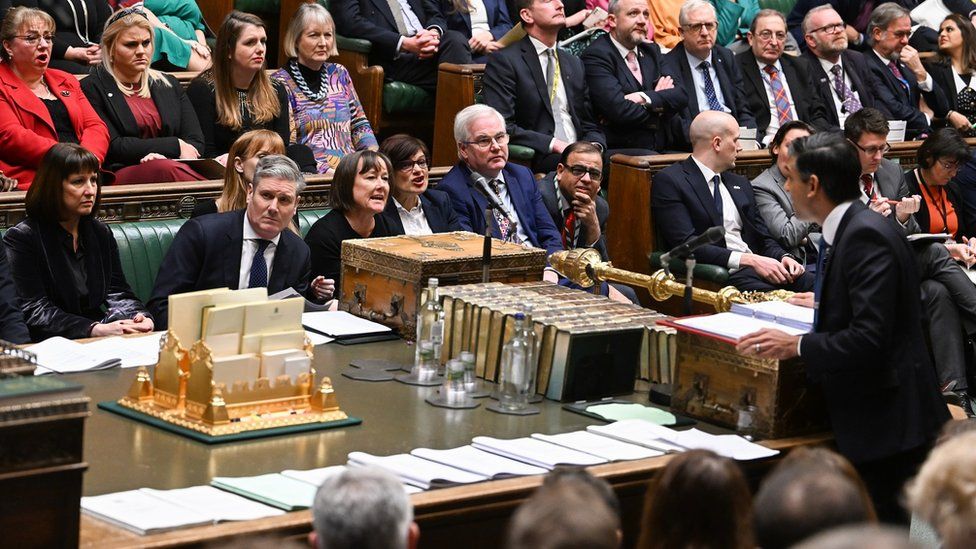 The prime minister's chief of staff has instructed government advisers to come up with at least one "attack" line per week on their Labour counterparts, the BBC has been told.
Government ministers have special advisers who advise them on policy and media.
They have been instructed by No 10 to come up with an "attack" on their opposite minister or department every week.
The instruction was made by Liam Booth-Smith, who is Rishi Sunak's chief of staff in Downing Street, multiple party sources told the BBC.
Civil servants who advise ministers have to remain politically neutral. Special advisers are on the government payroll but follow a code that says they can help ministers on work where government business overlaps with party political and campaigning matters.
Political "attacks" on opposing parties are nothing new in politics. It's something all parties practice.
Labour, for example, have a director of "attack and rebuttal", who is responsible for producing and disseminating information that is used to support the party's election strategy.
So-called "political attacks" may be used against opposing MPs in the House of Commons, others may be raised on social media or to journalists to try and end up in the news.
Attack lines could range from criticisms of a politician's personal integrity or character to criticisms of their department's policies or spending.
But No 10 setting their team with a weekly target they must all hit shows they are stepping up preparations for what is likely to be tough general election battle.
The Conservatives continue to lag behind in voter opinion polls, with Labour capitalising on this with a series of attack lines against them over the Christmas period – including on crime statistics.
The next general election doesn't have to be until January 2025, however May's local elections are being seen by both parties as a vital test of their prospects for the next general election.
A Labour source said the public "don't need cheap political point scoring" but a "focus on delivering solutions".