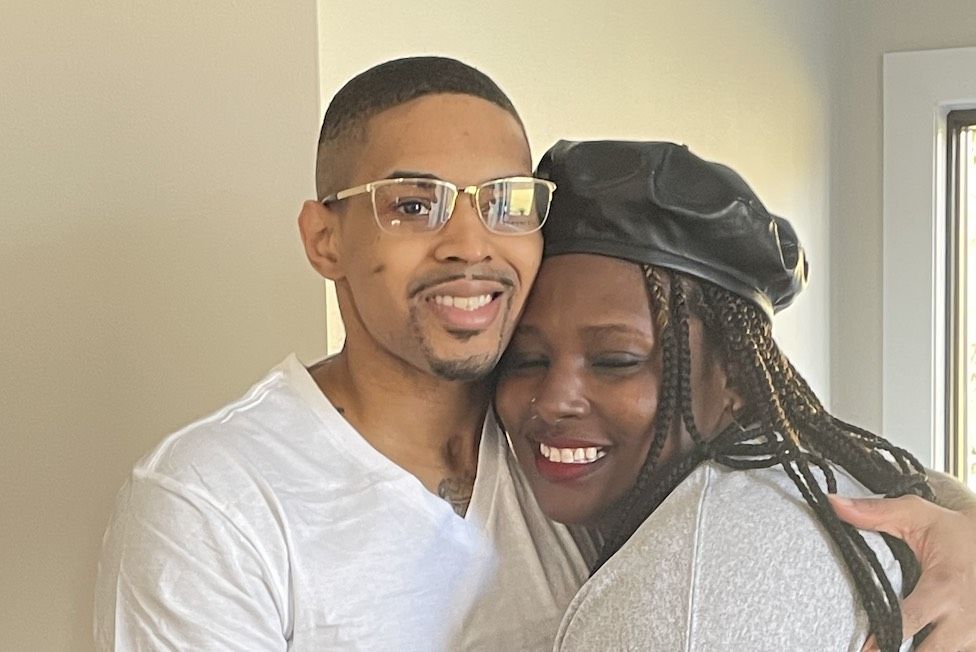 Four times, Keith Davis Jr has climbed the Baltimore court steps to face a verdict for the 2015 killing of Kevin Jones.
And four times he has left that courthouse shackled, to return to prison.
But Mr Davis did not give up on his quest to clear his name.
After seven-and-a-half years behind bars, and four murder trials, he is now a free man after prosecutors agreed to drop all charges.
Mr Davis has asked for privacy while he reunites with his wife, who has long campaigned for his freedom, and their children, declining further interviews.
The decision to drop the charges was brought by the city's newly elected top prosecutor, Ivan Bates, who blamed his predecessor for prosecutorial missteps made in "pursuit of a conviction at all costs".
"I have a duty to ensure justice for all, not just the victim but also the accused," he said in a statement.
Jones' grandmother Earlene Neals told the Baltimore Sun: "I'm angry. The system failed Kevin".
He was first arrested in 2015, after he was shot by police following an alleged robbery at a race track that left Jones, a security guard, dead.
It had been mere months since Baltimore Police shot and killed Freddie Gray, igniting protests and riots that left the city in flames and old wounds open and raw.
Police said they shot him because he was fleeing. He said he ran because he was afraid. In 2018, a Civilian Review Board found police used excessive force by firing on him.
He was acquitted of robbery, but found guilty of being a prohibited person in possession of a handgun.
A week later prosecutor Marilyn Mosby, who had risen to national fame when she charged the six Baltimore officers involved in Mr Gray's death, charged Mr Davis with second degree murder, saying the bullets found at the crime scene matched a gun that police said belonged to Mr Davis.
Over the next seven-and-a-half years, she would prosecute him four times for the same second-degree murder charge. Mr Davis maintained his innocence, and said he the gun found at the scene did not belong to him.
Two of those trials ended in a hung jury, while a judge overturned two guilty verdicts because of prosecutorial error.
In 2017, during his first murder trial, a ballistics expert testified they did not test the bullets to confirm a match, but "eyeballed" them. A new trial was ordered when a jury could not come to a verdict.
His second trial led to a conviction of second-degree murder, but a judge ordered a third trial because the jury received a "sanitised" criminal history of a jailhouse witness who had testified that Mr Davis had confessed to the killing. If the jury had been given the full picture, they may have reached a different conclusion, the judge ruled.
The third trial also ended in a hung jury.
In his fourth murder trial, public defender Deborah Levi Katz argued that police – fearing the shooting of an unarmed man would reignite the riots – had planted the gun on Mr Davis after they shot him.
Mr Davis lost that fourth trial, and was sentenced to 50 years in prison for second-degree murder in March 2020. A year later, in 2021, a judge ordered a fifth trial because of issues with the fourth trial's jury selection.
But that trial will not go forward, now that charges have been dropped.
'Deep animus and vindictiveness'
Mr Davis's legal fight rallied many of the city's activists, who campaigned for his innocence.
Meanwhile, the city's top prosecutor, Marilyn Mosby, campaigned for his guilt.
When he was found guilty in his second trial, her office tweeted an image of Ms Mosby giving someone a hug, with the caption: "Victory. Keith Davis Jr was found guilty."
In 2021, days after Mr Davis was granted a fifth trial, Ms Mosby gave one of his supporters the middle-finger. She denied the rude gesture at first, but admitted to it after photos were leaked.
Two weeks later, she charged Mr Davis with attempted murder, after a fight broke out in prison.
Last spring, Ms Levi filed a motion asking the court to dismiss both the original murder charge and the new attempted murder charge, arguing they were brought by "deep animus, prosecutorial misconduct and vindictiveness".
A judge found that there was a "presumption of vindictiveness" towards Mr Davis in charging him with attempted murder, and ordered an evidentiary hearing to determine whether the charge should have been laid. The judge did not find any presumption of vindictiveness in connection with the original murder charge.
Ms Mosby did not immediately reply to the BBC's request for comment, but told the Associated Press on Friday that the case "has always been about the pursuit of justice for Kevin Jones and his family".
In January, Ms Mosby was indicted on federal charges of perjury and making a false statement on a loan application. She has pleaded not guilty to all counts.
Last summer, she was defeated in the Democratic primary by Ivan Bates, who vowed to drop Mr Davis' charges.